I usually do a blog post around that theme at this time each year so… here it is…
In many ways 2013 has been a somewhat uneventful year, in that there have been few dramatic life changes, but some of the less obvious ones have been valuable and significant.
I began the year experimenting with the sabbath and seeking to 'rest better'. It was in the middle of the busiest retic season we had known and I was feeling pretty ragged. I haven't stuck to the regime/practices I laid out in that post, but I have been able to keep a really healthy life balance all year and rarely felt like I'm getting swamped with work, or unable to disconnect. I don't answer the phone at all on Sundays, but it still amazes me that people will call me – sometimes at 7am to ask retic questions. I had one person ring this year who I 'declined' 3 times in a row, however the next time they called I answered with 'this better be important!' and there was no one there… funny that. I used to be someone who would call tradies whenever I felt like it. Not any more. I had no idea just how annoying I was.
I also sought out some spiritual direction this year as a way of helping me hone some of my own reflections on life, faith and personal directions. No question it was time well spent and a really worthwhile change to the schedule. What did it do?… I think I enjoyed having someone help me think thru the questions I mull over alone. It helped chewing around some of the challenges of ministry in a focused way. It helped pondering where life is headed and considering the future a bit more intentionally. I have friends I do this with but its also good to set aside specific time. I feel more focused and 'in tune' for it. Thanks Jennifer.
One of the outcomes of the spiritual direction process was a change in the way my life is structured. I had been losing the passion for my retic business over the last few years, but haven't found anything to replace it with. I would regularly go thru 'quitting season' where I would get to the end of my tether and seek ways out of business. This year I actually advertised the business for sale on Gumtree with the intent of giving it up. I had no clue what else I was going to do, but figured that maybe that would fall into place if I took the first step. I did a sophisticated calculation as to the value of the business and advertised it for the value of our mortgage… My thinking was that I didn't care what 'market value' was – that was what I wanted to get to opt out.
It didn't sell and by June and July I was relieved and enjoying myself again. Working shorter hours with less pressure in cooler weather was nice. But around July just before we took off up north for a month a mate came by and asked if I was interested in selling 50% of the business… I was interested. We discussed a figure that we both felt was fair and then we began to work towards sorting out the details of a working agreement. But the further we went into working things out the more complicated life became. Right at the start I expressed what I wanted from my business – simplicity, flexibility and autonomy – and B wanted the same, but the more we discussed a 'semi-partnership' the more convoluted the process became of getting there. So instead I agreed to help him get his own business off the ground and to send work his way and take a small commission. Now he's up and running and all work south of Joondalup gets sent his way.
The beauty of the whole thing has been that he has found the life he is seeking – closer to his family and away from the rigours of the corporate world. He is finding a new rhythm of life and mine feels much more sane. I've been really enjoying the more compact working area and especially the growth in work around the Yanchep area. Come the cooler months I may have to travel a little, but my hope is to eventually work the areas north of Clarkson and not have to head further south than that.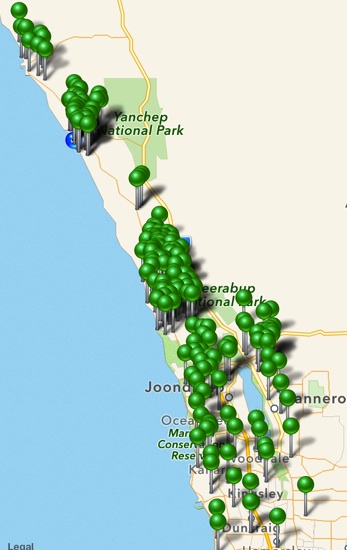 My invoice app allows me to track where I have been working this year and the density of work further north is pretty obvious in the pic.
Part of being able to slow down was to ensure I had more headspace for the work Danelle and I do at QBC. We increased our combined time to 3 days/week and we share that between us according to what we are good at.
As a church it has felt like a steady and fairly undramatic year. It is our fourth year with QBC and next year is the final one of this first term. I'm not averse to a steady year, but I feel the need for a bit more energy as I think we are in danger of lapsing into being just another happy bunch of people who sing songs and listen to sermons. Not a good place and be and time for some refocussing and prayer as to what the future might hold for this community of people.
It was the year of car changes but finally I have landed on the big ole Cruiser and am very happy with her. I'm no mechanic, but I love cars and to have the right one is a nice feeling. I've heard it said that 'women wear clothes and men wear cars'… Well, this one fits nicely. Tough as nails, big and spacious with lots of grunt, but also some pretty decent fuel economy.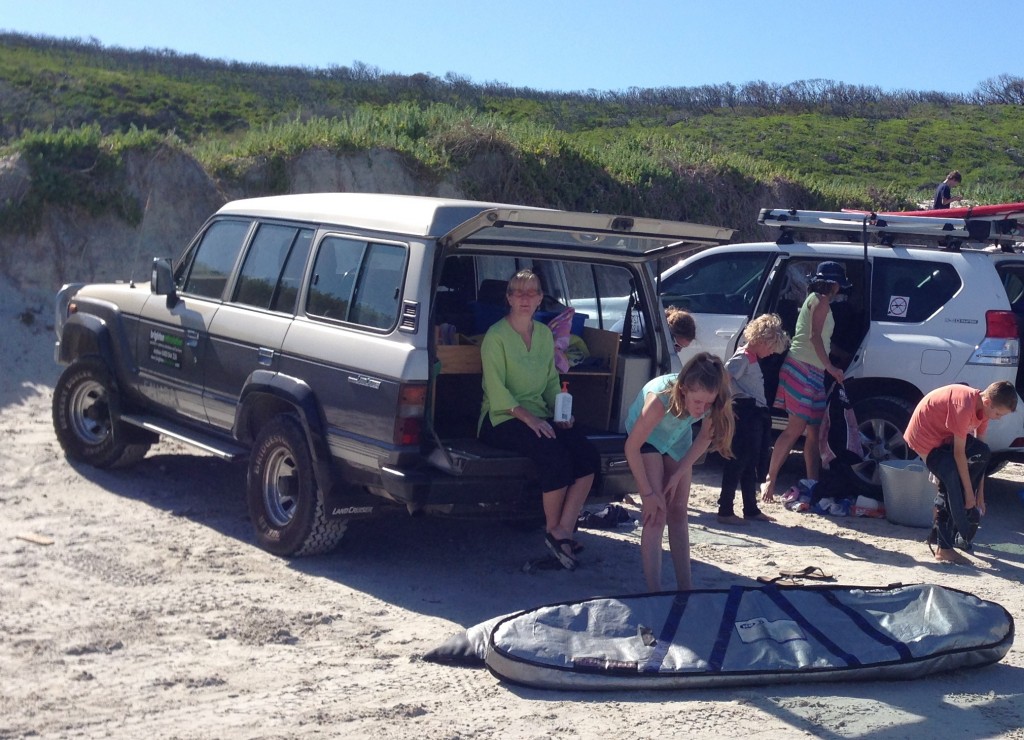 We also relented and got a dog this year – Lucy – a 5 year old labrador who has been a wonderful pick up. She loves people, the ocean and eating. A bit like me except for the people… She was a bit toey around other dogs initially – I'm guessing there was a story there – but now she's great. The daily walk means we get to the beach just about every day of the year so rather than just seeing it from the balcony we walk it and take in its different moods which is always fun.
Around the middle of the year I stopped drinking alcohol. That was a biggie. I haven't blogged about it because I didn't want to make a big deal of it, but the short reason was that I sensed God saying 'that's it'. At least 'that's it for now'.
It was hard because I am a red wine lover and at times I loved it too much. It began to be one of those things that shaped my life negatively, but because I enjoyed it so much I didn't want to let it go. I woke up early one Sunday morning with what I felt was a prophetic message for our church. I rang Ryan and cancelled him for the morning and spoke myself. The message was simple – that sometimes we have 'demons' in our lives that need to be removed, but that often stay because we are attached to them.
Alcohol had become that for me. A love and passion that was morphing into a demon that was controlling me more than I was controlling it. I had 'cut back' a few times but always slipped back into unhealthy patterns. I was conscious it was an issue but not aware I was going to be speaking to myself. Well… there you go…
It took me a week to let go, but its been 7 months now and I haven't had any alcohol. I'm sad about that because my take is that alcohol is good and given to us to enjoy. I'd like to be able to be a moderate drinker, but I always liked 'one more' and could see the potential for disaster ahead. It also loomed as a simple discipleship issue. I've seen too many people as they get older just decide to live with a level of personal compromise that means faith lacks its punch and I have dreaded becoming one of them.
I don't know if I will ever get back into it – I doubt it. Has life been richer for not drinking? I honestly don't feel 'better' for it and I do miss it, but I also feel like there was both a response to God that was good as well as a simple issue of self control sorted. Sometimes you just gotta roll with your convictions whether they bear fruit in any specific way or not.
I haven't read a lot this year, but my 'Book of the Year' would be Winton's Eyrie. My TV Series of the Year is a tie between Ricky Gervais' very funny and poignant Derek and the ABC series, Time of Our Lives, an insight into middle class Australia. We don't watch a lot of TV so its good to know when something good pops up.
Blogging has been sporadic, but also meaningful when it happens. I still enjoy writing, but the demands of physical work still limits the creative impulses.
So 2014 happens shortly and it will be the year I turn 50. I don't feel especially apprehensive about it, but I am aware that I am leaning towards the other side of middle age now. We will celebrate the 50th with a visit back to Ireland around the middle of the year and I'm looking forward to that. I guess we'll have a party in May, but not a big one if I have any say in it.
Lately I've been praying about the possibility of a church starting in our area, and listening for any rumblings of the spirit. If its on God's radar then I'm in for sure – I'll even stick my hand up to lead if he's giving it a green light. But I don't need or want another thing to do, so in the mean time I will pray and wait and see what emerges. Possibly the greatest shift in the last 10 years has been that one – 'I can make it happen' (whether God's in it or not)  to 'If God's in it then I want to be part of it.'
So, thanks for reading my ramblings and sharing the journey. I'm always a little surprised by who is 'still with me' after 10 years of writing.
May 2014 be a wonderful year for you and your family!