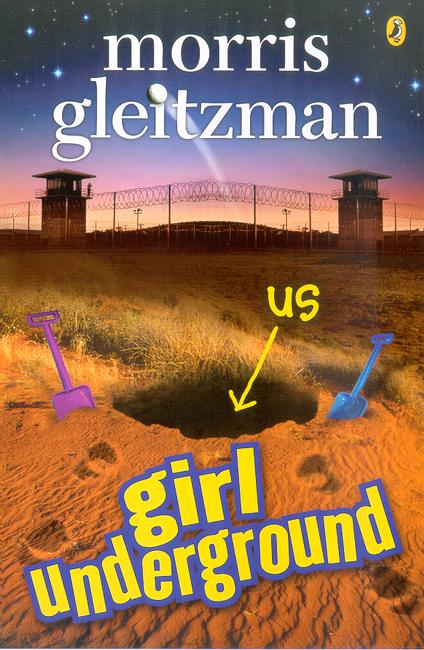 I have often wondered whether some of the most potent and insightful prophets in our country aren't found outside the walls of the church.
I'm thinking voices like Leunig, or Clive Hamilton, or Hugh Mackay even. Tonight I discovered another prophet – Morris Glietzman – author of young adults novel Girl Underground. I haven't read any of Glietzman's other stuff, but this one took on the tough topic of mandatory detention for kids and really gave it a big knee in the soft bits.
Its a novel told in a very kid friendly style with a fair bit of Aussie humour and some likeable characters, but what really intrigued me was the subject matter itself. I guess it could be considered a bit weighty for young people – or maybe Glietzman 'gets' that kids can think and take action…
The story revolves around a central character Bridget who hails from a family of petty crims, but who gets sent to a posh private school to try and 'give her a chance'. There she meets Menzies, son of a politician who has been corresponding with a family in detention (without his father's knowledge or approval). The two get appalled at what is going on and hatch a plan to free the kids.
You can read the rest yourself… We read it as a family after dinner over the last week or so and the kids enjoyed it as well as being challenged by it.
Without wishing to spoil the story, the final chapter sees Bridget and Menzies face to face with their friends in the detention centre, locked up under guard and it isn't easy reading. Danelle choked up as she read it and passed it to me. I did the same and passed it back… Because its a true story – a very real story – and a vile obscenity that has become normal in the 'lucky country'.
Just last week my mate who is a chaplain in a Baptist school surveyed his Christian ed class and asked the question of his students 'is it appropriate for our government to lock up children who come to this country by boat?'
The result?…
Twenty three out of the twenty four students in the class said 'Yes – they should be locked up'
One said 'no'.
Where did they learn to think like that? And is it indicative of where the rest of society is at?
Also this week Danelle drove one of our Iranian friends to the airport to pick up his wife and 3 year old daughter who he hadn't seen for 18 months because he fled Iran under persecution and came to Australia by boat. She had finally got a visa and was able to come to Oz and join him. It was an emotional re-union as they saw each other again after much time apart.
They didn't look like wannabe terrorists secretly scoping out the suburbs for a bomb plot. They looked like a mum and a dad who wanted to find life and hope and thought maybe Australia could be the place
When we left Ireland in 1974 I didn't think of myself as a refugee – but in reality that's what we were, fleeing a country divided by a war supposedly to do with religion and seeking a better life. In our part of the world there are now more South Africans per square kilometre than you would have ever thought possible – also refugees from a country in trouble.
But Irish and South Africans are both 'white' or caucasian in appearance whereas most of the refugees we don't want have different coloured skin.
Surely that's not it…
Is it?…