Following on from the first post below I found this article thru Rodney.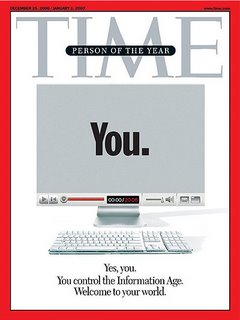 Here's a quote:
But look at 2006 through a different lens and you'll see another story, one that isn't about conflict or great men. It's a story about community and collaboration on a scale never seen before. It's about the cosmic compendium of knowledge Wikipedia and the million-channel people's network YouTube and the online metropolis MySpace. It's about the many wresting power from the few and helping one another for nothing and how that will not only change the world, but also change the way the world changes.
It helps you understand why some get nervous. Of course elsewhere in the article you read this:
Sure, it's a mistake to romanticize all this any more than is strictly necessary. Web 2.0 harnesses the stupidity of crowds as well as its wisdom. Some of the comments on YouTube make you weep for the future of humanity just for the spelling alone, never mind the obscenity and the naked hatred.
So there is toxicity online as in the real world.
But… there is also wisdom that will go unheard by those who only view the world thru one set of lenses, so my challenge to those who view blogs as toxic because they don't conform is to ask 'what are you afraid might happen?'
So far its been mostly bloggers who have responded to my previous post, but I know there are plenty out there reading (ironically) who view blogs as toxic.
So why don't we open up the issues that concern you and get down to business?
Anyone?…