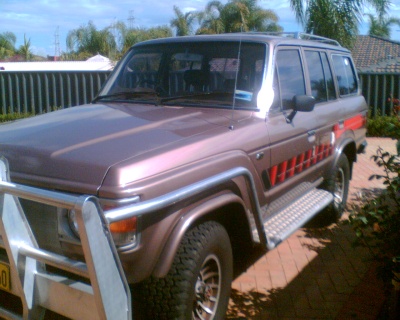 When I bought my current Landcruiser just over 12 months ago I hadn't noticed how gutless it was. I took it for a short test drive, but didn't give it a real workout. It went well, was in amazing condition, with very low kms (180K for a 1985!), not a skerick of rust and was a huge bargain. So I jumped in… and it has been a very reliable and comfortable car. A real classic in fact!
It just isn't fast, nor does it have any kind of punch. Sadly I no longer have the ability to spin my wheels at the lights. Even in gravel it just slowly cruises away…And when we go on holidays our chances of ever overtaking anyone are minimal.
The problem(s)
a) a 3F motor – translated 'tractor'. Bulletproof, indestructible, but not pokey
b) automatic gear box – further slows it down
c) LPG – drops the power by another 10%. We would change to petrol if we thought we had a chance of overtaking someone while on holidays!
This is all kinda acceptable when most of your driving is around the local area, but imagine 25000kms around Oz towing some kind of campertrailer / caravan…
Ok, so the speed limit is 100km/hr, which would be us on a downhill run with everyone leaning forwards. But hit a few hills and the old girl will grind to a 60-70km crawl. Having towed a heavy boat for a few years I know its capacity.
So the question that arises again is whether we should upgrade. We have a very reliable old beast that I reckon would make the trip around Oz without batting an eyelid. It'd just be a tad slow.
Or we could get something a bit more powerful… (like a Daihatsu Charade…)
One of the reasons I like driving cheap cars is because – well – they are cheap! And secondly you don't need to insure them comprehensively. A huge saving each year… So long as you get a good old beast and keep it looked after you can do ok.
But I'm wondering if we will go crazy travelling around Oz in the old funbus?…
Just thinking out loud…
Is it worth another 10K to get a car that might be more enjoyable to drive?… Or should we just suck it up and chug around the country in a tractor with side panels?
So what would you do?…