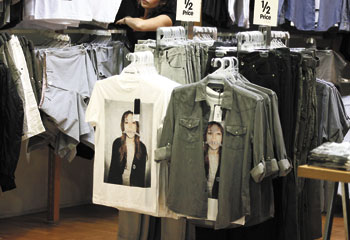 I don't think I am a prude or a feminist, but I do think these T Shirts being sold now by Roger David are very very dumb.
Sure, on a philosophical level it raises questions of 'what is art?' 'How does censorship work?' etc, but on a practical day to day level you just have to look at it and say someone had their head up their butt when they made this decision.
Interestingly Roger David have defended their decision on their facebook page…
There is an online petition to object, or you could just walk into the store and let them know what you think…
I reckon a hundred angry customers in each store would see the T shirts disappear in a day or two. At the moment while they may be getting muddied on one level, but they are also getting some free advertising, however I don't think they'd be too happy about people asking questions in person and expressing some rage in person in store.
I imagine if this was 'art' at an art exhibit it would come with a 'warning' at the entrance about the nature of the images, but obviously this doesn't happen in a clothes store.
Reality check for RD!
Here are some links related to the issue:
Melissa Tankard blog post