In venturing out from the familiarity of the established church environment to start again and re-imagine church, one of the core issues for Danelle and I to consider was how we would look after our children away from Sunday schools, kid's ministries and youth groups. It's a question overseas missionaries have been facing for years, but for most in the western world it just seems normal practice for children to learn about faith through the various mechanisms in church.
While these different 'aids' can be helpful and can assist parents with the discipleship of their children they can also be used as a substitute for godly parenting and thoughtful engagement with the faith development of our own kids. I am grateful that over the last few years I have been able to participate deeply in the lives of my children as they have grown to know Jesus. They are still only 6 & 4 years old but it has been great to see their faith develop and a real, albeit childlike, love for God emerge.
It was a short time ago that it dawned on me just how vital our input and role modeling is to the children we raise. On a Monday morning after making the kids breakfast I let them know I was going to spend some time in my study 'talking to Jesus'. They have seen me do this each day and it is just part our routine now.
My 6 year old daughter Ellie, asked 'Daddy can I talk to Jesus with you some day?'
'Sure honey' I answered. 'Finish your breakfast, grab your Bible and come in!'
I began wondering what to do and how to teach my 6 year old daughter to speak to Jesus…
She arrived five minutes later with her 'Bible for Little Hearts', a children's book with one verse per page. As she sat on my lap we read two verses and discussed together what they were saying to us. We then took some time to pray for the people we know. She would pray a sentence, then it was my turn and so on. After that we would stop in quietness for a minute or so and 'listen' to Jesus, seeing if we could hear the voice of the spirit speaking to us. (Inevitably Ellie hears God telling her that he loves her!) The whole process took just 3 or 4 minutes, but I found she came back quite regularly in the mornings to sit with me and 'talk to Jesus'.
Then a morning came when I was heading out for breakfast and I couldn't spend the time with her. She was concerned, wondering what she would do, when I heard her say 'Its ok dad, I know what to do now. You can go'. As I walked out the door I saw her sitting in my office armchair with her Bible open reading a verse of scripture. It was wonderful to see that she had 'got it' and didn't need me there. But the most encouraging bit was yet to come…
When I got home that afternoon my wife told me that shortly after I had left, her little brother Sam came in and asked if he could speak to Jesus too. So, knowing what to do now, Ellie placed her brother on her lap and began to teach him the same process I had gone through with her. They read scripture, prayed for friends and listened to God. She was discipling her 4 year old brother and teaching him how to encounter Jesus. I was reminded again that discipleship is not rocket science. (Danelle secretly took the photo below!)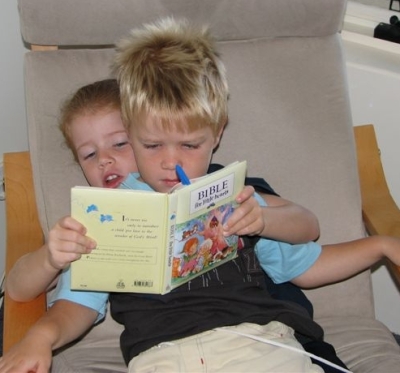 I realise the teenage years are still a way off and they are always testing times, but my conviction is that the time we invest in our own children's discipleship is the most critical time of all. We may be privileged to be part of churches with excellent programs or we may have other adults who love our kids and lead them to Jesus, but at the end of the day the biggest privilege and the greatest responsibility still rests with us.
The dislocation we have experienced as a family has actually been the catalyst in helping me discover the joy of investing in my own children. I know there are some who worry for us, that we lack the resources of a larger church, but quite honestly, I am confident that the best people any child could have to help them on a faith journey are the ones who love them most!