Matt Stone asks some excellent questions on his blog Journeys in Between. Here he poses the one that gets asked of many missionaries…
Can you be too incarnational? – I understand this to mean 'can you be so immersed in the world that you lose any value as a salt/light influence'?
Matt begins:
"Since Alan Hirsch has goaded me into this discussion I thought I would publish a diagram I have been working on in an effort to try and articulate my own position. In essence my answer is no, you can never be too incarnational, for properly understood that's akin to asking whether you can be too Christlike."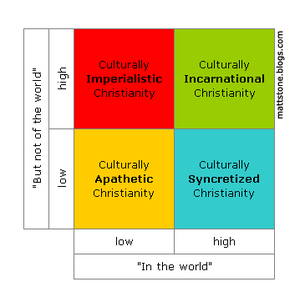 Read more here
As one who grew up in the 'come apart and be separate' world it has been a fun journey the last 7 or 8 years discovering that people 'out there' are not as they had been described and I have not been infected with 'non-Christianitis' as we once worried!
Perhaps a similar question is 'how far is too far?' when it comes to contextualisation. When do we actually compromise the gospel and begin leading people astray?
I guess that depends largely on how you define sin doesn't it… and to what degree 'sin' is culturally determined?…
Just some light thoughts on a cool Monday morning here in Perth.