Late last year I decided it was time to change cars. I do that every now and then – partly necessity, but (let's be honest) partly because I get bored with the same vehicle.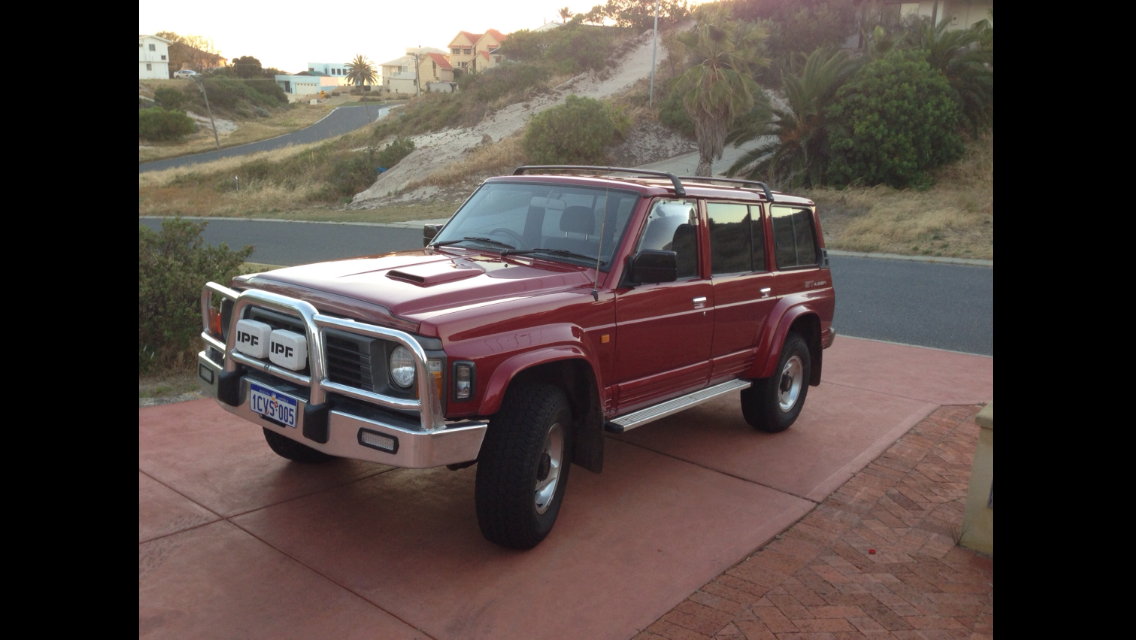 The necessity part was that Danelle was driving our old 96 Patrol all over the city during the week and it was pretty expensive, while I was driving a similarly old and expensive car for work. We figured we'd get her a good 4 cylinder and I'd get a work/holidays car – a 4WD of some variety.
The Patrol had 250 000Ks on it and had done us very well, but it was a bit tight on the inside and there was an intermittent problem with the air con that I was tired of trying to locate. It was a beast of a car and in great condition for its age, but I had itchy feet. The Bravo was fine, but I saw an old Landcruiser on Gumtree that looked like a good buy and I decided to quit the Bravo and get the cruiser.
I got the cruiser at a very good price and the Bravo sold the next day to a young Scottish couple who had arrived in Australia one day earlier. That was easy… Unfortunately the gearbox in the Bravo lasted one more week before crashing on the new owner. I had no idea it was dodgy, so wasn't in any way liable, but I did feel rotten for them. I mentioned it on facebook and a few friends offered to kick in to help them out which was a beautiful act of generosity.
In the meantime we had bought Danelle a new car – a 2005 Mazda 3 with just 18000kms on it. The old couple who owned it had been required to hand in their license and stop driving. They advertised for $13K. They wouldn't negotiate. I paid $13K. You can buy a new car for $13K, but the Mazda is just a bit better than some of what you get in that price range and with such low kms it seemed like a good buy. So far so good with the Mazda… And with the Mazda came the first car we have ever owned that was manufactured in the same decade in which we live. That felt a little odd and even indulgent.
So now we had an HJ60 Landcruiser Sahara complete with shag pile carpet and velour seats, the old Patrol and Danelle's Mazda 3.  I was trying to love the Cruiser but it was a tenuous relationship. I really wanted it to work. There was so much to like with a powerful 12HT motor, huge fuel tanks and range, heaps of space and very few worries about damaging it. (Those things are built like brick dunnies.) But I was falling in and out of love with this old girl.
Anyway, we advertised the Patrol and ended up selling it to friends. They got a great car at a very good price and we were happy too. They needed a reliable decent sized car and I think they will be good for quite a while with the old beast. It was a car that carried lots of great memories especially from our around Oz, but it was also time for a change.
I think my big mistake with the Cruiser was trying to get the rear air con up and running. It was all going well and the front air con was cold but when I had the local mechanic try to get the rear going, it ran well while we were cruising, but died badly when the car was stopped at lights or in traffic. He tried a few fixes but in the end I concluded that he didn't really know what he was doing as each step was trial and error. Along the way he mentioned to me that he had been working on air cons for 4 months so this was all new to him… Great…
On one day when it seemed he had got the air con working I headed out to meet a mate for lunch. I was enjoying the relief of a cold car on a hot day, when I had to put the windows down… only to discover that the switch that puts them back up had carked it. I was pretty dark that day as I cruised home in 36 degree heat. A working air con that couldn't work because I couldn't seal the car… As it turned out I surfed the forums, located the problem and easily fixed it, but the air con wasn't fixed… It still got cold on long runs and stifling around the city.
The cruiser had had an engine transplant – the 12 HT had replaced the 2H that was in it – and I began to realise that part of the issue was the compatibility of a 24v motor in a 12v car. I hadn't seen that one at purchase as it drove well and everything worked. But there were signs of more pain ahead and I had already spent $2500 getting it to this point. I figured I could stop there and get my money back, or see it as a hobby and keep spending. Tough choice because I love old 60's. With an oil leak from the turbo, leaky swivel hubs and signs of other potential issues I decided to wack it on Gumtree and see if it would sell. It was gone within 2 days for $9500 – pretty much what it owed me minus transfer costs. Amazing how these old cars hold their value! Maybe one day I will own a good one…
However I felt like I'd dodged another bullet and wanted to now buy a car that would just 'go'. Of all the people in Yanchep I know the mechanics better than anyone else… And that wasn't my plan. I was hoping to put some distance between me and their workshops.
So the plan was to find a car that wouldn't be an issue for quite a while. It would have to do duty as a work car towing a trailer 3 days of the week, as a holiday car able to cross the country with ease and as a play car for when I want to get out on the dunes. With second hand cruisers fetching crazy prices I began to look at Patrols again. I had very few complaints with the other Patrol so I figured a decent GU could be the go. They are big, beasty and generally pretty reliable.
I set an upper price range of $30K but was hoping to find a good one for $20K. With all the problems attributed to the 2000-2003 models I was looking 2005 upwards. This gave me the serious jitters as we have never spent this much money on cars. It would be a good tax break for sure, but up to now $14K has been our biggest outlay on a vehicle. The Crusier had sold quicker than I expected so I was 'car-less' for a bit and needed to jump fairly quickly. My mate Billy lent me his Jackaroo for a few days (a cause of many laughs!) and that got me thru, but I was keen to find something.
I had a done a fair bit of research and could pick a good buy fairly quickly now. A Patrol popped up in Busso – 130K's, 2007, good condition, brand new tyres and with an extended new car warranty for another 12 months or 30000Ks. It was $30K though… the top dollar… I felt the sphincter clench… But if it was on the money then it was definitely a good buy. Danelle was keen for me to buy a 'trouble free' car (which equated to me being less gnarly) so it looked like the one to go for.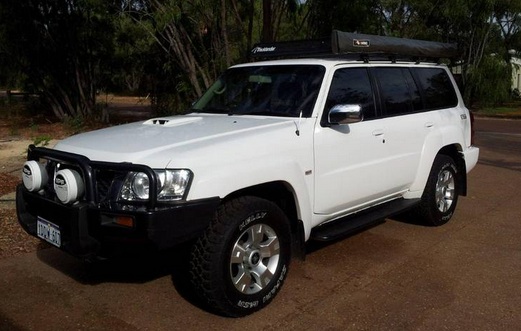 A couple of friends dropped by and checked it out and gave it a green light. So Jeremy kindly drove me from Perth to Busso with a bank cheque in hand ready to purchase. All was fine except for an annoying dash rattle @ 2000 rpm that will need sorting – and an archaic tape deck for a stereo, so we handed over the cash and drove home. It went well on the way home and felt great to drive.
I didn't like shelling out that many $$ for a car – which I think has more to do with my 'car paradigm' than it does with any real issues – because whether the $30K sits in my driveway giving me a reliable trouble free car, or in my mortgage account is really irrelevant.
This week it began its duties as a work car and towed the trailer well to the first job down in Doubleview. The air con worked beautifully and I was a happy man. After that job I hopped in and took off for Kingsley only to notice the temperature gauge rising quickly. If I hadn't turned the air con off and nursed it along it would have boiled it within minutes.
You know that sick feeling when you think you're over the hump of car repairs only to discover you're not?… Of spending 30K to avoid this kinda crap only to smell it on your shoe again?…
Yeah – that was Tuesday. I wasn't happy. I don't think the old owner knew about it. I didn't see it misbehave all the way home from Busso, but the hot weather and a heavy load exposed the problem.
So today I dropped it in at the local mechanic's workshop (again…) to get the cooling system serviced. I am thinking its as simple as a radiator flush and clean or a stuffed thermostat but I guess we'll know this afternoon… Maybe then I can stop this litany of car dramas and attend to the rest of life. Its been a little too consuming lately and I don't want it to be like that.
At the end of the day I have been reflecting that in all of this there is always a choice as to how to respond – to let the ire rise and the frustration become controlling or to chill and roll with it. There is no easy solution with cars. They do not appreciate in value. They do not run better with age. There will always be issues. And I have had a run of them. My patience is developing or eroding… I'm not quite sure which.
Anyway that was just a litte bit of cathartic journalling on a Friday AM before I kick into sermon gear…
Here's to a few years of minimal car dramas and lots of great trips in the new beast…