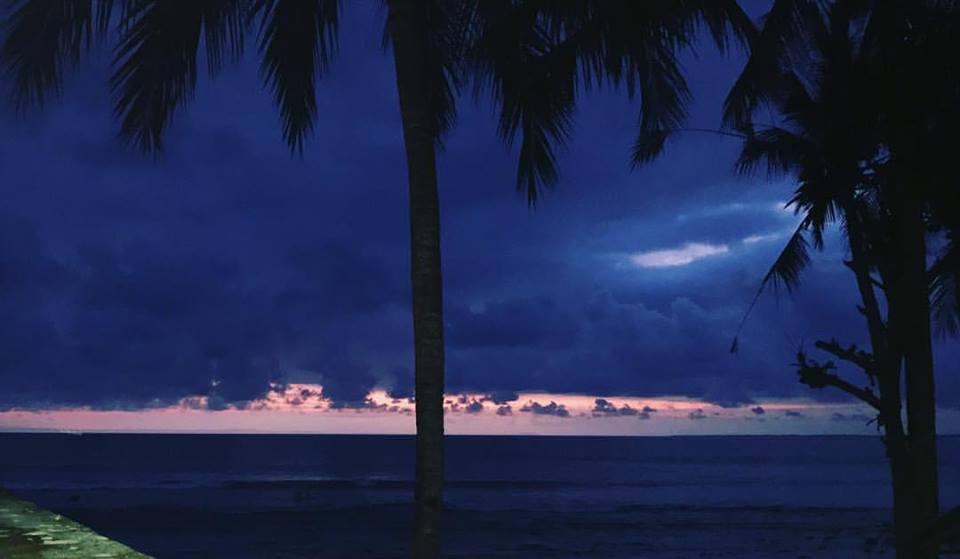 ​It was a great time in Medewi over the last 9 days so for those who may be interested in what it was like here is both the short version and the longer spiel.
The short version
Medewi is awesome – if you like to surf or relax. If not you will get bored.
Bring booties or get your feet hacked on the rocks. Antiseptic cream is also a good idea.
You will pay surfing tax 200k ($20) to the locals – you get a T shirt for your $$ and (apparently) money goes to local surfing sponsorship
The Bombora Medewi Hotel is fantastic – can't speak highly enough of accommodation, staff and location.
Local food is really cheap and decent – big night out for 4 of us was $30.00
BYO legrope – the hire ones are pretty worn and I snapped mine on a big wave – $25 to replace as well as a long swim in
The surf is crowded. Around 30-50 in the water most days. In busy season it's 100…
The long version…
As a kid a pretty special surf trip was when I could harass the old man into taking us for a morning in Denmark at Ocean Beach when we were on holidays in Albany. If I got half a dozen waves it was a win and I savoured it for months to come. We never went to Exmouth, Margaret River or Bali, but then my old man didn't surf. Sambo got lucky.
The 9 days in Medewi had me asking the question 'why didn't I do this sooner?' I could have had a blast at 23, but at 53 the body was working hard to get me where I wanted to go. Medewi is a little surf/fishing village on the west coast of Bali, around 3 hrs from the airport and reputed to be Bali's longest left hander.
To be frank, I've never been overly taken with Bali. Humidity, shopping, busyness and general harassment at every turn has always left me uninspired. The cry of 'but its so cheap' doesn't even really hold any longer. If you stay in the tourist areas the costs can mount up quickly as food is no longer cheap in the better cafes.
But Medewi won me over. It kicked butt on every count and I'll be going back for sure – especially to the Bombora Medewi Hotel which was every bit as good as it claimed to be and actually was very well priced for the luxury accommodation and absolute beach front location. At high tide you could jump out of the pool into the ocean – not that you would…
So on this trip Danelle and the kids took off on Thursday as part of a school trip to the orphanages. I've kinda 'been there done that' and wanted to search out some waves on my own while they did their thing. I knew Uluwatu and the likes probably weren't gonna be my kinda wave, but I'd heard that Medewi was a long, loping, easy wave that suited geriatric mal riders like I am now. So we went our separate ways for 4 days. She told me that if I got bored I could join them… 'if I got bored…' unlikely…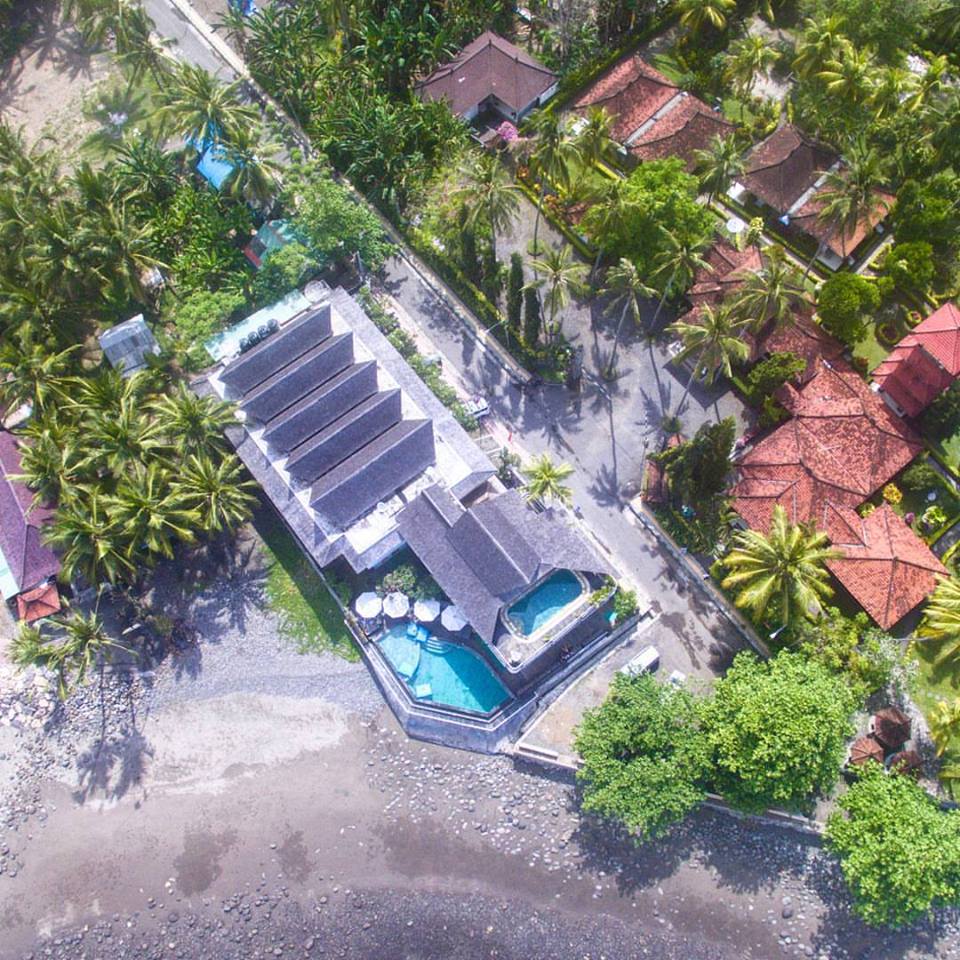 Bombora Medewi – great hotel
I went online, scanned the local accommodation and decided to stay at the top of the range Bombora Medewi for my 4 nights alone. Very new, literally right on the point break with a cafe overlooking the waves. For $100/night including breakfast it was about $60 more than the rooms 100m up the road, but… I decided to go in style… and there were no regrets.
Medewi is pretty much a surf break and little else. If you didn't surf I don't know why you'd go there unless it's to chill and do nothing… I arrived in Denpasar the day after Danelle and the kids, got picked up at 6pm and we headed off for Medewi – hoping to get there by 10. It should have been easily doable, but a stop to change money (you can't do it up there), another stop for a feed and then a 30 minute 4wd detour to get around a traffic accident saw us roll in with 5 minutes to spare at 9.55pm.
It had been a long day so I was ready to crash. While the room was really nice and the bed super comfy, the air con felt like it wasn't working properly. I seem to be 'that guy' who scores the dodgy AC everywhere he goes! My last 4 trips to Asia have had us in rooms where the air con has been lame – not totally useless, but not enough to really keep you cool. It's a pet peeve… but anyway…
I slept well and woke at 7.00am to what sounded like a wild storm, but was just the waves breaking on the shore 40m away. Bleary eyed I stepped out of my room to check it out. 3-4ft glassy peeling lefts… awesome! And about 40 people in the water… Not so awesome.. I can't stomach big crowds at a break but I guess this didn't give me a choice…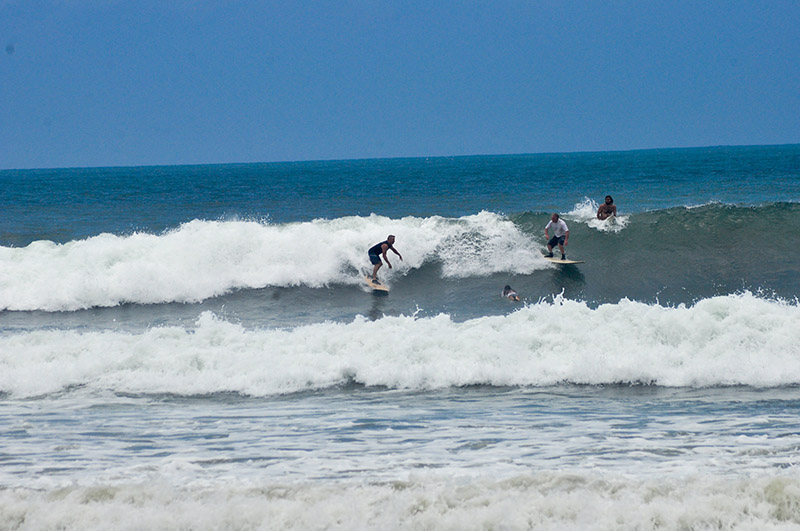 (Combined age on this wave = 113! BTW – I kicked out)
For some bizarre reason my inner grommie kicked in and I decided to have breakfast later and just hit the surf. That's why I was here after all… I wandered next door to hire a board ($8/day) and left with a none too inspiring mini mal. It was right at high tide – the best time to surf Medewi because the rides are longer and the waves bigger. I wasn't sure of the jump off spot so I just took a best guess. I pulled on the booties I'd picked up for $20 before leaving home, clambered across the big black rocks and began to paddle out. (Having seen the cuts many people have left the water with I can't overstate how valuable the booties were.)
I sat in the inside section with the Euro tourists and learners for a bit trying to get my bearings, but it was slim pickings as the best waves were getting ridden from the outside and the others were smaller and hard to catch. I paddled another 100m out to the take off zone feeling the weariness all thru my body and splashed around for a bit, pinging a dodgy groin muscle and getting one or two crappy waves before calling it a day and paddling in, wondering if I would get bored after all… Thankfully I had brought a good stash of anti-inflammatories…
I wasn't inspired at all by the first surf – while there were 40 people in the water it was a mix of absolute beginners, (yeah… very dangerous!) Balinese locals who caught and shredded anything that looked remotely like it might break, a few other old blokes and then the regular crew of international surfers chasing waves. It was the United nations every day in the surf with Swiss, Norwegian and Canadians even putting in an appearance along side the more expected Aussies, Japanese and Brazilians.
Having grown up in a world where surf etiquette matters I quickly realised I wasn't going to get any waves if I held to that etiquette. On those first few days especially, 3 German girls dropped in on everyone and tried to catch anything that moved. It could have been carnage out there but somehow most people got thru unscathed and while I doubt drop ins were appreciated they were par for the course so you just sucked it up – and sometimes gave it back… I might have 'gone blind in my right eye' a few times…
I changed boards to a 9ft mal for the second surf later that day and began to feel a little more settled. By the middle of second day I was catching my share and enjoying the never ending wave with rides around the 200-300m mark if all the sections linked up. I felt like a fat kid at an all you can eat buffet – I couldn't get enough and kept going back for more even when my body told me to stop.
It took me two days to pay my 'surfing tax'. When I hired the board I was immediately accosted by local surfers who insisted I buy one of their T shirts for ($20) as a way of supporting the local boardriders. It didn't feel like the purchase was optional, and I really didn't want a shirt so I palmed him off. By the end of the second day I had bought one… along with virtually every other non-indo in the area. I'm told the Japanese pay $40 and some folks don't even get a T shirt – they just get charged the $20! So I'm still not sure whether they are the 'Medewi Mafia' or the honourable custodians of a charity, but be warned, if you go you will be strongly encouraged to 'help the kids'.
Apart from the surf there isn't much to do in Medewi. You can get a massage $10/hr, hire a driver and go trek around (we paid $30 for 3 hrs) or you can do what I did and just chill. The coffee at Bombora Medewi is great as is the food so it was very easy to wile away a couple of hours just watching the waves.
The local cafes are all very well priced with a main meal around $4-7. Gede's Warung (right next to Bombora) is cheap and serves good food, but be prepared to wait 45-60 minutes for your food if you aren't the only ones there. Keep in mind too that indos don't eat as much as we usually do so you might need a little extra.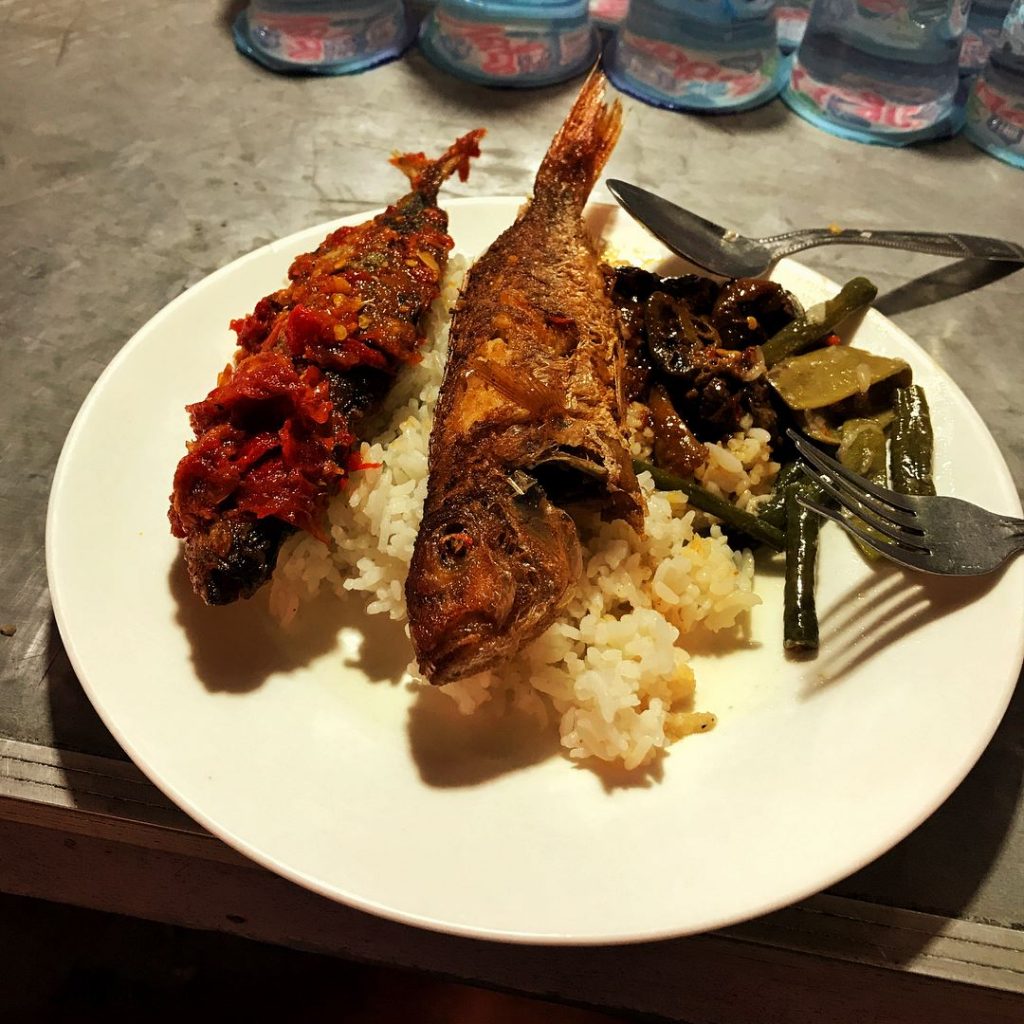 Markets mmmm….
We slipped up to the night markets in Melaya one evening and had some very good local food – I might have overeaten a little… But then I love an Asian food market and I'm always up for trying some local specialities. I believe there are some near Medewi so I'll keep that in mind for next time.
The crew at Bombora tried to fix our air con but to no avail. It was kinda tolerable but just a bit annoying. With two days to go I mentioned it to the manager so the next crew wouldn't get saddled with a dodgy air con and we were promptly upgraded to a bigger, nicer room with a fully functioning air con. Nice… Spent the last two days in a fridge with a bed!
Most days we surfed twice – once in 'peak hour' and the second later in the day when the wind had come in and the crowd had eased. 8 or 9 good waves was what you'd expect in a couple of hours, along with another 8 or 9 where some clown dropped in on you, paddled in front of you or just got in the way. After paddling back 300m 8 or 9 times I was pretty knackered, so on every wave after that it was harder to find motivation to paddle back out.
There were days where the crowds were frustrating and the drop ins infuriating, but once you accepted it as how things were you could relax and enjoy it a lot more.
On our final day I was pretty weary and had to drag myself in for an early surf.
Got a nice one to go home on
After 2 waves and a few more drop ins I decided that I would take the next good wave in – whether it was 5 minutes away or an hour away. I didn't have to wait long. A set came and an Aussie guy deliberately paddled in front of me on the first wave – nice pal… But the second wave was bigger and no one else was left out there so I got it. It was my longest wave of the trip – probably 300m or so. All the sections linked up and I finished up 50m from the beach and paddled in.
Always better to leave on a high!
As we were about to leave Allam caught my attention again. He had been taking pics of me all week and trying to get me to buy them. I told them I didn't want them as I look like an old fat guy who can't surf! But with rupiah to burn at the end of the trip and feeling generous I bought his collection and hopefully helped him pay some bills.
We left at midday and I had to call Sam out of the water at 11.30! It was that kinda trip!
So – Medewi rocked. If you're a good surfer and enjoy intense, challenging waves then you will probably get bored, but if you like to cruise, relax and surf very long waves then you will love it.