As my screensaver rolls over I see these images every day… Its not good for stability and focus I can tell you! Anyway here's a very brief summary of our surfing ventures around Oz. We will go clockwise starting at Exmouth. Hold on…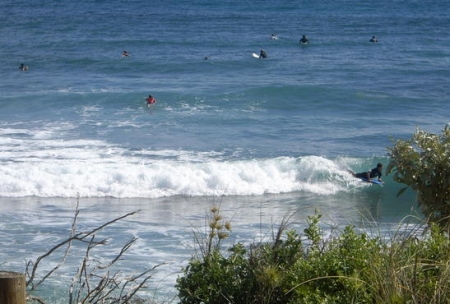 The first surf of the trip was at our first major stop – Exmouth, where I went to Dunes' beach. There were some nice warm waves and not much crowd, but the swell died after 2 days. The first day we got there, I saw an amazing looking left right in front of our (Lighthouse) caravan park. It was running hard and fast over reef, holding shape and looking amazing, but there was no one out… There had to be a catch I figured, and given I hadn't surfed for 4 months I wasn't about to make that my re-entry… regretting it now…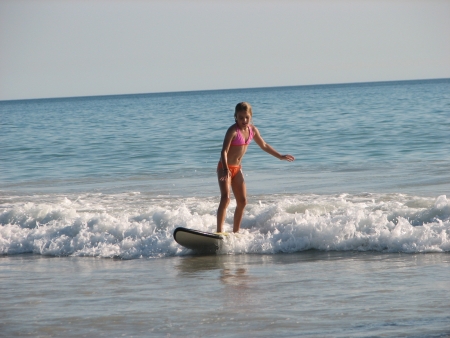 Broome… rarely is there any surf in Broome, but we got some little waves… enough for Chloe to get up and moving!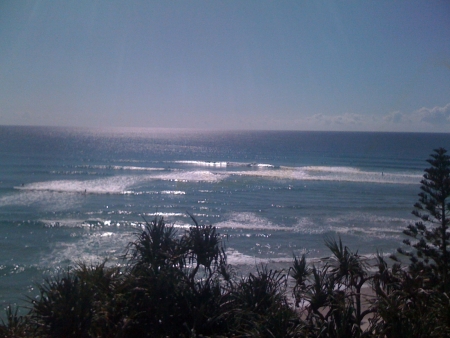 After Broome there were no waves until we got back to southern Queensland. Then the fun really started… This is Rainbow Bay. Not sensational, but Duranbah was so crowded that this was the better option. And in case you didn't know… Surfer's paradise isn't!
We stayed with a mate and he took me to his 'local', 'Cabarita'. Very nice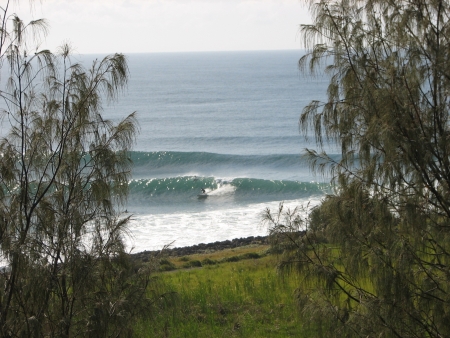 Oooh babeee… This was one magic day of waves. Lennox Head is an Australian surfing reserve and it was sensational. Getting out and getting in is about as much fun as banging your head with a hammer, and the crowd factor meant old fat blokes didn't get many waves… but when they did… woohoo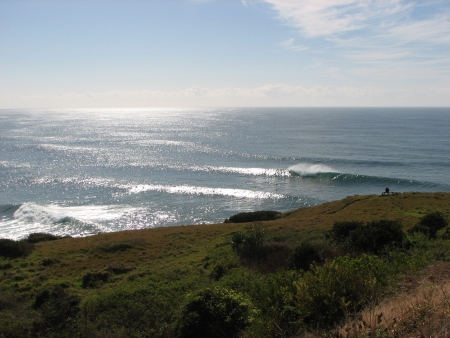 Ok two pics of Lennox because it was sooo bloody good! Don't miss it if you are doing the lap.
While staying in Alstonville we got wind of a little remote fishing town called Minnie Water where there were waves. It had great potential, but didn't fire while we were there. I surfed on my own most of the time which was a little worrying at times in decent swells.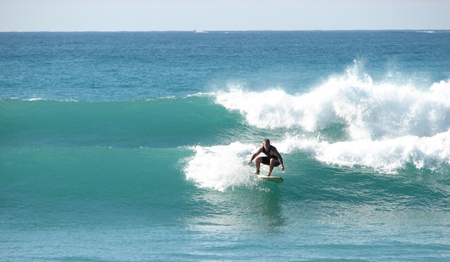 South of Minnie Water is Coffs Harbour and we stayed in the caravan park that backs onto Emerald beach, where we had 3 days of offshore beachies. Another score.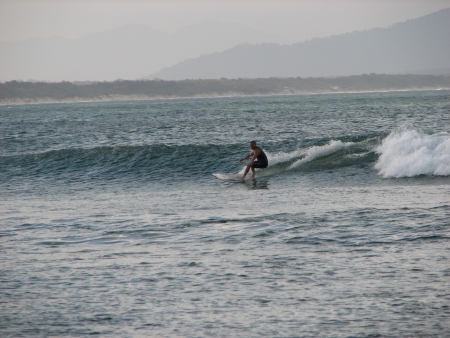 Scotts Head is a well known longboarder wave so we had to go there. It was small and cold, but still a nice spot. We were hoping to hit Crescent Head, but there was no swell so we continued on down the coast and had a few waves at Boomerang Bay before Danelle headed inland and I hung out at Newcastle.
This is the main beach at Newcastle, but there were waves everywhere. I had fun here but couldn't get a wave at 'nobby's' where a crew of 10 or 15 old farts hung outside and caught everything on their mals and dropped in on you if you did get a wave!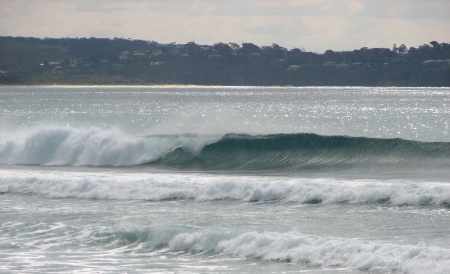 From here we headed thru Sydney in a day and went to Wollongong/Warilla where there wasn't much to speak of in the way of surf. And then it was on to Pambula where the beachbreak was turning it on for us yet again. I had 4 or 5 days of beautiful beachies and even though the water was cold it was still nice to be with just a handful of people on a stunning beach.
From Pambula we didn't see surf again until we hit Torquay and the infamous Bells Beach. It didn't break while we were there, but it looked like this on the day we left…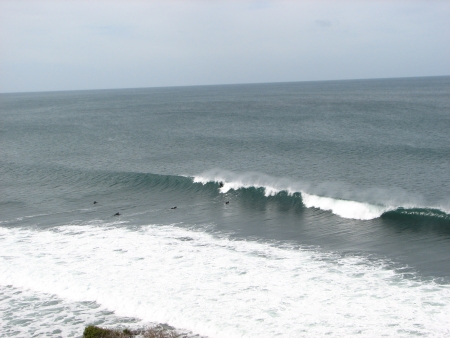 And just down the road that same day Winki looked like this… We could have stopped but both were pretty crowded so we decided to press on and hopefully find a wave further along the coast.
So we pushed on thru to Johanna hoping to escape the crowds… but it was about 10ft and wild, so we didn't get any waves in Vic after all…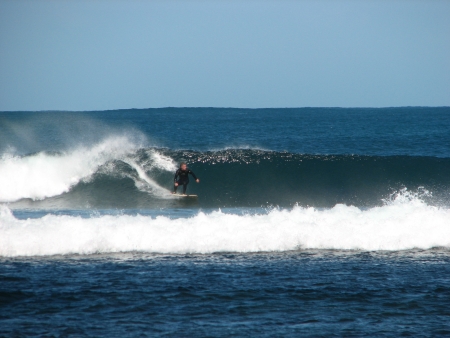 I have to say I was stoked to get to Cactus. Its one of those legendary places and in 30 years of surfing I had never made it there. It wasn't firing on all cylinders, but it was certainly good enough for some great uncrowded waves… great place for a blokes weekend…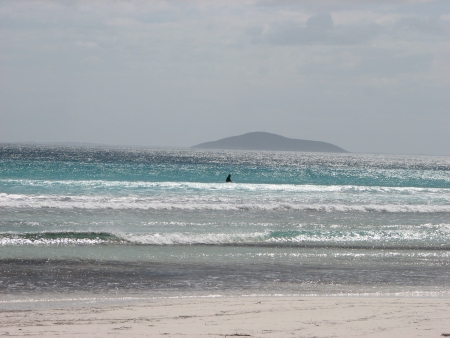 Esperance wasn't really doing it, but we headed out to Cape Le Grand where I had some fun waves a few years previously. Sadly it was just too small with wild offshores, to be ridable so I sat in the water for a little while and then gave up. Beautiful beaches, but not this time…
We ducked in at Bremer Bay on the way thru hoping to find some waves, but it wasn't to be. I had one surf at Albany with Sephto, but it was dodgy and then we made it thru to icy Denmark. I have great memories of surfing Ocean Beach as a kid, but in the last 30 years I don't think I have had one good surf there! It was so damn cold that we didn't care though.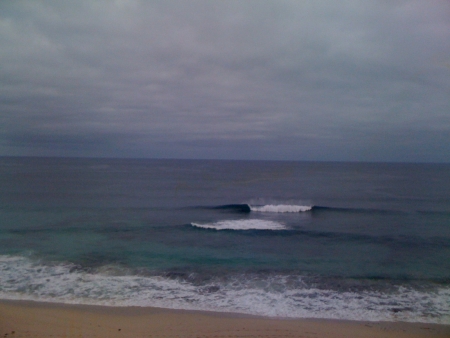 We are almost home and an uncrowded Indijup carpark is pretty hard to beat!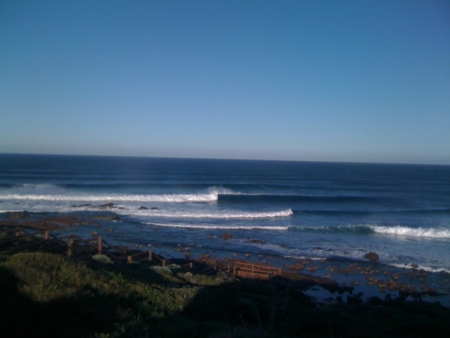 Early morning at Moses Rock, probably 4 or 5 ft with bigger sets… I was the only one there… But I piked… what a loser… 🙂
Anyway, there are some sensational waves to be had all around this amazing country, but if I had to pick one place to go back to, it would be the NSW coast, pretty much any part of it!