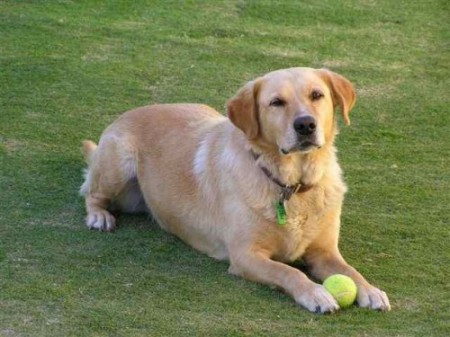 It was a sad day in the Hamo household today as we bade farewell to our lovely old dog Winston. We picked him up in 1996 at the age of 13 months, badly abused, afraid of his own shadow and as a result pretty socially inept.
He turned out to be a beautiful dog in every way, with enormous energy and great patience with kids, but 14 years on his legs were giving way and we would regularly wake up to dog poo in the house. We have known for a while that his time was coming.
So last week I made the trip to the vet to get him assessed and we made the tough call to say goodbye. Today was the day. Ellie didn't want to go down so I stayed home with her and dug the hole, while Sam and Danelle took him for the needle. Sam got scared and stayed in the waiting room, so Danelle was left with him.
We buried him in the backyard ($115.00 for a 'group cremation' was never going to happen) and he now has a mango tree planted on top of him.
We're all pretty sad, yet at the same time conscious that the future was only looking darker for him and that it was better to make the call now.
We are all grateful for having such a great mate for so long.