Just go here for some great pics of the recent Forge Festival.
I have chosen one that for me stands out – not because its a fantastic pic – but because it captures something of the heart of the festival.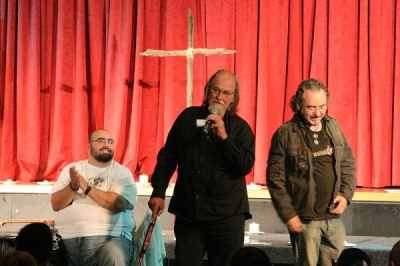 The pic was taken during a short time we set aside to honour older missionaries and those who had gone before us -acknowledging that we stand on their shoulder. Of all the people we could have chosen (and there are plenty) Smithy finished up being the one. This image shows 3 'generations' of Aussie missionaries.
Smithy was and to some extent still is the roving itinerant evangelist who was responsible for starting the 'God Squad' (mission among outlaw bikers) and for paving the way for others to take seirously the task of mission that says 'go' rather than 'come'.The fact that I finish up deeply knitted into the forge community is no surprise, as this man was one of my heroes as a teenager and inspired me to follow Jesus passionately more than almost anyone else I can think of. I loved his direct, straight talking approach to preaching and his courageous example of following Jesus into the difficult places. We honoured him as one who paved the way for the rest of us.
The others in the photo are Alan Hirsch the founding director of Forge, and Kim Hammond, currently the Victorian director and the festival organiser.
The festival is very much about gathering the tribe and celebrating the missionary adventures God has called us to. I really didn't want to come home at the end of it as it felt like we were amongst family and people who genuinely shared our hearts for the work we are called to.