Following our church meeting in late January we started to get on withe job of building a community. As leaders we established some priorities for the year to try and help us focus and then began working towards those priorities.
They were pretty simple. We would:
– explore and develop our connection with the school, one of our primary mission fields
– develop and implement a process for spiritual formation. As a church we had no particular approach to discipleship and helping people become like Christ. We decided to give this some focus.
– build community within. We would have parties, camps, bbqs and the like just to help people connect. We would 'hang out' a LOT.
– establish a regular Sunday rhythm and have some predictability about how we gathered
– communicate well, often and clearly
A fair slab of this was focused on us becoming a better version of 'us', a healthy version and one that would naturally focus outwards. Being connected to a school means we are blessed with free facilities and plenty of them. We also have a community of people right there who we can connect with, if we are able. The challenge is to find people with time, energy and vision to actually do it. Living in a suburb a long way from the city means many people commute and leave early/get home late so time can be hard to find.
Oddly enough around the time we framed these up a number of families joined our church. Healthy people – contributors – people who were willing to accept that we were a work in progress and who actually wanted to be with us. There were 3 or 4 families pretty quickly, then another 2 or 3 families and before long the vibe was quite different. It was beginning to feel alive again. Amazing what a bunch of positive new faces can do. Almost all of them were from overseas, mostly South African, but with a few Brits as well. Aussies were hard to find, but hey we weren't that fussy… We were just wrapped to see friendly faces who were keen to join the team.
As the year began we had a few initiatives taken to try and make connections with the school. A mentoring program ran, a playgroup and a coffee morning. Each had different degrees of success, but that people were taking initiative and making stuff happen was really encouraging.
We began looking at the book of Exodus in our Sunday morning gatherings – the story of a bunch of people on an adventure together… It was good as it tapped right into our own story. Later in the year we read Ephesians and worked thru it as a way of getting a better picture of who we are as the church in the bigger plans of God. We used this time to call people to actually commit to the church and become 'members'. Now there's an odd concept if ever there was one… But it is one of the ways people can put a stake in the ground and say 'we are with you'. Our membership pretty much doubled overnight.
We re-formed our bloke's group and invited men to really step up the intensity of their own spiritual formation. It was a hard core call to spiritual discipline. I didn't expect a crowd, but around 10 blokes responded to the call and met together regularly. This was a huge shift and one I found great hope in. The women also gathered each week for prayer or some form of Bible study and their energy levels rose too.
It was the classic scenario of a group 'forming' and getting to know one another. Into the mix of regular church stuff we added lots of parties, impromptu beach trips and 4wding and it wasn't long before we were forming a strong bond. All of these activities were open to all, so anyone who wanted to be part of them could join in. People were liking each other and enjoying being together. This was good…
So from near despair in January, by the middle of the year we were feeling great hope and energy. Now when people came to visit on a Sunday I was able to say with confidence 'This is a great group of people. I love being here and if you'd like to join the crew then you'd be welcome.' What a relief that was…
2011 rolled on and the church slowly grew, not by people coming to faith, but by people leaving their homes in other countries and coming to Australia. I'm not a big number cruncher these days, but in this expression of church there does seem to be a number that is a critical mass. Fifty is around that number, but seventy feels better. There is a buzz when a decent sized group of people are together that isn't there when there are just 20 or 30 of us.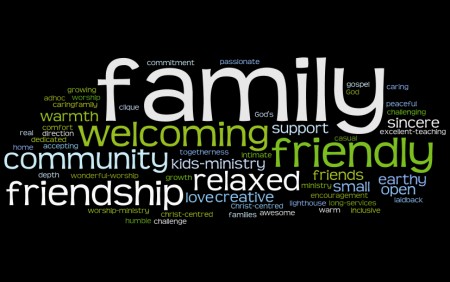 While I wasn't excited at all about our 'growth by immigration' scenario I was very excited to be with a bunch of great people and to see the changes that were taking place. One of the things that happened over that year was that as people came they brought their children and our kids ministry grew. Now when the kids left the main gathering to do their own thing, about half the congregation left. A nice change. Danelle had been developing the kid's stuff and had done a fantastic job of slowly growing a great group. Just a couple of months ago she let that role go and we appointed someone to work in the role 2 days a week. Janet was one of the first of those new faces – a slightly crazy Scottish woman who came to Oz looking to be a primary teacher and finished up as a kid's minister…
Earlier this year we did a 'wordle' as a church to see how people felt about who we were and the image above kinda summed up where we had come to in the previous 12 months.
It actually came out exactly as I had imagined it would. This was what we had been working towards for the last year and we had actually formed a 'family' and a warm, genuine community. This was a great step forward and something to be happy about.
So why was I feeling an inner sense of concern?…