A couple of weeks ago I wandered into Cafe 54, a new operation in Pier Street at the Eastern end of the city. They recognised the voucher I handed over in return for coffee, courtesy of those amazing people at 5 Senses and asked 'Did you go on the coffee tour with Grendel?' 'uh huh…' I admitted carefully…
We had some good counter banter and I ordered a flat white and a chicken and bacon sandwich thingy. The staff were friendly, the sandwich was beaudiful (one of the best I've had) and the cafe itself feels great, but the coffee – which was the reason I went there – was a bit average. It wasn't what I expected as they use good beans and have a very nice synesso machine!
I didn't think much more about it, but knocked up a brief review in my draft box all ready to post…
Then came an email from Mike, the cafe owner. Not realising I had been in that day, but having read my other reviews he offered me a free coffee so that I could write a review on them also. I told him I had 'been there done that' but would happily do it again! I explained that the coffee wasn't what I expected.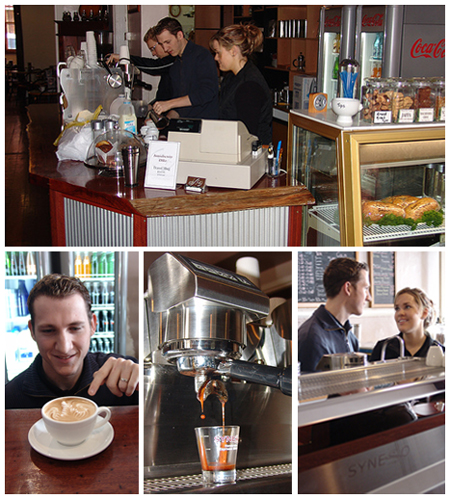 It turns out the coffee I didn't like, was made on a day when the machine had broken down and the blend had changed – so it wasn't just me being a fussy bugger. Everyone has a bad day (which is well worth remembering when writing reviews).
I went in again on Friday to have lunch with Mike (a local church minister) and two of his staff team. This time the coffee was great and the rest was very nice also. I actually liked the fact that the coffee had a distinctive flavour but unlike Grendel I don't have the vocab to describe it!
Cafe 54 has a heap going for it with great staff, a brilliant location (opposite Miss Mauds), good food and excellent coffee. The big couches looked very inviting so next time I'm in I might try them out!
I have stolen the images from the five senses crew. You can read their review here