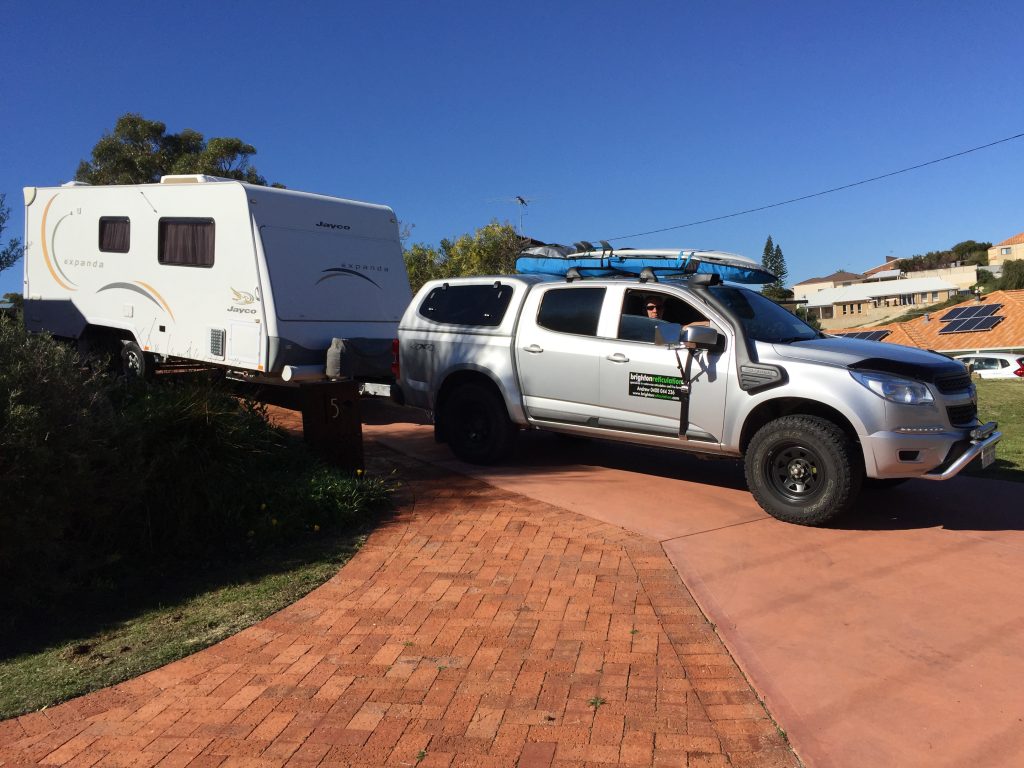 It was a big move to shift from the much loved HJ61 Landcruiser to the Holden Colorado, but after the transmission died on our last big trip north and we began planning a trip to Tassie I realised that the cruiser might not be my 'forever' car.
After much research and pondering I settled on the Colorado – a 2015 model with 7000ks on the clock and being sold by a young bloke who just 'wanted out'. He had done some mods – a $3K stereo (wasted on me), some big Cooper max's, snorkle and tint. It was a good looking beast and a real bargain.
I drove a few different dual cabs and I liked the drive of the Amarok the best, but I couldn't beat the deal I was going to get on the Colorado – especially as it came with a 5 year warranty and 3 years of free servicing.
So how has it been now that we are 37000ks in?
Well… I don't think its a car you 'fall in love with' like the old cruiser, but it has been a really good beast. I have since added a brake controller, reversing camera, roof racks, side steps, nudge bar and lights, canopy and seat covers to make it a bit more suited to my needs.
It rates highest in its class for power and torque and it doesn't miss a beat here. It has heaps of grunt, tows well and accelerates nicely. There is a little turbo lag but not heaps. We tow 2 1/2 tonnes of caravan and it has no trouble at all. You certainly know the van is there, but its never been a struggle.
The fuel economy is not as good as the specs – not by a long way – but then I rarely drive it at 80km/hr around a flat track with no wind… I drive it loaded up in the rear every day and often with a trailer. Without a trailer we are looking at 11.8 around town and with a trailer around 13. With the caravan I can tow it down Lord Forrest Freeway at 90kph and get 15-16 on a good day… or if we have to smash into the wind while doing 100kph on the way back from an up north trip it might get 20-21… ouch. I did get 8.5-9 when I first had it and drove it like a granny on the freeway, but who does that every day?!…
After driving a car made in 1987 things like 'auto off' headlights, bluetooth and all manner of warning lights are quite a hit. The best thing is the comfortable seats – made moreso by the addition of sheepskin covers – meaning driving never gets old. Adding a canopy to the rear was also a smart move. It dramatically increases the storage space and means working from the back is so much easier. The original tonneau cover was always going to be a stretch,.
What's not to like?
It gets a bit rattly when you wind it up and that engine noise could do with a bit of refining. The Coopers look great but they do kick up some road noise (gotta rotate them every 10k to prolong their life and stop the chunking out). The sound system is great but Pandora loses connection often which is a PIA, but none of these are major things.
The best bits?
I love the steering wheel controls for audio and cruise control and the driving position is great. There is heaps of rear leg room for the kids and power to really take off is awesome.
I haven't decided yet whether I will give it another 50K and then change it up or whether I will try and hold onto it for a while. I do 30-35K a year so it could rack up the ks pretty fast.
Would I buy another one?
Probably – although I reckon the dual cabs are all pretty similar, so I would just look for the best deal and go with that.