We are cleaning and packing today as tomorrow we leave. I speak at church, we head down the beach and baptise two good friends who have just become Christians and then we hop in the car and head north. Its a great way to end this period.
Packing is not something I particularly enjoy, but the essentials need to be sorted.
Surfing and fishing gear – 1 x 7′ 2″ mini-mal with two wetsuits, wax and spare leggie, 2 rods and tackle box
Coffee
– Breville aroma espresso machine, picked up for $40.00 in a local garage sale along with the Sunbeam grinder and 2 kg of home roast. I reckon it'll last 5 weeks, but then you wouldn't want to drink it after that anyway…
Wine – one carton of cab merlot – should last a week…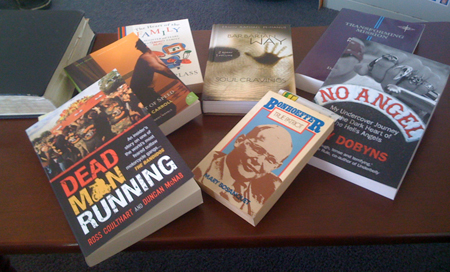 Books
– this is the tough one… They are weighty and once you've read them you can't 'use' them again. I am starting off with these 7 and will probably post them home as I read them. They might not last me long as I am a rabid reader on holidays.
They are:
Dead Man Running & No Angel – both biographical accounts of outlaw biker culture supplied by a friend.
No Rusty Swords – a biography of Bonhoeffer – small print, but looks interesting…
The Gift of Speed – a novel by Steven Carroll – the second in the trilogy (I have read the other 2!)
The Barbarian Way and Soul Cravings by Erwin McManus – this two book set was on special for $10.00 the other day so I thought I'd give it a whirl
Transforming Mission by David Bosch – I have dipped into this book and read slabs of it, but would like to have time to really work thru it
The Heart of the Family by Adrian Plass – just for amusement
My Bible
oh yeah clothes… 3 t shirts, 3 shorts and 3 pairs of jocks
packed…
ready…