Despite swearing off any more midflight flights to anywhere (ever), somehow I found myself yet again on a Jetstar flight bound for Coolangatta a little over a week ago. Its the only flight that operates direct from Perth and all Brisbane flights were taken (using FF points) so it was another 'red-eye special' for the Hamo family mid year holiday on the East Coast, where we were hoping for great weather, surfing and some fun family times.
It left an hour late – around 1 am on Monday morning – and that after a fairly intense work day on Sunday. We landed in Coolangatta around 7.30am having been packed in like sardines and with virtually no sleep.
I picked up the hire car, loaded bags and surfboards on and we headed for the Coolangatta beach cafe strip to get some brekkie, as our motel wasn't gonna be ready for us until around 1pm. The massive swell that hit the Gold Coast the week before was just easing and at 8.00am Snapper Rocks was packed with well over 100 people in the water and there were very few unridden waves – not that either Sam or I felt up for hitting the water right then.
After a longish afternoon nap we snuck out for some dinner, before heading home to call it a day and sleep well yet again. While driving to get dinner we spotted a mate from 30 years back picking up a pizza at Dominos. What are the chances? We circled the block and Danelle hopped out – 'Dazza?' And it was… so we scheduled a coffee for the following day to catch up.
We had 3 magic days in Queensland where the sun shone and the weather was perfect. On the down side, the day before leaving Perth my lower back had erupted in some serious spasms and the plane ride over hadn't helped. I was hobbling around like an old man but aching to get in the water. We were staying 100m from Burleigh and the surf was looking fantastic. I waited till the third day and it hadn't really healed but I was frustrated so I just paddled out… Yeah it went well…
On the up side we caught up with 3 sets of friends while on the Gold Coast and that was wonderful. Two sets of friends who we have known since we got married and then another who had recently moved from Quinns in search of more work opportunities.
We headed off on Thursday morning to check out Byron Bay and the surrounding area. Before leaving it was decided (not by me) that we should go shopping at Pacific Fair – one of the biggest temples I have ever seen – where we paid homage to the God of consumerism for around 90 minutes. I spent about 80 of that 90 reading a book. I just don't get shopping if I don't need anything…
As we we were leaving I was packing the car and while trying to get all the suitcases in I pushed down hard on the hatchback lid. It closed – but… there were now two large impressions left in the tailgate where my hands had been. Bugger… Thankfully for the first time ever I took out insurance to cover the excess on our rental agreement so it shouldn't cost anything. But the new rule is 'if it won't close easily then don't force it'. Nissan X Trail crumple zones now extend to the rear tailgate – beware.
Nothing says 'Byron Bay' like a 30 year old dude with waist length dreadies, and bare feet in flared brown cords and an unbuttoned shirt with a medallion swinging between the pecs and funky sunnies crossing the road towards you. Byron is hipster heaven and I really couldn't get out of there fast enough. We were staying down the road in Suffolk park. I had booked the motel on Booking.com – at least I thought I had… Apparently I had booked it for August, but they kindly let us change the booking, so we checked in and went surf exploring. Broken Head had a beachie that was looking ok, so me and Sam paddled out. Again the back proved problematic so after an hour or so I called it a day.
From Byron it was down to Iluka – yeah a suburb of Perth – but also a town in Northern NSW. We drove on thru to Maclean, a nice little town on the Clarence River for lunch before heading out to Yamba and Angourie. I wanted to check out Angourie as it is classified as a 'Surf Reserve'. The swell wasn't grunty enough to make the point break, but the beaches were stunning – offshore breezes and blue skies were more temptation than we could resist so Sam and I hit the water in boardies while Ellie had a swim too. So far the weather has been stunning and it feels more like autumn than winter.
We backtracked 40kms to Iluka and slept the night before it was on to Coffs Harbour where we booked a motel right on the Park Beach front strip. Last time we were there we had seen some great waves pumping thru so we pulled in hopeful. My back had now got worse and I was struggling to move, but typically its a bit of exercise that seems to set it back on track so I was willing to risk it.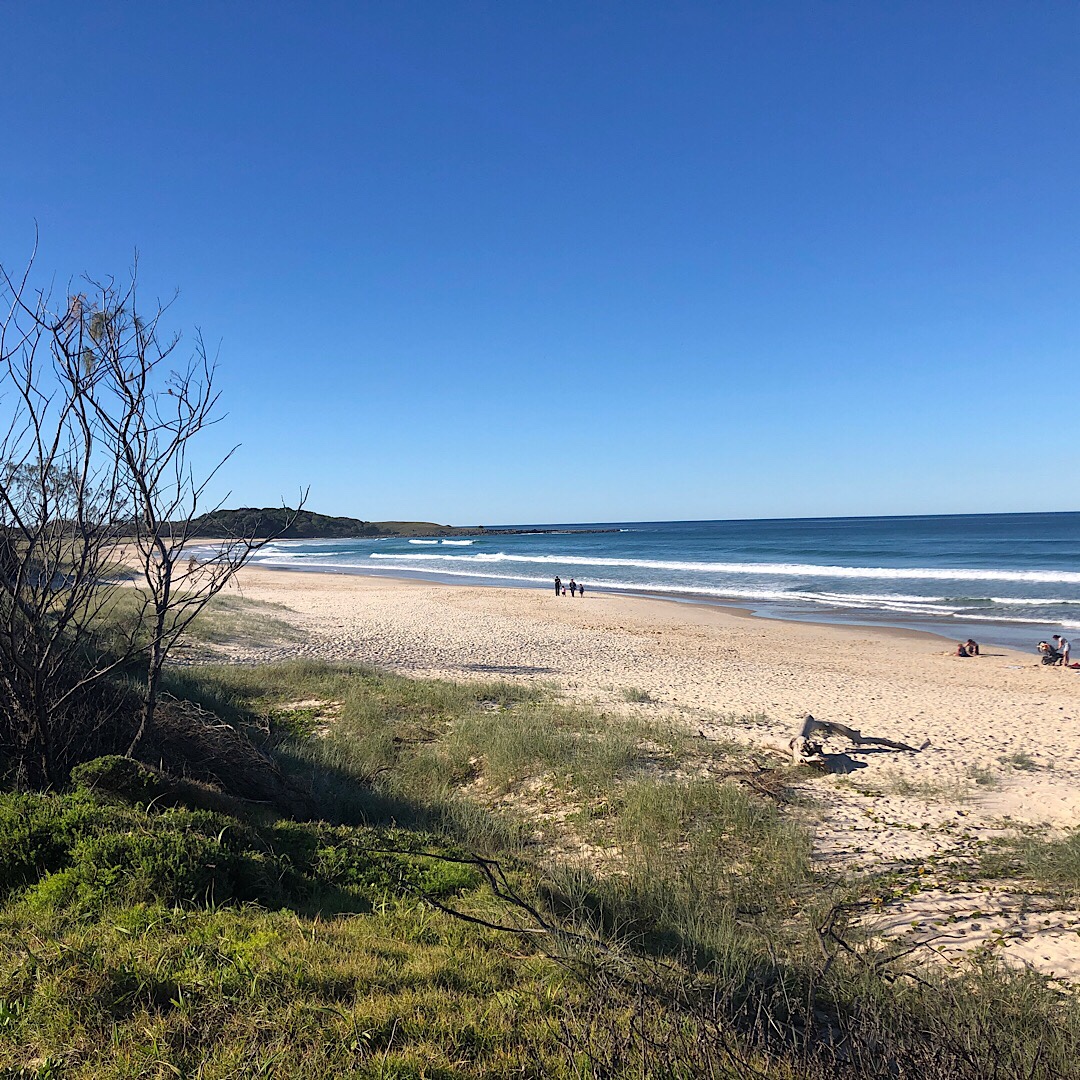 We love the Coffs beaches and even though the motel (which became known as the 'brown room', because everything in it was a shade of brown) was well below par we enjoyed the time there. On the first evening Sam snuck in a sunset surf just as the new swell was rising and then on the second morning he scored some magic waves head high beachies at Park Beach. I hobbled out of bed and could hardly move. At 11.00am I managed to get across the road to check the surf and it looked so good I hobbled back, pulled on the wetsuit and paddled out. My hopes of exercising the pain away continued to be futile. I could paddle ok, but as soon as I had to snap to my feet the pain knifed in and I would fall. It was nice to be in the water, but I'd be lying if I didn't say I was getting pretty frustrated. Two years ago we cruised up this coast without surfboards and said 'if we ever come back – it is with the boards!' And here we are – all kitted out – with perfect weather and waves but too sore to surf.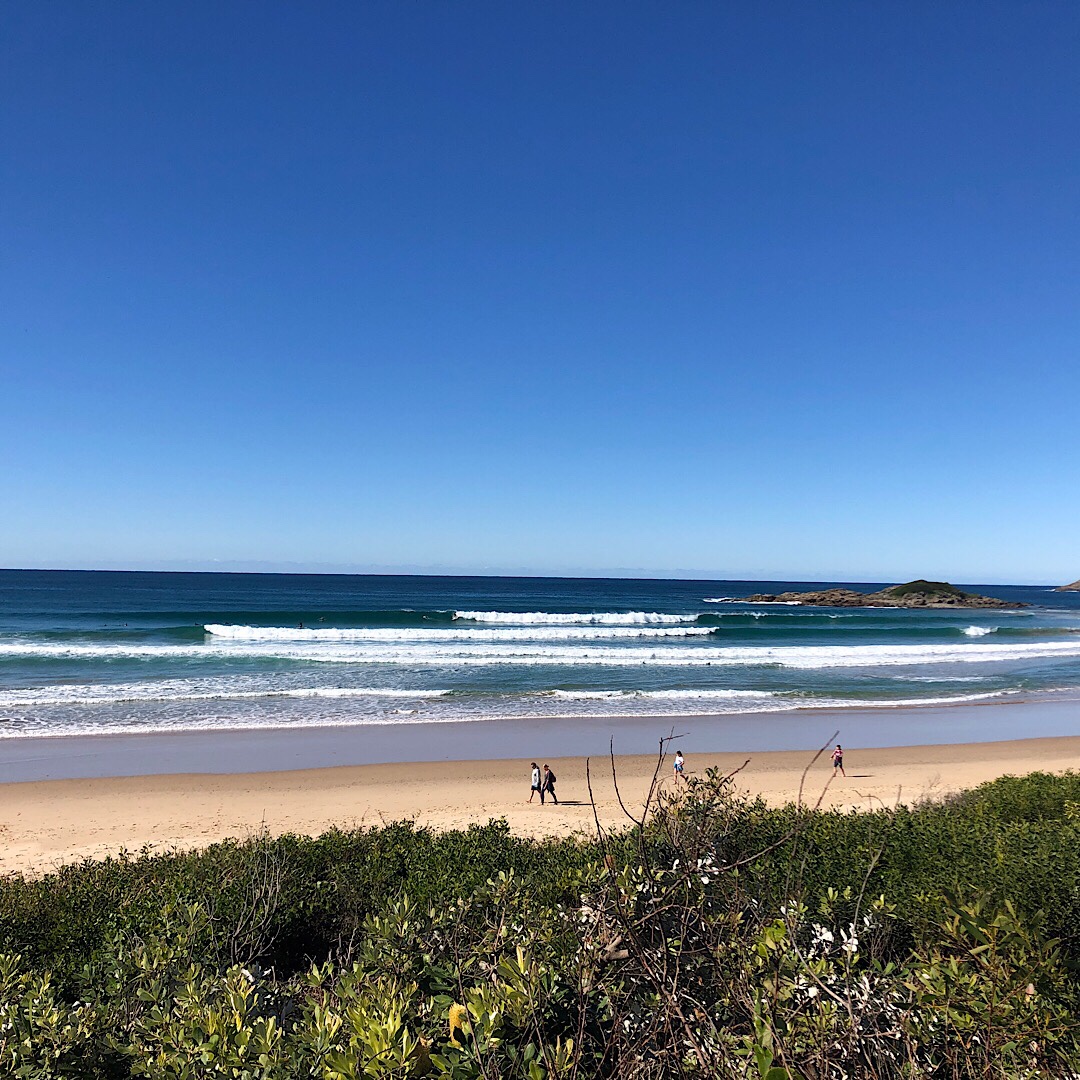 From Coffs we came down further and had lunch at Crescent Head. Again we had hoped to crack the boards out and surf this Aussie icon, but the swell was from the south and barely hitting it. We drove on to Port Maquarie – possibly one of the prettiest cities in Oz, where we are now for two nights. And the skies are still blue and the waves are still looking perfect…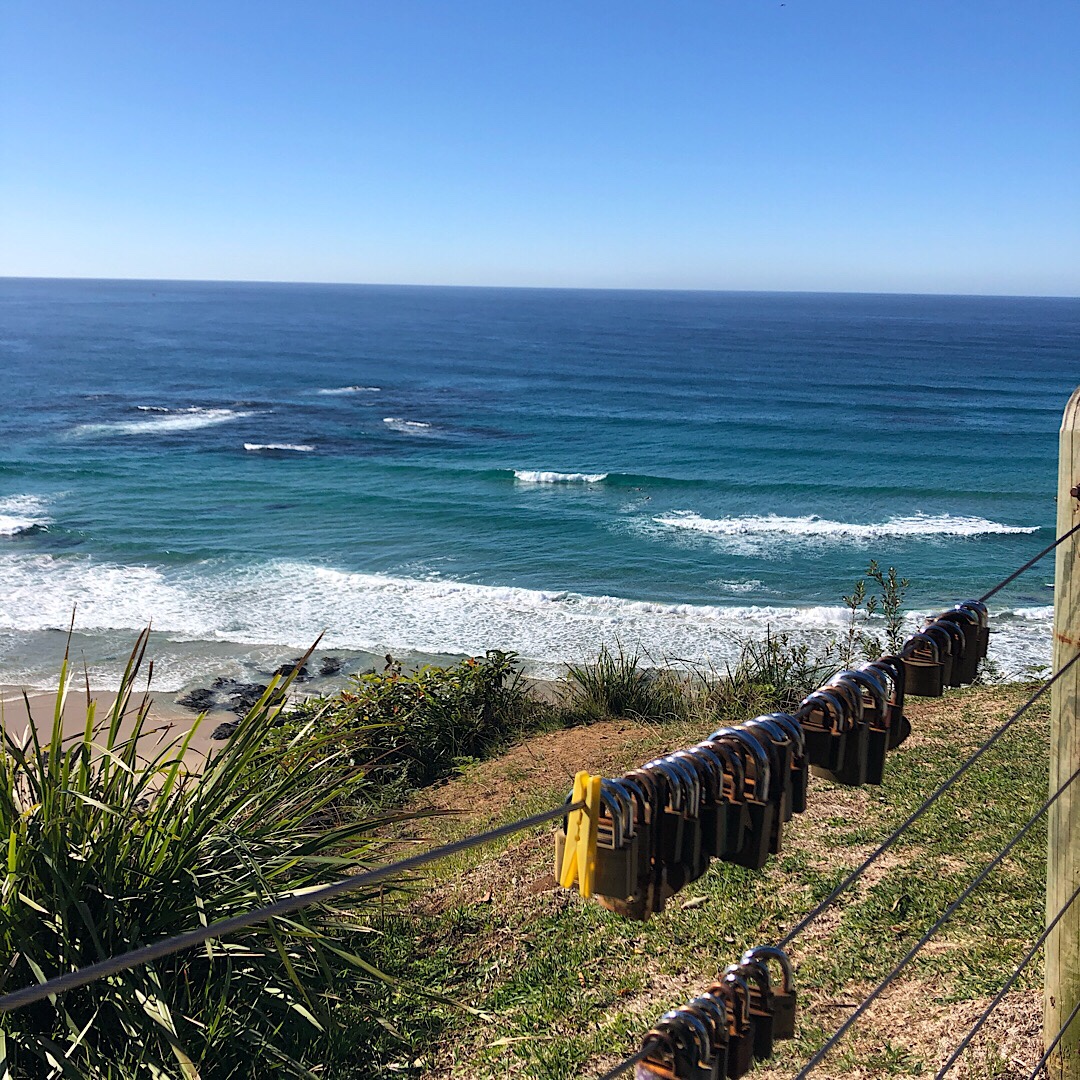 I finally went to see the physio in Maquarie and he did some work on me which seems to have had some effect, but I get the sense I best stay out of the water for the next week as I have a few days of work lined up when I get home and I need to earn some $$ to pay for all of this. From here its on to Newcastle to stay with family – another surf mecca – that will have me watching on ruefully, but hopefully Sam will have fun.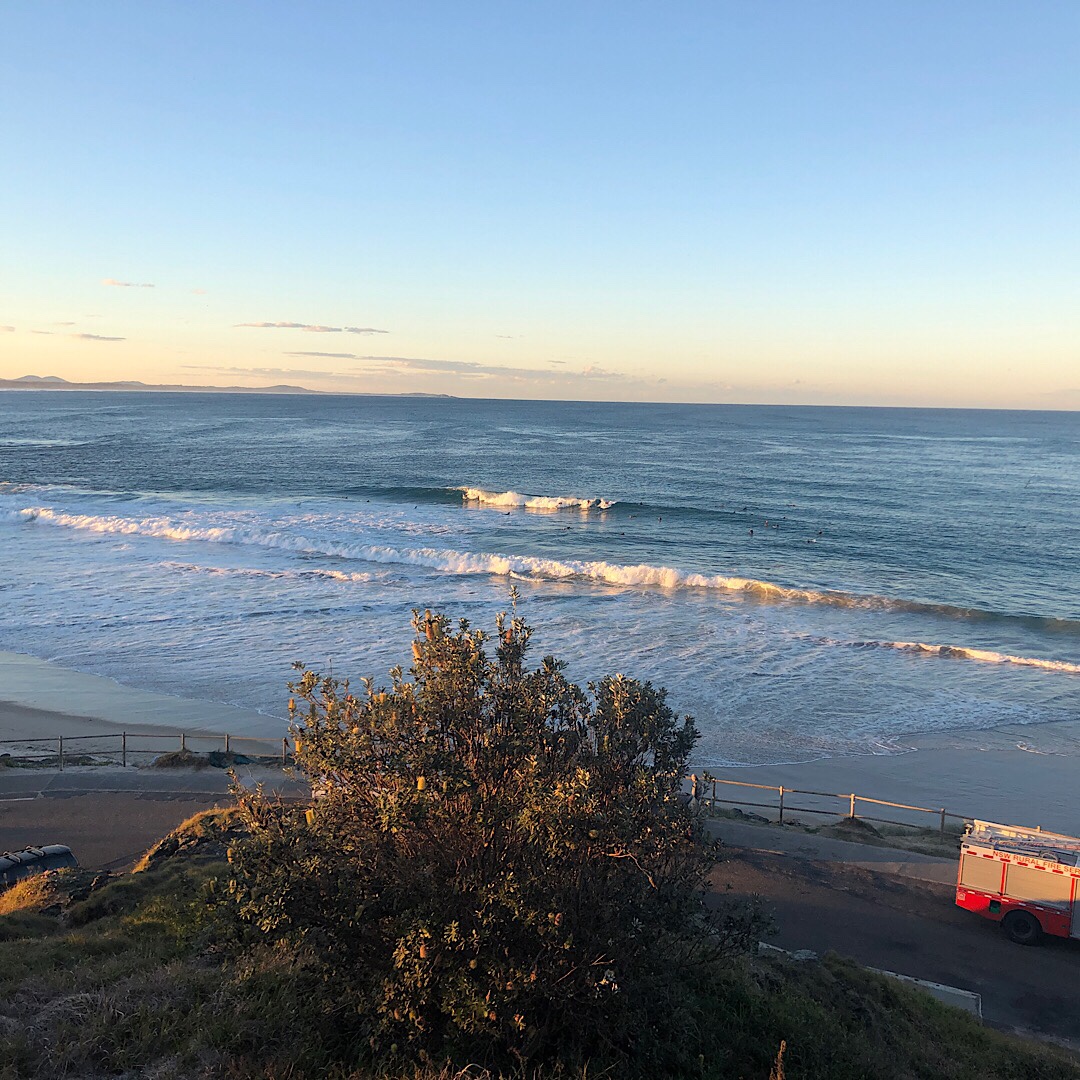 On the up side the Maquarie Bowling Club have a nightly buffet so we are heading there for a feed this evening. Sam is planning his strategy for eating them out of everything that is there. I'm not hungry as I haven't done much all day.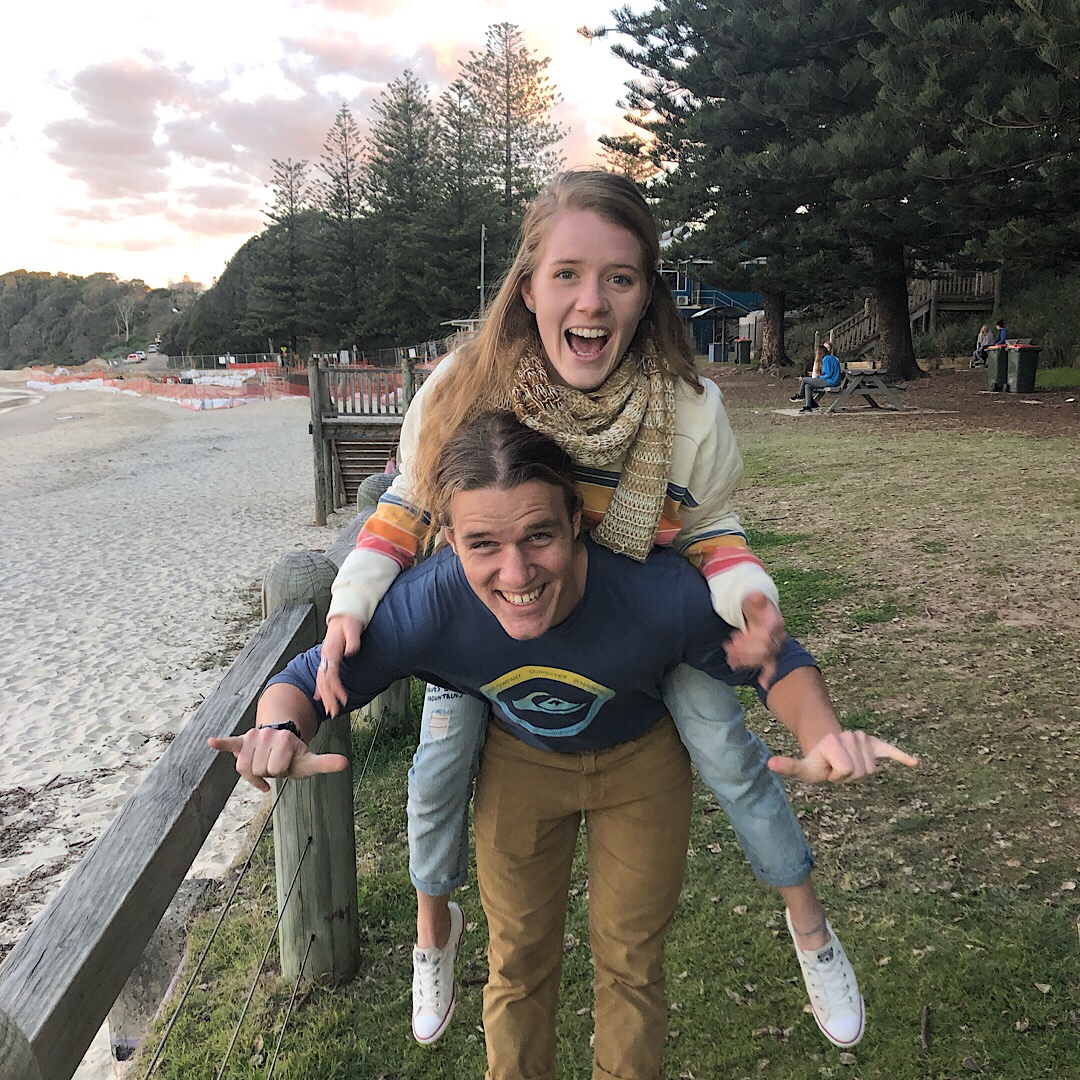 Its hard to believe we have been experiencing winter as we haven't seen a cloud let alone rain and its only since reaching Maquarie that we have pulled on the long pants.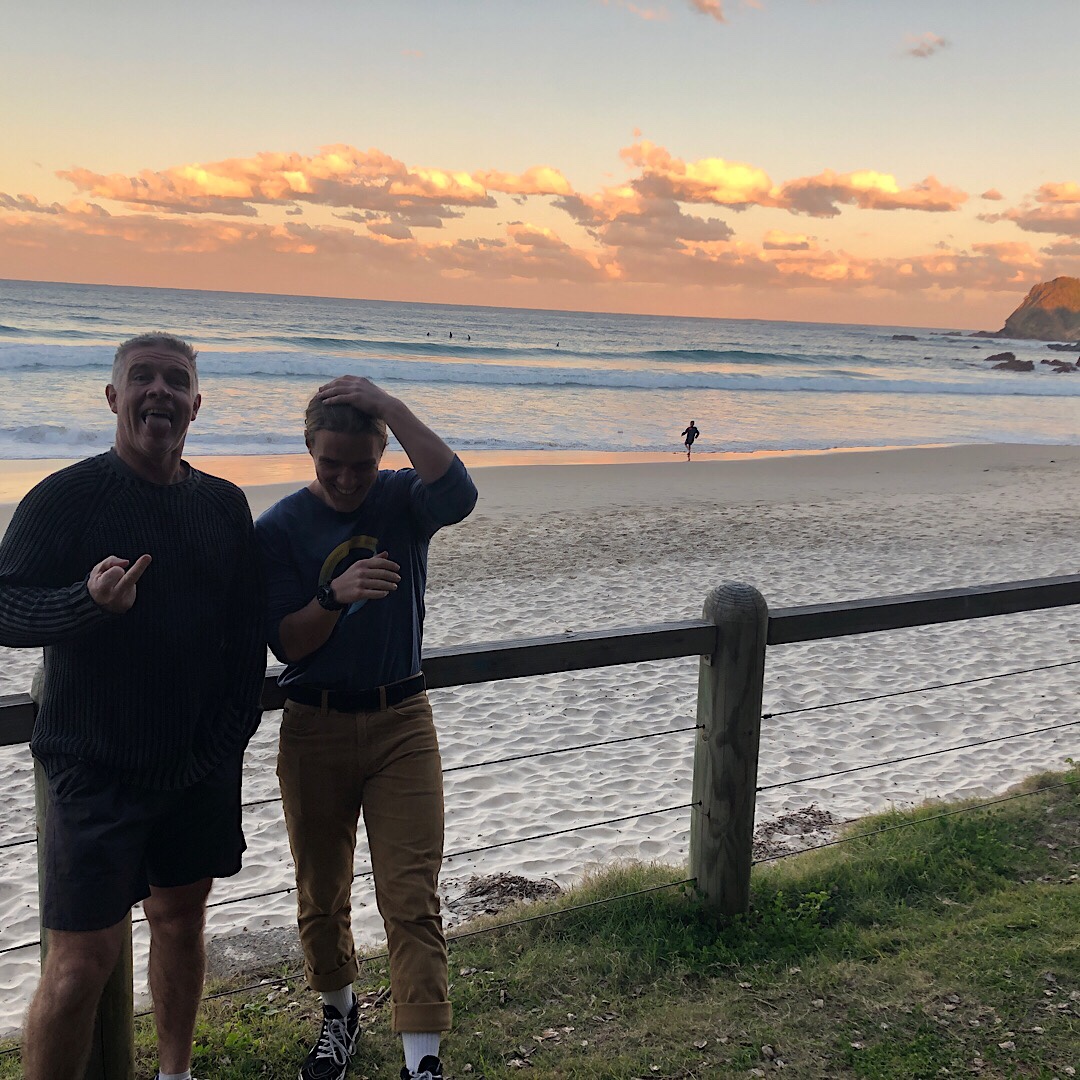 If you want a great family holiday then a cruise down the NSW coast has gotta be up there with the best. We still managed to bypass a heap of spots we would love to have stopped in at, so maybe this one will make the agenda for Long Service Leave in 2021. Despite the ongoing pain, it has been great to get away with the family and explore a part of Australia that we love together. I'm not sure how much longer we will have family holidays like this (I am hunching as long as we are paying…) so we are making the most of the fun we have together.