Mondays is my home school morning. Usually an hour or so of phys ed and then an hour or so of creative writing. Its usually 9.00 when we start and lunchtime when we finish so the 'hour' is very flexible and we usually end up having so much fun that it runs longer.
Its one of the favourite times of my week. I have gone off 'teaching' in a school but I love teaching my own kids and helping them learn.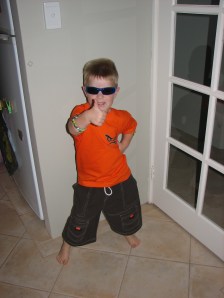 As part of the creative writing process I got them to start their own blogs (and yes I did coach them on the dangers of being online…) and they have both been getting into it. Ellie has a bit of a flair for writing – although her spelling is a bit ordinary at this stage, while Sam (the science geek) has actually taken to blogging a little more. He's a genuinely funny little bloke and his blog reflects a bit of his sense of humour. Fortunately he hasn't started any of his 'uranus' jokes yet…, but his 'about me' page is a fair take on who he is.
While all of us are enjoying the the home schooling we're guessing that sooner or later the time will end and they will re-enter mainstream stuff. The question is 'where'? Danelle and I are both products of state schools (Port Hedland for Danelle and Scarborough for me) so we're not at all opposed to state education in fact I'd love my kids to be part of a local school. The question of education quality is the big one and I'm not sure if they would be better off being in a private education.
Everyone I know will argue 'yes' on this score but I'm not convinced – and I'm not just being objectionable. I think the bigger issue is one of culture and who are kids become as they hang in different social circles. There's no question that in their teen years kids are heavily influenced by peers and while I'd like to believe that we have much greater influence I'm not sure what kind of teenagers my kids will be…
I just think private education shouldn't be a foregone conclusion and it seems that it is by and large these days.