I keep listening to Rob Bell in the hope that he will restore my faith and my confidence…
His podcasts were wearying for a while, but recently I started listening again as he began to adopt more of a sermonic approach to some of what he is saying, even to the point of having a biblical base for his thoughts. There's no question Bell is at his best when he is preaching and communicating the Bible and lately he's picked it up again.
His three latest podcasts, creatively titled God Part 1 God Part 2 and God Part 3 are all 'based' in scripture, and do offer some provocative and helpful insights, but they also speak more clearly to where Bell is locating himself now.
In his final session (Part 3) he uses two passages of scripture to make his point – Jacob's dream, where he makes the point that God has 'been there the whole time' but Jacob just didn't notice – 'his consciousness hadn't evolved' to that point. Then he flips to Acts where Paul states 'in him we live and move and have our being', from which he concludes that we are all 'in God' and that God is best seen as the 'connective tissue of the universe'. He goes on to argue that the trinity is the ultimate expression of this and that we are all 'in' God, but only some of us have been enlightened to this.
HIs first session was actually quite helpful when he deconstructed the myth of God being separate from the world – 'above us' or disconnected from us, but in his reconstruction he has well and truly embraced what we would call 'panentheism', the belief that all is 'in' God.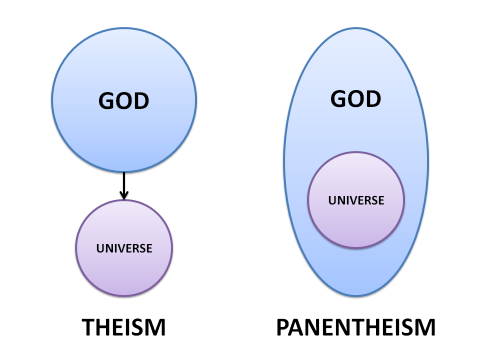 The wiki def is this:
Panentheism (meaning "all-in-God", from the Ancient Greekπᾶνpân, "all", ἐνen, "in" and ΘεόςTheós, "God"), also known as Monistic Monotheism,[1] is a belief system which posits that the divine – whether as a singleGod, number ofgods, or other form of "cosmic animating force"[2] – interpenetrates every part of the universe and extends, timelessly (and, presumably, spacelessly) beyond it. Unlike pantheism, which holds that the divine and the universe are identical,[3]panentheism maintains a distinction between the divine and non-divine and the significance of both.[4]
I keep hoping he is saying things in such a way that 'Ophra-ites' will be able to understand, but I am increasingly coming to realise that he is now living in a different theological and philosophical space.
And I'd suggest his podcasts are best avoided by anyone without the ability to think theologically and do some rigorous discernment. There is such a subtle melding of biblical language and 'teaching' with new age bullshit that a newbie may well be unable to discern the flow of thinking and its implications. (I know you're probably going to ask me 'so what's the problem with panentheism?' and rather than regurgitate someone smarter than me's thoughts you can read them here. )
I wouldn't often use a word like 'dangerous' to describe someone, but I used this word the other night as I was explaining what I was hearing to Danelle. There is enough truth, combined with blazing communication skills to make him sound compelling and smarter than all the other people, but there are also clear and definite statements that locate him now in a place that is very different to where I would want my congregation to sit.
So – again – let's not condemn the guy…
Seriously – that doesn't help. But let's be aware as we listen to him that he is operating now from a paradigm that is no longer within the bounds of Christian orthodoxy and while some of us might have been around for long enough to be able to eat the fruit and spit out the pips that isn't everyone's forte.