'If all the year were playing sport, to holiday would be as tedious as to work – but when they seldom come – they wished for come.'

Prince Harry in Henry IV Part 1 – Shakespeare
I don't remember a lot from high school, but this little bit of Shakespeare stuck with me. I had to learn a whole bunch of quotes for my English Lit exam and this was one of my favourites. It has also been one of the more significant and formative ideas over the years as I have tussled with the balance of work and play.
When we travelled Australia back in 2009 it seemed that every other traveller we met was hoping to eventually do nothing but travel full time. There are actually countless people on the road every day with no plans of heading home, who are doing nothing but moving around day after day, because apparently this is 'the dream'. Well I think Prince Harry was on the money with his thoughts as even though travel is wonderful and not working is less taxing, it is only so because we have something to compare it to. I can only imagine how tedious and unfulfilling it would be to do nothing but live in a caravan and indulge my own pleasures every day. Life needs (and indeed has) a far greater purpose than our pleasure and self indulgence, however that is not a common or even popular narrative.
I have really enjoyed the last 3 1/2 weeks of travelling, but I know this is not my life. My life is intended to have purpose and to be about service and connection and even sacrifice.
So with a mere two days of holiday left I thought I'd write some reflections on where we have been and what we have done – but against that backdrop. This has been a much needed and enjoyable break, but as we head home it is with a sense of purpose and joy as we go back to the things we have been called to do and the people we have been called to live alongside of. This is where our life is (primarily) and the breaks only serve to remind us of how privileged and blessed we are to live the life we do.
So read on as I ramble around to and fro with travel tales, theological reflections and the odd bit of plain silliness.
——————-
It was June 26th that we left home for Guilderton where we would spend the first evening and celebrate my mother in law (Val's) 80th birthday. We had a great evening there with family and the next morning hit the road bound for Esperance, but with no set time to be there or to move on.
'Where to hey?' Its a question we have asked one another often over the last 3 1/2 weeks. That night we finished up in York, a quaint little town in the Avon Valley where there is free overnight camping by the river. It was raining and cold, but we enjoyed walking the streets and checking out some of the culture and architecture that makes this town unique. A great first stop and a place we'd love to revisit some day.
From there we asked that same question. 'Where to now?'
Hyden was on my radar as after 46 years in Oz I still haven't made it to Wave Rock and I thought it would be nice to go, seeing as how it was on the way. That said we weren't far from Narrogin and from some old friends we hadn't seen in 5 years or more, so we phoned to see if they were home. It was a 'yes' so we diverted to Narrogin and spent 4 hours drinking tea and catching up. It was wonderful and rich to spend time with people we love but with whom our lives haven't intersected much for some time. We had a feed at the Narrogin Hotel – porterhouse steak and chips for $18 was pretty good and then retired to the van for a chilly night.
Back in April our original plan (Plan A) was to travel across to the Eyre Peninsula but due to Covid and with WA still having hard borders it no longer made sense to cross over only to spend 14 days in isolation on our return. So we decided that rather than follow the crowds to the north at this time of year, we would just go south – to the cold and the rain and hopefully seclusion. We are due to take long service leave from church work in April next year so we wanted to give the new caravan a good workout before taking it across the country and back again. So far so good.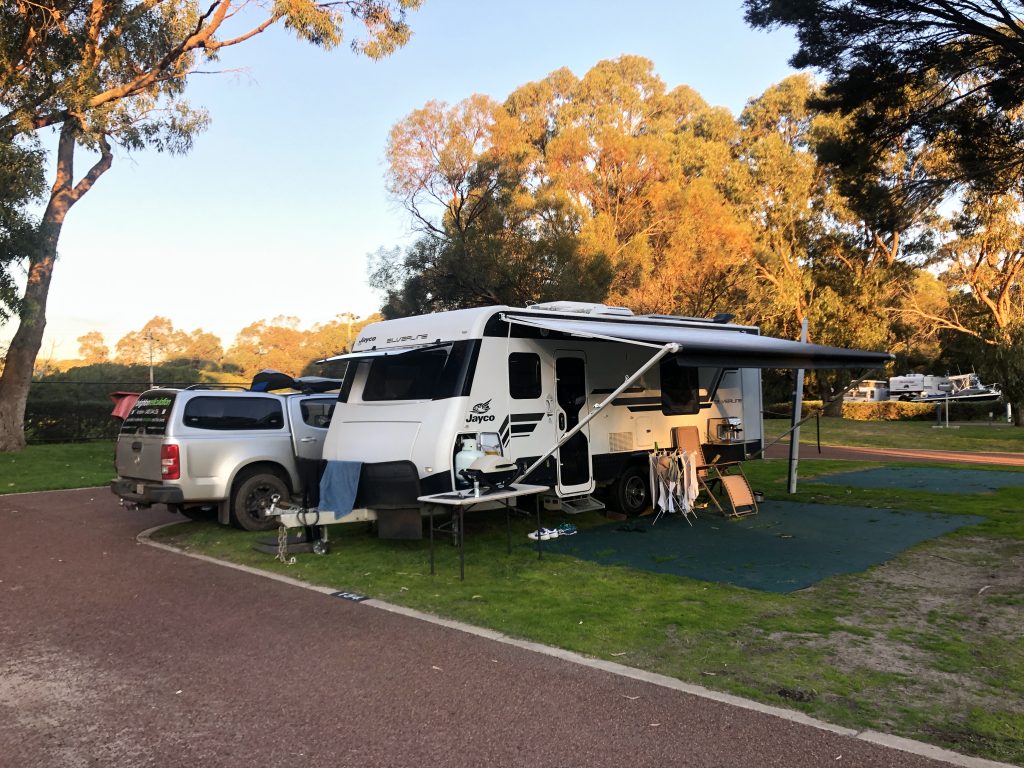 The new van was an unexpected pick-up. Last year I began searching for a 'mum and dad' van (no bunks) to set us up for long service leave. I had a Gumtree search permanently there for Jayco Silverline Caravans – kinda like a hotel room but on wheels. I was hoping we might be able to pick up an older one for a sub $50K price. But the more I looked the more I annoyed myself. There were no bargains and most were $65-70k and I didn't want to spend that kinda money. I deleted the search and decided to look again closer to the time.
Then one day sitting in a Dr's waiting room I decided to kill time by looking for vans on Gumtree and I happened upon a 2018 Silverline for $49K. It looked way too good to be true, but I rang anyway just in case it was genuine and the voice at the other end told me the van had been sold subject to the purchaser getting finance. That was 'the one that got away' if ever there was one!
I got home and looked at the ad again… ruefully….
Over the weekend I I felt like I should call back and check if the finance had worked out. I haven't done that before but I was pretty devo that I had missed out on a serious bargain – if it really was one. So I called on Monday and the owner told me that finance hadn't worked out and that it was mine if I wanted it. I arranged to check it out the next day and then proceeded to REVs check and scam check every detail I could find. As it turned out the van had been in an accident and the original owners had new for old insurance so rather than repairing it they just got a new van and then the current owner had bought it for salvage value c. $45K. He spent $2k on repairs but just never got around to using it. He sounded legit and the details all checked out so we went for a look.
To say I was keen was an understatement. I was ready to put $49K on the table that afternoon if needed. The van checked out and even though it was dirty from sitting and being unused it was awesome and had more bells and whistles than we could ever have imagined. As we chatted about the sale the owner let me know that he had some 'wiggle room' because it was un-licenced and would need to go over the pits. I was already sold at $49k, but if there is wiggle room then count me in… (Lesson = never tell buyer you can drop the price)
'How much 'wiggle room' have you got?' I asked, thinking I'd just let him call it. '
How's $47500 sound?' he replied. Inside I was ecstatic. Outside I matter of factly said 'Sure – sounds fair.'
We paid a deposit and then set about figuring out how to get it back on the road – hoping we hadn't just purchased a very expensive mobile spare room. It turns out you need to get the repairs signed off by a panel beater, get gas and elec compliance checks and then take it to dept of transport for rego. A few hoops to jump…
So I picked it up on a Friday and had each of these appointments scheduled back to back. It all went well and it was only as I was driving home that I realised how stressed I had been. It definitely had been a bit of a gamble but the end result was worth it We had picked up a van selling for between $60-75 for $47500 plus the $700 costs. It was earlier than we expected to buy it, but we were now ready for holidays. So this was to be our test run where we iron out the kinks and discover what works and what doesn't work (Jayco don't do well on drainage…)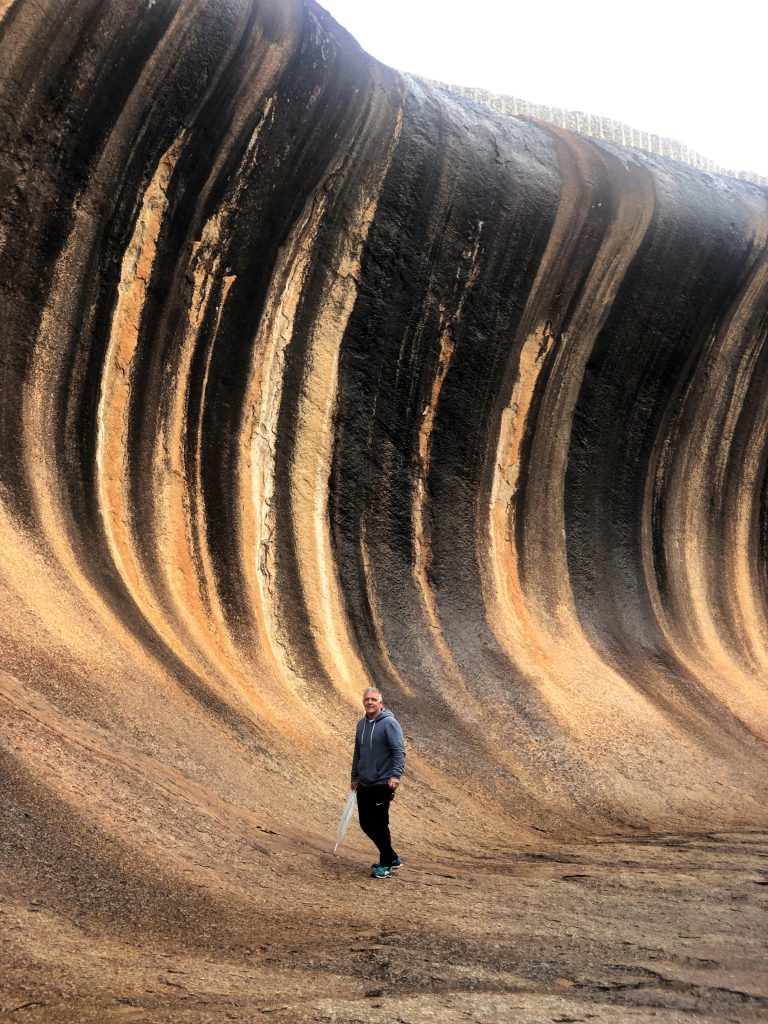 We left Narrogin bound for Hyden and that 'Wave Rock', determined to finally see this WA icon and tick it off the bucket list. Before leaving I discovered that the diesel heater I had installed prior to leaving was constantly cutting out on start up. So just a tip if you are doing a similar install: I had tapped into the pump wires for power, but these cables weren't capable of handling the current pull that was needed at start up meaning the heater would fail to kick in. Because the van had been on 240v the whole time we were at home I hadn't spotted the problem. So it meant a quick stop at the Narrogin Auto Elec to pick up some heavy duty dedicated cabling – problem solved.
Wave Rock caught me off guard! What an awesome and unique place. I had seen pics and always thought it was interesting but no big deal. But it is seriously worth visiting – and pondering 'how did all this happen?…' We walked right around in the bitter cold and then headed back to the van and another roadside freebie for the night. Fortunately the heater was now working as the fingers and toes were near frozen and the night was getting colder.
The next day we pushed right thru to Esperance. picking up a great coffee in Ravensthorpe – while also being reprimanded for standing too close to the person in front of me – we have noticed many smaller country towns are far more 'covid sensitive' than we are with hand san at every front door along with a serious request to actually use it. I may have faked it a few times… I mean how much cleaner can a bloke's hand get when you simply go from shop to shop?…
To be continued…