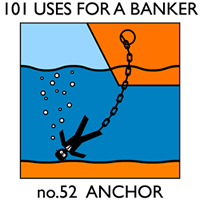 But maybe it should be…
When you respond with 'its not our policy' you treat everyone the same and that is often not a good policy. But it is convenient and expedient.
I rang the Commonwealth Bank today to ask if we could increase our line of credit from $250K to $300K. We probably won't ever need it, but it was a 'just in case' measure, as we look at selling, buying and doing a few renos on the place in Yanchep.
All was going wonderfully until I was asked for the amount I earnt based on my last income tax assessment. That would be $31K… It doesn't sound like very much does it, but then we did travel around Australia for that half that year and we did have substantial deductions. We are yet to submit last year's tax return, but chances are with deductions and all of my church pay as non-reportable fringe benefits it won't look huge either.
So that conversation went like this:
"Based on that amount we can't lend you any more money sir."
"I understand that – and that makes sense if that is all you have to go on – but I haven't done this year's tax return yet and that will be significantly different. However if you check my loan repayments you will observe that we have paid back 5 times the amount required each week for the last 18 months. Would you not say that constitutes a pattern worthy of consideration?"
"I understand what you are saying sir but its not the bank's policy"
"Do you think maybe you could talk to someone and change the policy because I think we have clearly demonstrated that we aren't going to struggle with the loan"
"I'm sorry sir' said the commbank robot. "I can't do anything. That is our policy"
"But do you not see what I am saying? You could lose a customer here because you have an inflexible 'policy'?… Does that not seem a little dumb?"
"I'm sorry sir, but that is our policy and I cannot take this application any further"
"So you realise I will change banks."
"Yes."
So the 'policy' might be a helpful general approach to situations but it isn't going to work in every setting. And when you are the one who gets dealt the pointy end of the pineapple you are not impressed. I do understand the need for an organisation to have some parameters in place that enable them to make efficient decisions, but I'd suggest that 'its not our policy' is also a convenient 'out', when tricky situations approach and people need to think outside the square a little.
In running my own business its a phrase I try not to use – ever – because it reflects blanket thinking rather than individual thinking. Ok, so maybe that's a bit of a stretch for the Commonwealth, but given the profits they made in the last year perhaps they could consider employing someone as a 'policy bender' or a 'what about this one?' consultant.
A great way to keep business and to show concern for individuals rather than just profits…
But alas I think that is but another one of my dreams… Then again if someone with some muscle from the banking industry reads this and hears what I'm saying perhaps a change might take place…