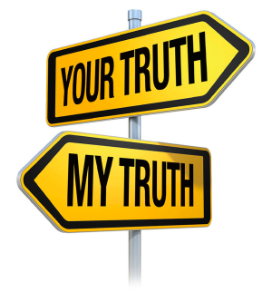 Remember that line from your childhood? 'Its only fun if its fun for everyone'… Kinda tricky because some people just wouldn't know fun it bit them on the bum!
That said I was chatting with a friend today about a new blog series I have percolating about living with peace and contentment and I made the comment that I am taking my time with what I draw as 'truths' because I know I write as a wealthy westerner and my take on what is true may be different from that of someone in a poorer developing country.
To reframe the old statement 'its only true if its true for everyone'.
But then that's the nature of 'truth' isn't it. It's only true if it applies across cultures and stratas of society – otherwise its simply a perception of reality.
Makes it pretty hard to arrive at 'hard truth' because our context shapes our perception and one person's hard truth is another person's 'how bizarre'.
It was as I was talking with another pastor one day about the 'prosperity gospel' and he told me he thought he might preach about it – actually with the intention to lead people in that direction.
'What do you think Hamo?'
My first thought was 'do you really have to ask me while I'm having dinner at your house for the first time?…'I really don't know how to be diplomatic with this one.' So I responded 'Well X, the thing I find most abhorrent about the so called 'prosperity gospel' is what it says to my friends in poor countries who are doing it tough. The so called 'truth' of the 'prosperity gospel' may make some 'sense' to selfish, materialistic western religious people, but to those without privilege it must be a stench – an offense of the highest order. I just can't see Jesus having any part of it!'
There – I told you I was going to find it hard to be diplomatic on that one…
But the fact is that unless it's true for everyone then it surely isn't 'true'. So I have slowed in my thinking on what I may actually be able to write about 'Living at Peace with Yourself' as I'm currently filtering my ideas through the 'can it be true for everyone grid', otherwise it just ends up being another 'privilege piece'.
Hopefully one day my thoughts will break thru to light of day, but for now they are under scrutiny – and will probably be even more-so as a result of this post – if I ever publish them!