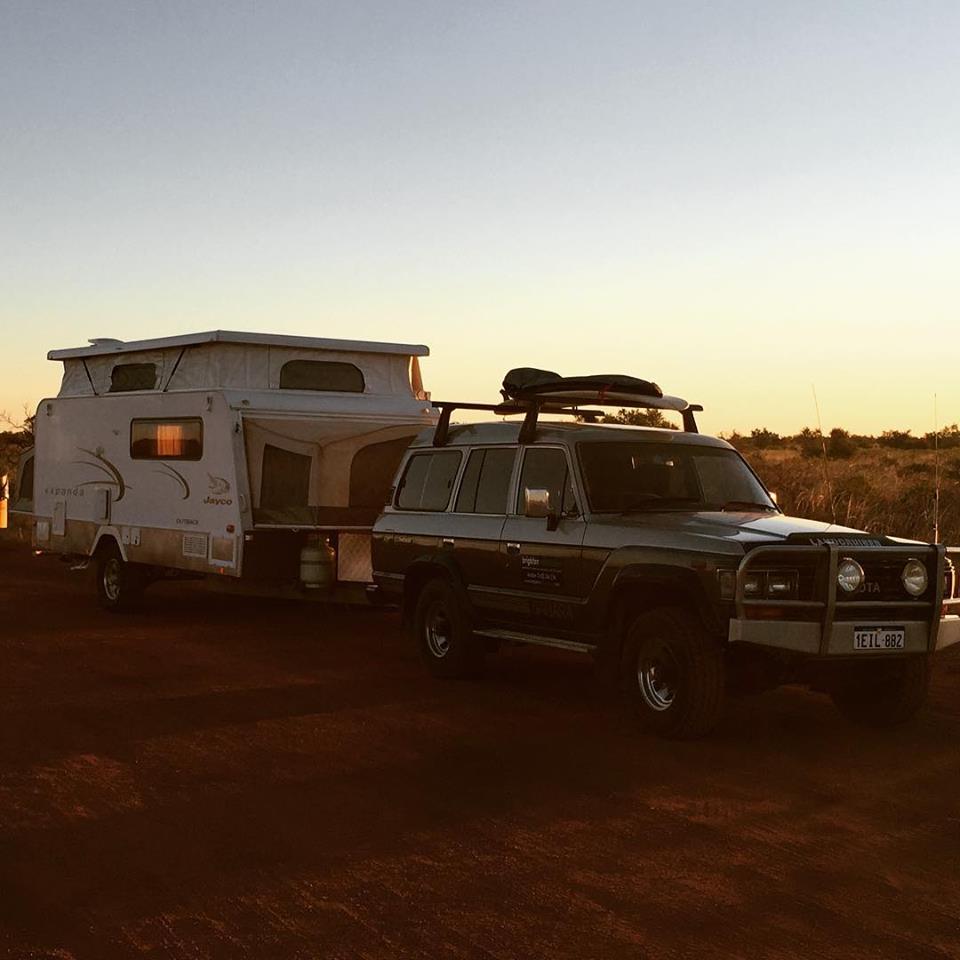 So we pack up the Expanda – by now we are experts (and experts always get complacent) and trundle off around the cape 70ks to our new home. On the way we drop in at Dunes to check the surf – the girls have given permission for Sam and I to have one last surf before we disappear down the coast another 50ks. That said it is the kind of permission that says 'ok… You surf and we will wait patiently doing nothing until you get back…' Ellie is less careful 'they're doing what? You're kidding!'
So we drive van and car into the carpark hoping there are no unexpected events happening that will necessitate a careful maneuver reversing out. Quite the opposite – the carpark has 4 cars and we have come to realise this means the surf is small. A couple of young Aussie blokes head over the hill to join the one Euro Touro in the water waiting for whatever waves may appear. It is high tide but the small swell is barely breaking so after 5 minutes of enjoying the view we agree  together that there isn't much point in paddling out. Sam is agreeing less than the rest of us – he has just found his surfing legs so any wave is better than no wave. He is a compliant kid though so the family 'no vote' wins and we hop back in the car bound for the North Kurrajong campground.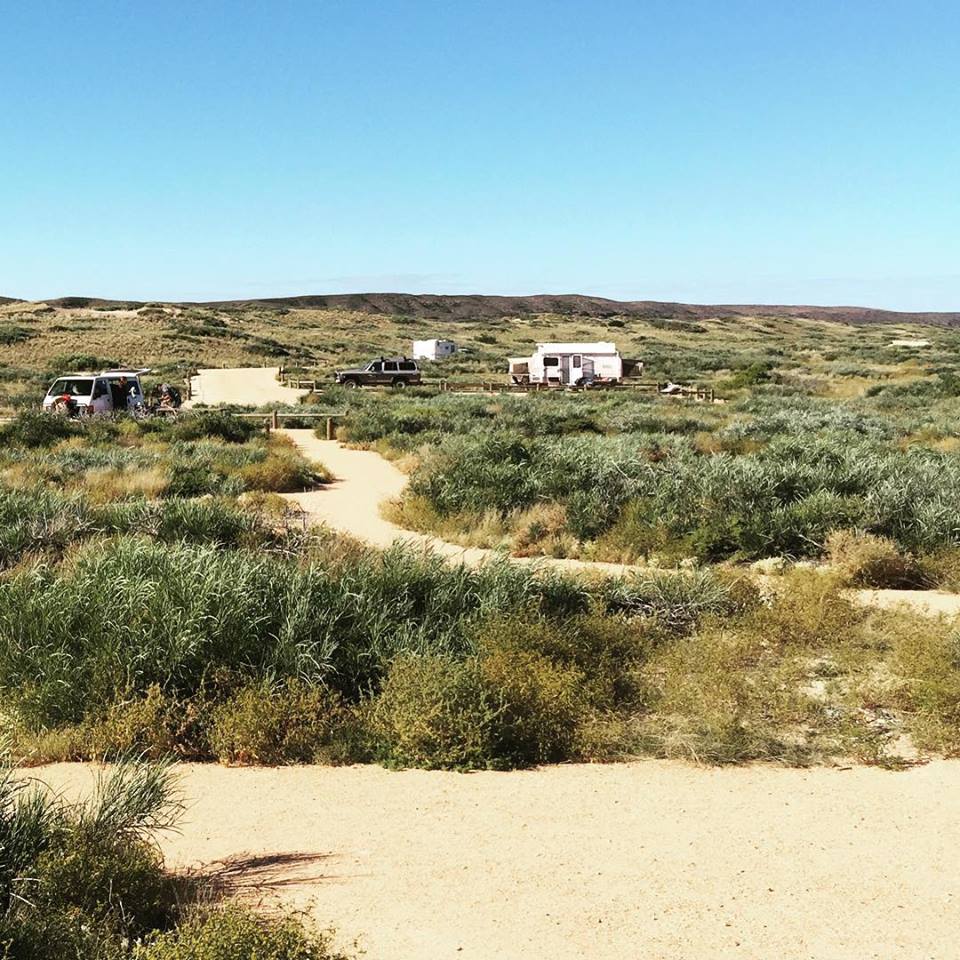 30 minutes later we arrive to a half empty campground and locate our area, a huge bay next to Martin and Rosemary, a pair of nomads from Queensland. They seem friendly enough and are your typical senior cit on the road, traveling frugally and passing on all of their accumulated wisdom to anyone who will listen.
We set up the van – we are now experts remember?… Unfortunately none of us remembers to switch the fridge to gas and in the morning there is a distinct sense that all is not cold. It looks like we have caught it before it got ugly so we should survive without a long drive back to Exmouth to replenish.
The wind has turned strong northerly as Sam and I head up to check out the beach. On the drive down we had discussed the surf that breaks in the reefs around 600-700m offshore and agreed we would paddle out to see what we could find. Sam is keen to go. He wants to 'get some barrels, slam some cutties, smash the lip…' In reality he may stand up and stodgily flounder down the face of the wave before stacking it at the bottom, but I choose not to erase his grand vision.
We wait until 4pm to paddle out and give the wind a chance to drop. It mellows a little and we begin the paddle – me on my 8'8″ mal and Sam on his short board. I stop every 3 minutes to allow him to catch up. It's mid tide, but by the time we get close to the reef my fingers are getting scratched by coral as we paddle. Each stop has me trying not to rest a foot on the increasingly shallow ocean bottom. Sam is now worried about sharks, coral, the distance and pretty much everything you can imagine. He finds fear in the strangest places…
As we reach the edge of the reef it is quite obvious we will not be going further. It would be a foolish and very un-Eco friendly walk over sharp coral to get to waves that were now much larger and dredgier than they had appeared from shore. Sam is visibly relieved when I suggest we turn back. By comparison to other days we have been here this was a very small surf day so I can only imagine the size of the waves on those reefs at other times.
The paddle in is slow and punctuated with regular breaks, but we eventually arrive and Sam heads off in search of crabs, aka 'bait', around the rocks. Two hours later he reappears victorious having caught and pummeled with a large rock one small crab. He is proud of his hunter gatherer achievements and heads off back to the van to pack the crab in a zip-lock bag ready for the next day's fishing. (Yeah… We could have just bought bait…)
We sit on the top the dunes and have a quiet drink (of tea…) with the other campers and the day ends as the sun goes down and the cold of evening suddenly sets in. Danelle is now wearing a jumper and zipping up everything on the van that can be closed. I brave the 'cold' to bbq the chicken outside but after 15 minutes discover that with the increasing wind, there is barely enough heat to keep the chicken warm let alone cook it.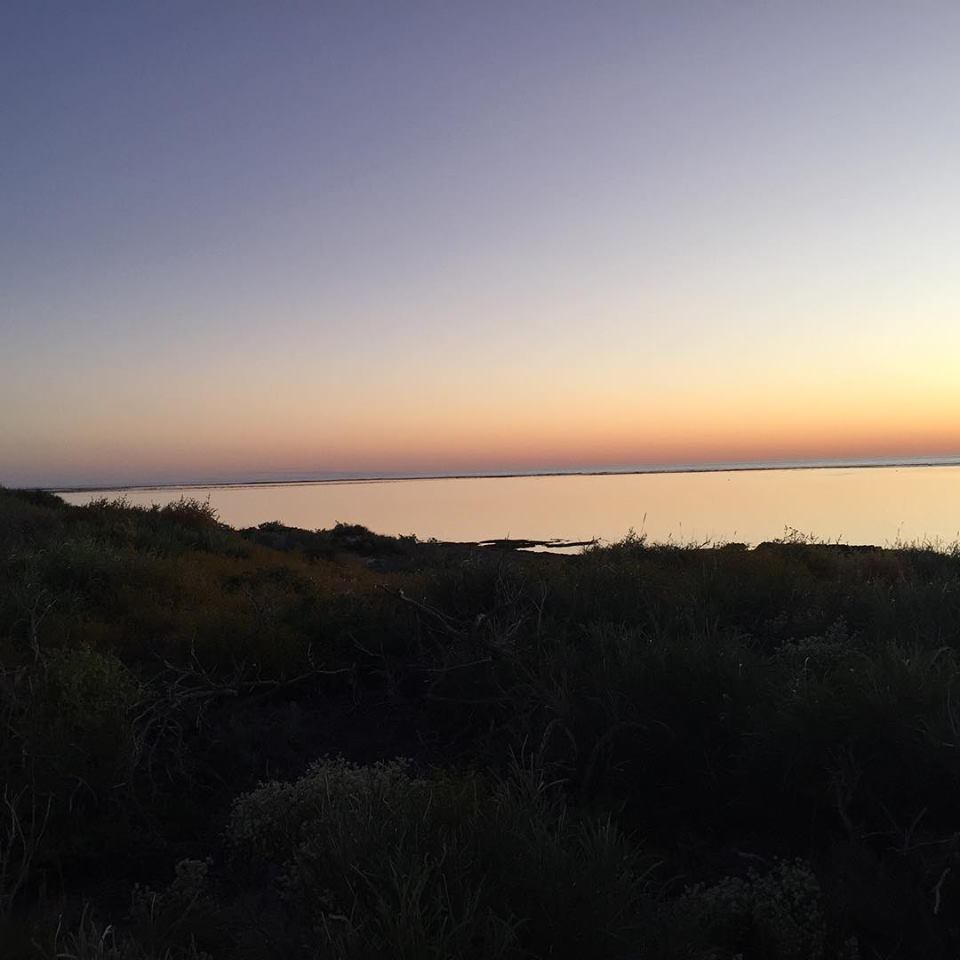 Eventually we cook in the van and settle in for dinner with chicken and salad before an evening movie – a quirky weekly Danelle picked up from the Exmouth video store. I watch the first 30 mins, fall asleep, snore loudly and get nudged, before waking for the last half hour. 'Julie and Julia' is less than awesome but it did wile away a couple of hours…
Ellie has decided she wants back in the family home this evening (she has a tent she erects to escape us) so we fold the dining table down into a makeshift bed that I have constructed and Sam – being still the shortest – finds himself on there yet again. iPads and tablets light the caravan as we read but slowly one by one they extinguish as we nod off.
The night is still and quiet – it seems too good to be true, but for 9 hours the only sound is the gentle crashing of the waves and we sleep wonderfully and wake to a dead still, and even somewhat warm morning.
It has been a much needed relief from the noise and bustle of major caravan parks.