As much as I have worked in Leederville for the last 4 years, I would still describe it as something of a coffee wasteland – which is somewhat ironic given its location and the huge number of cafes.
Recently Sayers cafe opened and as well as doing very fancy food they can knock up a pretty good brew, using 5 Senses beans. The food is very nice but a bit too gourmet for the average punter.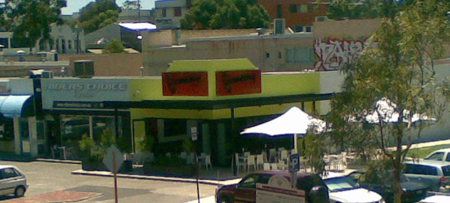 Today I dropped in at the newly opened 'Cranked Cafe' just opposite Kailis Bros and was pleasantly surprised by the presence of good coffee (fiori) and a barista who seemed to know what she was doing. I only grabbed a takeaway but this little cafe has the feel of being open, spacious and at this stage reasonably quiet. Some of the bigger cafes get so noisy that at times you spend a silly amount of energy just trying to listen to the person you are with. Give these guys a try!
And finally… the old 'Greens' cafe has been re-opened with a whole new look. The main area is decked out with back to bck couches and it does look very open, spacious and cool – kinda like an upmarket and renovated 130's – which would make sense because both cafes have the same owner now. I'm not sure what coffee they use and I'm probably not likely to find out. I have never been a 130's fan, purely because of the very dodgy service I received there on the first occasions I went. I don't know the name of the new 'Greens' but if you know where it is then you'll know where to look