If it was alcohol then I'd probably be a goner if I was put on the breathalyser!
Yesterday morning was Grendel's magical coffee tour, 90 minutes of drinking, eating and discussing the finer points of coffee tasting. In that time I had 1 regular flat white, 1 large flat white and 2 ristrettos. I have never had that much coffee in such a short space of time and surprisingly I didn't feel any after effects.
We began at Cafe 54 in Pier Street, the only cafe in the Eastern end of town that does a decent cup and then made our way thru to Tiger Tiger (where we had breakfast) and then to Ristretto, before we finished at Velvet in King St.
Grendel was present at our church last week as we did a backyard blitz for a local woman, so I thought it only fair that I turn up at his 'church' this week! Seriously, its not that dissimilar… There is 'in' knowledge, 'in' language and a sense of community around a common passion – which just happens to be coffee.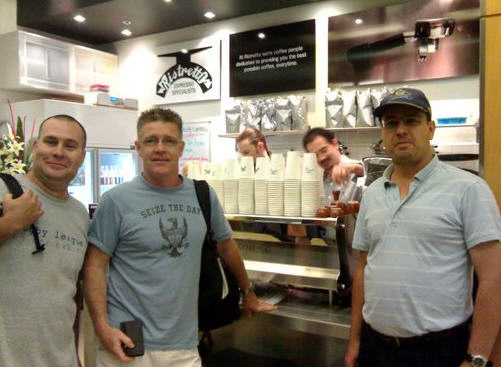 Grendel sometimes jokes that he has had more converts than me. I can only agree, but when you're comparing 'denying yourself and taking up your cross' with consuming some of the world's finest coffee then its probably no surprise…
There were four of us – Grendel, Terry – owner of T5 in Joondalup and Justin – roaster at Fiori Coffee. Of the four coffees the one that I enjoyed the most was the Tiger Tiger flat white. They use Fiori coffee and this blend (according to Justin who roasted it) is a sweet one. It certainly was pleasant in the mouth. The Cafe 54 blend was good, but more savoury – kinda like a liquid pizza.
* Sidenote – when tasting coffee it seems to be important to describe it with as many whacky adjectives as possible! This is where my vocab becomes all dried up and hopeless. Over the day I heard the following: 'hints of grapeskin', 'traces of ash', 'tobacco', 'tallow' (what is 'tallow'!!!), 'gooseberry' and many others that I can't even remember.
Its moments like these you realise what a philistine you are.
Hamo: "It tastes like… well… coffee"
That seems so lame alongside 'a beefy, gravy like, consistency with afternotes of oak and cedar'. Is it just me or is coffee language a tad wanky?!!
Anyway it was a fun morning out and it was great to hang wth the guys also. I learnt a lot as I worshipped at the ristretto temple and hopefully we'll do it again one day!
Oh – and the food wasn't bad either. I had eggs benedict at Tiger Tiger and they were pretty nice but not in the rave rave category. Seriously if you want brilliant eggs benedict then Cafe Duo in Brighton has them – just don't ask for a coffee…