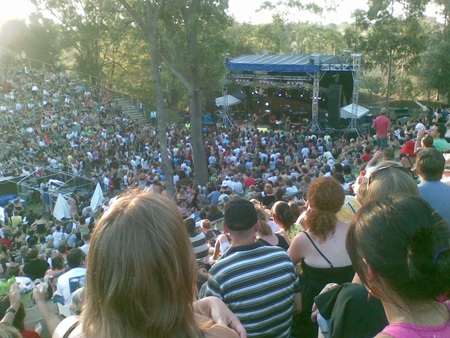 Last Friday night I went to my first ever concert…
No kidding.
At 43 years old I went to hear The Waifs, John Butler Trio and someone else I didn't get the name of and got there too late to hear anyway.
Why your first concert so late in life?… you may ask.
Well, as much as I enjoy some music I have never really been much up for listening to live bands, or spending money on live gigs. I'd rather go to dinner, movies, theatre, speedway… ok so I don't go the speedway… but I might if I could!
In the past I have also thought it more prudent to buy two CDs than pay for a concert ticket. (I know – it doesn't work that way!)
I realise this will disappoint many people and your opinion of me well sink lower than ever… but I left last night quite underwhelmed. *Hamo ducks rotten tomatoes from disbelieving music lovers & other concert goers* I completely understand how people enjoy this type of event, but for me it just didn't raise a sweat droplet on the enthusiasm meter. Pleasant, enjoyable, all that, but I could happily have stayed home and read a book.
I was certainly able to appreciate the musical talent of Butler & crew who were obviously brilliant musos, and I really liked the Waifs great vocals, but the highlight for me was catching up with the friends who we went there with. I found myself waiting for the speaker to come out… but he never showed… my life of church involvement has conditioned me!
When Danelle and I used to go the basketball she would always tell me what the 'tiger' was doing or what the other team's mascot was doing, or what the cheersquad was wearing. She didn't really get into the game and while she could tell you (sometimes) who won or lost, everything else was a blur. She missed the moments of brilliance and the set plays that turned the game around. As a basketballer from way back I was always engrossed and would leave feeling full of energy and almost like I had played the game myself. I appreciated the intricacies of the game and the finer points. Danelle had a nice time, but she could probably have stayed home and read a book…
I think the comparison is kinda like what happened on Friday night.
The concert was like background music to the conversations I had over the night, but as Butler came on it got much louder and harder to chat. Rather annoying really…
The fact that it was a hot steamy day certainly didn't help my virginal concert evening. It was still 32 degrees C at 7.30pm and blowing the humidity meter off the dial. I had a shower just before coming but still felt pretty hot & stinky all night. Obviously no one told the guy next to us that it was hot (in the beanie) because he came ready for winter!
As one who feels heat & humidity badly my judgment of the evening could be somewhat skewed by that factor, but when all's said and done it probably just isn't really my scene. I could happily go to another concert with Danelle, but I would be equally content if the rest of my life was concert free.
Fortunately my other more significant virginal experience did not result in a similar response.