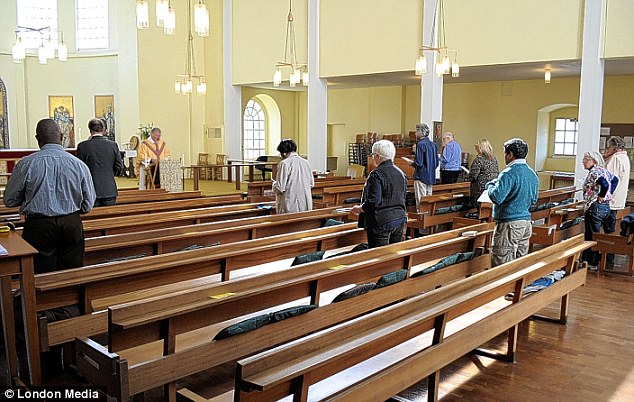 Its 9.30am and 15 of us stand around looking at each other wondering if maybe there's been a secret 'church boycott' and other than the music team and paid staff everyone else is staying home today.
'Church' starts at 9.30, or so it says on our website.
When you lead a smaller church in 21st C Perth where attendances are now more sporadic than ever, you never quite know what to expect at that time of day. Some Sundays there is a 'quorum' – a sense of 'enough people present to kick off' and then other days, the sparsely filled room leaves you wondering if you actually should be doing something else too.
I was updating our database today and discovered that we have 90 adults who would call QBC home as well as 76 kids. I had no idea we had that many people in the community. 'Calling a place home' is my own way of determining who's 'in' and who's not – its basically self selecting in that it allows people to make their own declarations of allegiance.
But even then, what does it mean to call a place 'home'?
Does it mean 'Even though I'm only there every 2 months, its the only church I am part of so in that sense its home?…' Or, does it mean 'I belong here and I am committed to being with the family, to becoming like Christ with these people?' I have used the normal curve to answer this question in the past, because it is about the only way I can come to grips with the anomaly of home being a place some 'visit' occasionally while others see it as a central point of life.
Of the 90 adults in our church, 31 would be considered 'members', (a Baptist way of defining who is allowed to vote on bigger decisions). Theoretically members are more committed to the community – they agree to give their hearts, time and cash to making the church community healthy, and generally that is the case. But not always… What do you do when 'members' don't do what they have committed to?…
We don't push membership, but we invite people into it when they show that they are ready and willing. The number '31' reflects the higher expectations and the diminishing number willing to take that route. Some would say we don't 'push' membership hard enough, but seriously – if people need pushing to join up then we are getting off on the wrong foot and we should expect that to show up in trouble down the track.
Perhaps what is most perplexing to me in this scheme of things is the question of how we make disciples. Today I ran the numbers – for the first time in 6 years – yes really – I never count how many turn up as I really don't care about that stat.
But I do care about the type of people we are becoming.  A more significant question would be 'of the 166 people involved with QBC how many are on an intentional trajectory of faith development?' How many would be pursuing the leading of God in their lives and seeking to align their lives with his kingdom?
The problem comes in that this is very difficult to measure. I guess its why we revert to bums on seats as our metric. Seth Godin has an excellent post on the topic of measurement here where he says:
Measurement is fabulous. Unless you're busy measuring what's easy to measure as opposed to what's important.
So true.
We can count bums on seats every week and that will tell us one thing precisely. That one thing is exactly how many people were in the building that week. It does not say anything of the state of their lives, their reasons for being there or their reasons for not being there the following week. It is simply a 'raw' stat that we interpret through a familiar and common grid and in doing so we draw some conclusions which may or may not be accurate.
It leads me to seriously question the expression of church we run with. Are we hoping that somehow by attending, that those who have a 'recreational' faith will move to a stronger more substantial place of discipleship?
I've learnt over the years that church is a remarkably inconvenient form of community. Its probably more accurate to simply say that community itself is inconvenient. In the surf club or the sea rescue group, the expectations are also high, but unlike the surf club, footy club or other more rigorous groups, we rarely call our members to account when they fail to perform, because that would be considered 'ungracious' or 'judgemental'. We just 'understand' them… life is indeed 'very busy'… and people do have 'good hearts' after all…
I think at this point Jesus might just call 'bullshit'. He might just point back to some angular and tactless comments about crosses and dying to self. He might ask 'what was complicated about the sermon on the mount?' Which part of 'follow me' still needs explaining?
So, are we wasting our time running Sunday services?
Maybe we are.
If the Sunday gathering is an end in itself – if it is considered 'church' – then its time to slice it up a thousand ways and say 'NO!' If Sundays genuinely contribute to our discipleship rather consumer-ship then we are travelling well. But too often I sense the distinction is tenuous and we may even be losing the battle.
The difficulty with writing a post like this is some folks will read it and feel guilty (maybe even appropriately guilty) and will decide to attend church more often… which would of course be missing the point entirely.  Its ironic that people will feel guilt over missing church, but can live in a state of continuous miss-cipleship for years on end with no qualms. What does it say of our spiritual formation processes and our primary message that people will see absence from church as more of a problem than absence of discipleship?
Feels like its time to rock the boat a little.