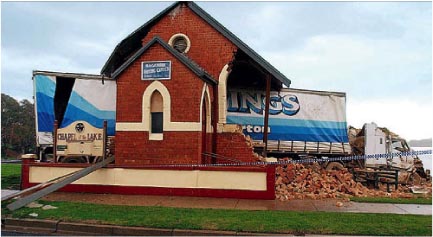 As I reflect back on much of what we talked about 10 years ago in regards to church and mission, there was a high degree of structural change being advocated. The church was broken and needed fixing. People weren't coming and didn't look like ever coming so a big part of the missional agenda was to consider how we could form more contextually congruent communities that would not seem like such a cultural leap from that of the surrounding society. It was a valid point. Churches could be wacky places sometimes.
Alongside the structural aspect was the personal – where the notion of focusing less energy on getting people in the community to come to church and more energy on getting the people in church back into the community was primary.
And I sense that while we tried to do both tasks simultaneously we spent more time critiquing and re-inventing the church form than we did helping people become effective missionaries in their every day lives. We spoke of cultural distance and the fluidity of ecclesiology, and it was interesting (fun even) for those of us leading churches to consider how they could adapt, but the reality was that most people who found faith didn't care much for the form of the church. In fact my discovery early on was that when people came to church when we met in a home or a park, they would ask 'so when do we do the real thing?'
It seemed that if people were willing to go to church then they had a mental image (for better or worse) of what they were signing up for. I sense we spent too much time trying to revolutionise form and not enough equipping people for simple, everyday mission work.
This morning I found myself preaching unexpectedly as one of our crew was sick. I'm not one for simply micro-waving an old message if I can avoid it, so I spent some time yesterday trying to sense what God may be wanting to say to us and I decided to kick off the missional series a week early.
In the teaching we looked at the shifts we have seen in our culture over the last 40 years from being a bunch of people fairly accepting of faith, to now being people (in broader society) who see it as simplistic and primitive. I was in conversation with someone recently at a party and they expressed interest in philosophy and religion so I asked them how they saw the church and God. Their response was that they had 'evolved past such a simplistic faith based understanding of life… that they were more into logic and reason and not the stuff churches advocate…' And that's a fairly normal response – to perceive those of us who subscribe to a biblical worldview as backward and lacking intellect.
I read recently that Tim Keller refers to this period as post-secular, meaning that we have moved from a Christendom worldview, to a secular one and then past that to where we now consider a range of spiritualities, but definitely not Christianity. It is considered too uninformed and narrow for the world today – an analogue system in a digital age – quaint and quirky, but only of interest for its historical value. This guy I was speaking with definitely was a spiritual person and was able to discuss his spiritual experiences, but he viewed the church as more of a morality club filled with people who believed very odd things and without any reason.
So the question arises, how do we live as missionaries in this time when we are definitely not considered credible in any way? As I spoke with this person at the party I sensed that once they knew I was a Christian they eyed me with a degree of disdain – sad that I had been brainwashed into this stuff and couldn't see a bigger worldview.
In teaching this morning I came back to John 1 as a foundation for local mission. Jesus is sent by the father into the world to be the one who initiates and calls into being the kingdom of God. He 'becomes flesh and moves into the neighbourhood', to quote Petersen and the question that raises is 'so what did Jesus do in the neighbourhood?' How did he live then and how would he live now if he lived in our neighbourhood.
The one 'full of grace and truth' lives in such a way that (some) people are drawn to him and other people are repelled by him, but its not the people you would think in each case. Our focus in this series is going to be unashamedly practical and even instructional at times, but this morning was the time for the bigger picture dreaming and imagining – 'what would Jesus do if he was living your life in your shoes?'
The shifts in culture have definitely seen the church on the back foot and despite the efforts of the missional movement I wouldn't say we have seen radical changes in our communities. Perhaps we just batten down the hatches and huddle together praying for Jesus to come back soon… Perhaps we get with the program and let go of archaic biblical ideas that no longer have currency in a clever modern world… Or perhaps we choose the path of adventure, re-imagining what it means to be God's people in this time – seeing hope and possibilities rather than darkness. If the exiled Hebrews could re-discover their faith in that time of hardship then there is definitely hope for a church that is increasingly feeling its cultural isolation.
John 1 says 'the light shines in the darkness and the darkness has not overcome it'. And it never will. But it means those who bring the light need to be a little more creative and thoughtful about how we bring that light.