I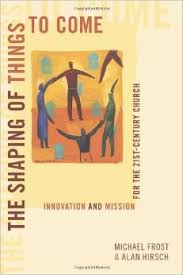 learn by reading, and much of my early introduction to the missional movement was via books. I thought it would be helpful to list some books I would be using with our church congregation now, as I imagine they may be different from what we were reading in the early noughties.
Shaping of Things to Come by Alan Hirsch and Mike Frost was the grenade launched into my stable church leader world and it blew things to pieces in the best possible way. It was an incendiary book, as it called for 'revolution' rather than evolution, but I doubt a tame voice would have been heard in the early 2000's. A polite book would have gathered dust on the shelves of Koorong and made no impact, but this book generated conversation like few others have. More than that it generated debate and often serious argument. And that was good thing – because we can too easily be polite and inoffensive in church world. Not with this book… It came after some of the more high level texts (like Transforming Mission by David Bosch), but it was accessible to all and therefore a little dangerous.
I haven't read 'Shaping' for a long time, but I remember it fondly. I probably wouldn't hold it up for people to read today, as I think the missional ideas have been well embraced and its prophetic edge will have dated somewhat.
So what would I tell people to read now?… Here's a selection of books I'd recommend and all are very 'reader friendly', because if you want people to read then the stuff you're giving them has to be accessible. The common thread in all of these is that they focus on helping the individual find their way in mission and have little to do with re-shaping the structures of the church.
Here we go in no particular order:
Sentness by Kim Hammond and Darren Cronshaw – ok its by two friends of mine, but this is a very readable and very practical guide to understanding how we are 'sent' as missionaries into our communities. You won't get confused reading this one.
God Next Door by Simon Carey Holt – this one has been around for a while and won Australian Christian book of the year. Its a very helpful guide for seeing God at work in our everyday life and seeing mission as part of life rather than a new thing to do
Surprise the World by Mike Frost – this one gives people a series of habits that can be learnt and practiced to give form to a missional life. Frosty does say 'don't just copy', and for a long time he resisted giving this kind of information out in the belief it may stifle people's own listening to God. But I sense this is a concession to the fact that most people still won't be able to form their own missional habits and this is an excellent starter in that direction.
Next Door as it is in Heaven by Lance Ford and Brad Brisco – I just finished this one and found it very helpful for giving form to a suburban missional life (as distinct from a hipster approach) and for helping people think thru some practical actions. The chapter on eating together was great, but generally I found the book a collection of well formed and helpful ideas that would move people to action.
Sacrilege by Hugh Halter – Its been a while since I read this one, but I remember it as being engaging and inspiring. Halter is a funny guy who tells good stories, but is well able to make his point. This book is worth it just for the story about Halter's interaction with his neighbour while mowing the lawn.
Untamed by Alan & Deb Hirsch – This one's been around for a while too, but its got some real teeth. It doesn't just look at missional practices, but it looks at the kind of life that is needed to be genuine missionaries. Al & Deb challenge us to look at every aspect of our life from money to sex and to bring it under the Lordship of Christ. I have given plenty of these away and I have one left…
The Power of Habit by Charles Duhigg – This one doesn't fit into the 'Christian book' niche, but it does speak practically to how we learn and implement new behaviours. Well worth a read especially the chapter on keystone habits.
Ok – I'm sure there are others, but these are a good place to start if you want to get inspired to action.