I was flicking thru some of Scottie's pics from his northwest trip and came across this one.
Its the gravesite of Danelle's grandparents. You can't really make it out on the image but they were missionaries in the northwest from 1935-1987, 52 years…
52 years of being salt and light and loving aboriginal people… is it just me or is that a loooong time?
The statement at the bottom of the plaque sums it up well. "Tell our people we love them and will be waiting for them". I was in Melbourne at the first Forge National Summit when Nana died. I went to visit her before I left and spent a little time with her – who ever looks forward to death?… This woman did because she had some incredible confidence in her God, that the best was yet to come.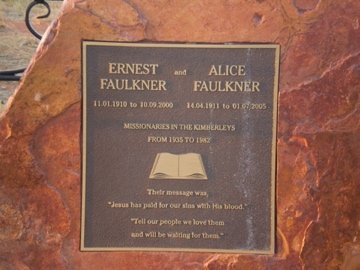 Danelle was with her shortly before she died and told me that her words in respect to the aboriginal people she lived amongst were 'tell my people that I love them'.
I have been inspired by these two 'nobodies' who never spoke at conferences, never wrote a book and for the most part lived their lives unnoticed.
But who did everything that was asked of them and more.
Heroes.
Couldn't we do with a few more Erns and Alices in today's self centred world?