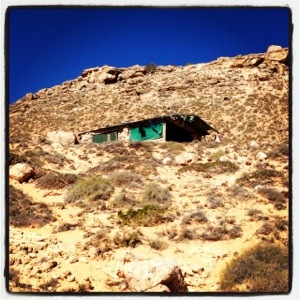 It's been 4 consecutive years of spending winter in the north west and I don't think the love affair is over yet. As we head back with 6 days left of this trip I am struck by how much is left to see and how many places I would love to return to.
We hit the road two weeks back and this time made for Kalbarri as a first port of call, a town neither of has been to for many years. Being that little bit off the beaten track means you have to 'want' to go there.
We stayed in Anchorage caravan park for 4 nights and enjoyed the time there. Kalbarri is pretty spectacular and Danelle had an 8km coastal walk one afternoon, right through the western cliffs. The swell was down and Jakes point wasn't breaking – not that I was complaining… I gather its a little heavier than I like to ride these days.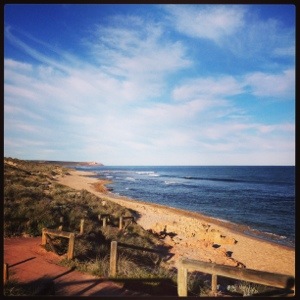 I imagine we will go back there again as we didn't get to check out the gorges. For some reason they had chosen the first week of the school holidays to do road maintenance on the one road into them. Odd… and pretty dumb if you ask me. Either way it was nice to start the break with a cruisy few days where the weather was kind albeit pretty cold at night. (And the Kalbarri bakery does a pretty good job too.)
It was nice to unwind, although I wasn't feeling that wound up. For the two weeks previous work had dried up so I was as chilled as I get.
From Kalbarri we left early Wed am and headed for Exmouth – it's out fourth consecutive year we have made this a holiday location, which probably says something. We did the 9 hour drive from Kalbarri and arrived only to discover we weren't booked in at the caravan park – not sure if it was my stuff up or theirs – but either way we spent the first night on the town oval and paid $62 for the privilege… That's what you can charge when the town is full… Again the weather was kind with mid 20 degree days each day we were there and some good swell to make it even better. We had some time with friends and some time alone – a good mix.
I think Exmouth's Dunes Beach is one of my all time faves. Warm water and mellow waves make for a lot of fun. The crowd factor can get a bit insane, and 'drop ins' happen a little too often at the main peak, but if you sit further south the crew are a bit more relaxed and easy going. I could have stayed much longer just for the surf.
That said, I'm not sure we will do many more caravan park holidays in the school break. If you want peace and quiet then these are not the go at all. (And I realised I wanted/needed this more than I anticipated) Having been woken by a crying baby 4 mornings out of 7, and with lots of kids everywhere in the park we were very ready to move on when the final day came.
From Exmouth the car wanted to head north to Broome and the warmer climes – after 4 years of Broome holidays it seemed wrong to head south… We could have got there but the long drive home and a critical deadline (a wedding the day after) was leaving us both very uninspired. So instead we headed a whole 120ks south to Giralia station for what was going to be a night or two. We were seeking some peace and solitude and this place looked great. We got set up well away from the main camp and it was all about 'the serenity' until a group of 3 grey nomad vans arrived and set up right next to us – and then proceeded to run their generator non-stop. The tranquility was beautiful until these guys arrived… Seriously – who runs a generator all day long?… Grrr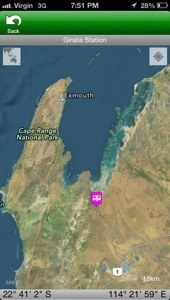 Giralia is a good spot for one-two nights and at $24 for all of us we thought it was a good deal. The station turn their own power on at night and there is bore water to use for cleaning. There are hot showers and a camp kitchen all included.
We had a very quiet night and didn't wake to any babies crying, but at 8.00am on day 2 the nomad generator had been kicked into gear and was banging away. We drove down to the beach for the morning (good if you fish – not so good to swim in) and decided that if the generator was still going when we got back we would pack up. At 11.30 it was still throbbing away and we weren't up for sitting next to it all day so we packed up and hit the road.
While there we were offered a free purebred red cloud kelpie puppy. The station owners had one left from the litter and told us we could have it if we wanted it.
You know how cute puppies are?… Well this one was beautiful and the parents also looked the goods. Ellie wanted it badly… Sam wanted it… And I think Danelle and I were both feeling a tug, but the fact that our property has no fences would mean it was going to be a very expensive puppy – not to mention the question of how we would get it home over the rest of the holiday. As we were about to leave Danelle and I were close to saying 'lets just do it and figure it out on the run', but a visit from the caretaker ended the idea as someone else had already taken it. Ellie was devastated and we were both sad and relieved. The thought of spending a week with a new puppy in a camper was not something I was looking forward to, and then coming home to knock up a fence – where I know the materials alone would be $2-3k also wasn't appealing. So for now we will remain dog-less although our resolve has been weakened…
From Giralia we headed further south into a blustery headwind getting a whole 4.5ks per liter as the Patrol literally drank the diesel. I'm still not sure if there is something wrong there or if its just weight, aerodynamics or a heavy right foot. We ended up deciding to drive into Quobba and spend a night or two there – hoping for peace and quiet yet again…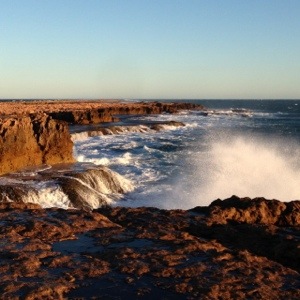 As we arrived we discovered the sites at the Blowholes were $5.50/site/night while Quobba station was $42.00/night for the four of us. The decision was made fairly quickly and we put up the camper in the midst of a strong and icy south easterly. The wind was so cold that I couldn't generate enough heat to cook on the outside stove. This is a pretty cool place though – with great beaches, spectacular scenery and some pretty decent space to set up. And it is quiet… Yes…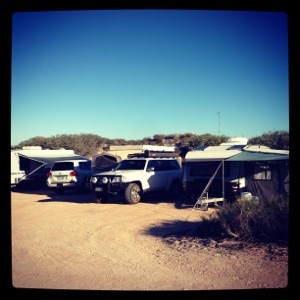 Convincing our daughter that unpowered sites without showers are a good option is getting increasingly difficult. Once we are there she toughens up, but the princess gene is starting to develop and if it were just down to Ellie we would be 'camping' in the Hyatt in the middle of any capital city with wireless and room service.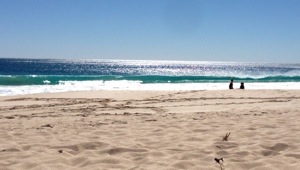 While in Quobba we took a drive up to Red Bluff, just 60ks north and a pretty easy trip. We sat on 80kph most of the way and never needed to go into 4wd. We could have got the camper up there quite easily but decided not to this time.
I had heard about this place for many many years but have never been, so it was good to finally get there. It is as beautiful as everyone says and the beaches and bluff are stunning.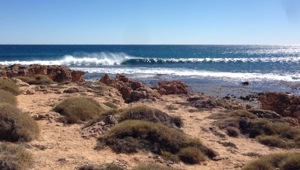 There was no one in the water (surfing) when we got there. We walked out to the point to check it out and I'm guessing it was because it was a very low tide, because there were some big sets charging thru, but breaking only metres from the reef. Either that or they were all scared like me…
Either way I think the bluff is a young blokes wave. If I were 20-30 years younger I'd love to give it a crack – it is a super fast charging left hander… But now… While it dents the ego I think I have to admit that it is not for 49 year olds on sun-browned mals.
While travelling I finally managed to finish 'Home' by Marilyne Robinson, an excellent novel but not an easy read if you like things to keep moving. It is well written and has many wonderful moments, but it's not for the impatient or easily distracted. This was my fourth attempt and I had to work to stay with it. Now I'm re-reading Shantaram, one of my favourites. I have never been to India but I reckon this feels like what I imagine it to be like. A great story with many redemptive moments and intriguing twists.
From Blowholes we headed south today for Carnarvon and a night in a caravan park to shower and clean up a bit. It's a one night stop as Francois Peron national park is the next spot on the radar. Next to us is a family one week into their round Oz adventure so we spent some time chatting to them and I have to say it stirred me to do it again… Next year we have an Ireland adventure planned to celebrate my 50th but I could be tempted to swap it for 4 or 5 months on the road – and I think the budget would be about the same!
One of the challenges of holidaying while running your own business is taking phone calls and being able to switch on and off at will. I'm getting pretty good at it now, but it's taken a while. With no work for 5 weeks now I kinda need to hit the ground running when we get home. Today there were 6 voicemails and some pretty good looking jobs are lined up which means I should be able to roll in and get cracking.
Anyway that's the journey so far…