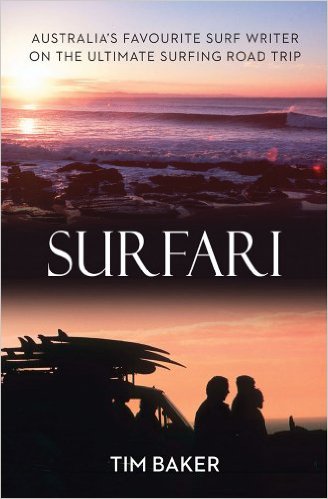 While seeking something new and enjoyable to read for the time out at Kurrajong I was wandering thru the Exmouth news agency where there is quite an eclectic selection of books. In the biography section I noticed MP the biography of Michael Petersen a legendary and iconic surfer from the 70s. I read this a number of years ago and really enjoyed it. Next to it was a title I hadn't seen before – Surfari by Tim Baker.
I picked it up and skimmed the back cover, where I read that the book was about Baker and family's (sponsored) round Oz journey of surf adventure in a Jayco Expanda and Toyota RAV4. I was intrigued. Apart from the shared love of surfing there was the 'big lap' connection and (I presumed) a love of writing.
I opened it, browsed the writing style and straight away I knew I was going to buy it. Baker is a surf journo, has edited Tracks magazine and written a couple of surfer bios (Occy and Fanning) He tells a great tale and in the first chapter he describes his middle aged malaise and his hopes for a more inspiring life. I've been there… He is a year younger than me and his story sounded like a fun way to wile away a couple of days on the beach.
So being a tightarse I immediately googled the book and found it on Amazon. Ten bucks on Amazon or $29.95 in the newsagency?… Tough decision. I downloaded the sample right there and had a read that night. I bought the book and stashed it for a day or two while I finished Lila. That was a slog…
And then the fun began. Baker is an engaging writer as well as having the ability to reflect and observe what's going on around him and inside him.
It was April 2009 that we set off for our lap with two kids and a surfboard and we shared many similar experiences to Baker and family. (Here's how ours came about…)
While the book chronicles Baker's surf odyssey it is much more than a piece of surf porn. He takes time to discuss the history of the areas he visits, the culture and context he is experiencing as well as reflecting on the challenges of family life and personal development in the midst of it all.
As a middle aged man Baker felt he was writing about surfing more than he was actually getting in the water and this was part of his plan for redressing the imbalance. As he travels he discovers it's harder to duck off for a quiet surf than he had anticipated. The responsibility of family, driving and working make it difficult and at times the grand vision became a mirage.
His daughter is homesick within a day (been there done that…) the surf doesn't turn up on schedule and then there is the delicate balancing act of hitting the water and spending time with the family – while not losing your cool. He tells a very honest story of losing it with his young son and what he learnt in the process.
He writes guardedly of some of his best surfs choosing not to identify the location, but I think I pegged his anonymous spot between Merimbula and Eden as it was where we scored some great waves too. He doesn't even mention Cactus by name, despite its legendary status and there are several other spots he wisely choose to leave to your best guess. It seems localism is still an issue in the wilder parts of Oz.
I sympathized with many of his experiences. The 'night of the bogans' had me chuckling in bed as I read – imagine a maroon falcon sliding into camp with 5 heavyweights set for a big night on the turps and you get the picture.
I remembered the many grey nomads who treated our kids so well and who were kind and gracious when they may have been wanting to escape pestering children.
I shared and still share his hatred of the generator. Why anyone would want to tuck themselves away in a remote and serene part of the world only to arc up a clattering piece of machinery for 3 or 4 hours each day is beyond me. It's been one of my pet peeves on this trip – thinking you've finally found 'the spot' only to have Stan and Dorothy roll up and kick the genny into life so they can watch a bit of telly… Get a grip people…
Baker leaves home as a 'teeth grinder' and hopes the road trip will be a panacea for this problem – not so much… Just a different set of stresses… He introduces us to some interesting people around the country as he searches for surf and he has some brilliant if understated surf sessions.
That he finished his trip in the north west of Australia in Exmouth gave the book a little more resonance again. As we left Exmouth we dropped in for one final bite of the cherry at Dunes Beach, but Mother Nature was not playing nicely. A small choppy swell, blustery onshore winds and a badly timed tide meant we  took one look and drove on. This was a bit of his experience, although he seems to have got his fair share of amazing waves as well.
If you also share a love of camping and surfing and want an entertaining and very readable book, while taking some time to reflect on the challenges of middle age then this is a gem.