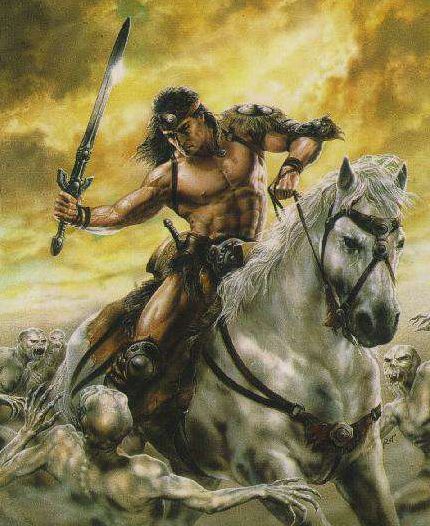 From Rocky III
"But then the worst thing happened that could happen to any fighter, you got civilised' Mick to Rocky
McManus's book opens with this quote and then goes on to illustrate beautifully the contrast between civilised faith and rugged, raw 'barbarian' faith.
Essentially McManus is arguing that the Christian life was never meant to be a life of peace, prosperity and happiness (not that they are bad things) but that it is to be a life of adventure, risk and sacrifice. He uses 4 words to describe a barbarian faith – love, intimacy, passion and sacrifice, but the focus is very much on the element of courage and living on the raw edge.
He begins with a great passage from Judges 11 where Jeptha is expelled for being a son of a prostitute and is not seen as acceptable to the rest of the tribe, but when the people of Ammon declare war on Israel they go and ask him to return – because he is a warrior and can fight. In fact they ask him to come and lead them… McManus makes the point that in times of peace and stability the warrior/barbarian can be a pain in the proverbial, but when it all gets hard and things are looking grim then they are someone you want on your side – in fact in those times you need them to lead.
I wonder if we as the church aren't living in times that require some barbarian leadership? These are certainly not times when things are going our way and where all is good. These are difficult times and we need these people back in the game. As McManus describes 'barbarians', I see them most closely aligned with the apostolic gifting, one that is certainly lacking in many churches today.
I have a feeling that part of the reason church can be so damn boring at times is because the barbarians have either been marginalised and pushed to the edges, or they have opted out because a passive and conservative environment just doesn't resonate with who they are.
To give you some insights in how McManus describes barbarians here are some quotes:
p. 5 "Christianity over the past two thousand years has moved from a tribe of renegades to a religion of conformists"
P. 5 "A quick survey of the modern church would lead you to believe his invitation was "Come and listen" and his closing mandate would be summarised in the one word "No!"
P. 6 Of barbarians he writes: "They are not about religion or position. They have little patience for institutions or bureaucracies. Their lack of respect for tradition or ritual makes them seem uncivilised to those who love religion"
He spend a lot of time distinguishing between religious people and followers of Jesus.
P. 12 "Perhaps the overwhleming tragedy of our time is that such an overwhelming number of us who declare Jesus as Lord have become domesticated – or, if you will, civilised. We have lost the simplicity of our early faith. Beyond that we have lost the passion and power of that raw, untamed and primal faith."
P. 22 He describes Jesus as a 'barbarian in the midst of civilisation and frankly the civilisation made him sick"
p. 43 "The civilised view of Jesus is that he always comes through for us – like superman" whereas the barbarian knows that when you put your life on the line it just might get taken and there are no promises or guarantees.
p. 47 "When religion becomes civilised it moves away from God and oppresses humanity in God's name"
p. 48 "Is it possible that the transforming power of the church has been lost because we keep inviting people to step into the comfort, safety and security of Jesus Christ?"
As I read even this far my spirit soared because I often feel exactly what he is writing about – that we have (often with the best of intentions) created a systematised and safe religion where we can easily describe the boundaries and where we can keep people in line and make sure they don't misbehave. Anyone with any strength of will is not going to be attracted to that kind of faith!
Its here where we can learn some stuff from our outlaw friends who ask for your life if you wish to be in the gang – and they ask for it back if you choose to leave… Its an all in commitment and yet it appeals to men who want to be part of something that requires more than a weekend approach.
There is plenty not to like about OMCGs but if we look at why people join them its often because they were outcasts seeking community and purpose… and they didn't come to us… Maybe if we welcomed the strong, aggressive and firey men we might see the church come alive in a whole new way, but it would scare the crap out of the majority of people already in it!
McManus offers this brief distinction P.78:
* The civilised build shelters and invite God to stay with them; barbarians move with God wherever he chooses to go.
* The civilised Christian has a routine; the barbarian disciple has a mission
* The civilised believer knows the letter of the law. The barbarian disciple lives the spirit of the law.
* The religiously civilised love tradition; the barbarian spirit loves challenges.
* The civilised ares satisfied with ritual; barbarians live and thrive in the mystical.
* For the civilised disciple, religion provides stability and certainty; for the barbarian a life in God is one of risk and mystery, and maybe even a little insanity.
I was asked recently why I can't be more of a gentleman like (insert a gentlemanly Christian you know of) rather than being the person I am at present. My short answer is that it just isn't me, but McManus has written a longer answer for me. While there's nothing wrong with being a gentleman, for some of us there is a different calling and its best not to try to be who you aren't.
The Barbarian Way is not a scholarly read or a deep book, but its not supposed to be. It is an inspiring and powerful call to live a more adventurous and passionate life. Its a book that every bloke ought to read at least once
(You won't find any in Koorong as I bought the last 12 in Australia to give to some of my friends!)