I think most barely sensible human beings would put Fred Phelps in the complete nutbag category. Sadly for those of us who claim to be Christians, he calls himself one of us and for those of us who are 'Baptists' he is one of us too.
Ah… don't think so!
So I must admit I took great delight in seeing this post.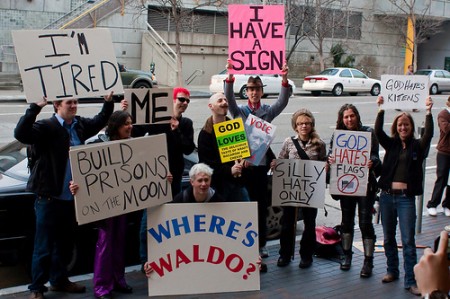 Westboro Baptist Church showed up to protest in front of Twitter's San Francisco office on Thursday, but found themselves severely outnumbered by a crowd of absurdist pranksters. Here's one image from the day, but go read the whole post to get the skinny. Its a hoot.
And in case you thought we Aussies were out of his reach think again… Sadly what this does prove is that you can use the Bible to justify even the most absurd of positions.