Its pretty easy to take pot shots at pollies and people in positions of influence and I have done my fair share of it over the years. Sometimes you forget they are real people too with kids and families who hurt and cry like the rest of us.
This week Neale Fong resigned from his role with the Health Dept after the CCC revealed he had been connected in some way with Brian Burke and was guilty of 'serious misconduct'. (if you're not a West Aussie this will mean nothing to you)
I don't know Neale well, but he was a person I committed to pray for when he took on the job as director for change in the health system. He is a Christian, a good bloke, an incredibly gifted man and also an ordinary flawed human being like the rest of us.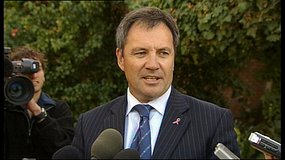 I imagine he will cop a fair bit of criticism over this incident and while some may be fair, some may well be the offhand smartarse comments we all make from time to time.
Perhaps its all part of being in the public eye, but I certainly feel for him at the moment.