If you live in Perth you have may have noticed the new TV and newspaper ads for land in Ellenbrook. The image they are using is this one.

The message is that while the rest of the city is slowing down in its property purchases you may well be able to get ahead financially by buying land in this estate. Simply put – get in now when everyone else is waiting and you just might get rich…
For the last four years the image below has been one of the most significant images in our journey as 'Upstream Communities', however we chose this image because for us it is a reminder that the life of discipleship often involves going against our more basic/self centred instincts and 'swimming upstream'.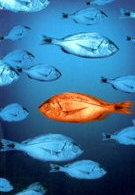 These are almost identical images, yet the messages couldn't be much more different.
Well… I thought it was interesting…