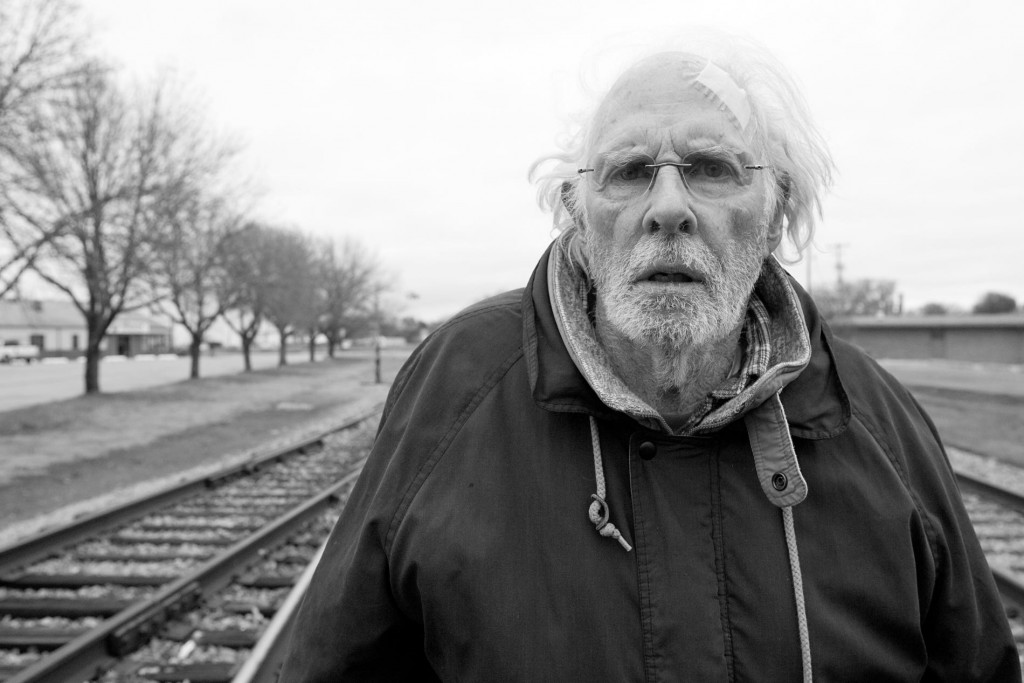 I don't often watch movies on a Saturday morning, but today I stumbled across Nebraska on the iTunes weekly special list and thought it looked worth a gamble. For 99c what's to lose?…
Its the story of a cantankerous and doddering elderly man in Billings, Montana receiving a scam letter in the mail telling him he's won a million dollars and his subsequent journey to claim the 'winnings'. The movie opens with Woody staggering up the highway, determined to walk the 1000ks to Lincoln Nebraska, because he can't drive and has no other way of getting there. As a long time alcoholic and showing signs of dementia, he just can't accept that the letter is a mail-scam and he is determined to go collect his winnings. He wants to be a millionaire. His equally gnarly wife (Kate) tells him  that if he had that in mind he should have started working on it a lot earlier in life and tried 'hard work'.
Eventually his middle class, middle aged son relents, takes a few days off work and agrees to drive the irascible old man across the country, fully aware that all he is going to do is eventually bring him face to face with reality. The story takes shape on the father / son drive as they revisit Woody's old home town of Hawthorne, where family and friends get wind of his 'winnings' and decide to try and cash in.
Shot in black and white, with a suitably melancholic musical score it is not a fast paced story, but that's part of the point. Woody has all the time in the world and nothing to do – so why not chase the possibility of a big win? He'd like a new truck… even though he cant drive…
Woody's wife Janet joins them along the way and adds a fair slice of comedy to the story. She has a bad word to say about everyone and doesn't hold back. My favourite scene in the movie is her unloading on the redneck friends and relatives in Woody's home town of Hawthorne who have been badgering him for 'their share' of he winnings.
Eventually Woody gets to Nebraska and discovers there is no pot of gold, although he does receive a free hat from the office girl who takes pity on him. 'Does your dad do this often she asks?'
'He just believes the stuff people tell him' replies Woody's son.
We always knew there was no million dollars, but the punch in the story is what happens next… however I won't spoil it. Suffice to say it doesn't change pace, or tone, but quietly takes a direction that offers a smile and some joy for Woody at the end of a long and dark road.
Spend the 99c – you won't be disappointed.