Yesterday I spoke to our church community about why our primary experience of church needs to be smaller rather than larger.
By 'smaller' I mean a group where:
a) every person is known by name.
b) where it is not difficult to share a meal together.
Obviously then, a large group is one where we no longer know one another personally and a genuine meal becomes a very challenging prospect. It is my strong conviction that if we are to be effective at making disciples and at fulfilling the biblical understanding of what it means to be 'church' then our primary experience of gathering together needs to be in more of a household / familial setting rather than a large community worship & teaching event.
On Sunday we looked at the theological and biblical reasons for a church to be both large and small, as well as the practical and pragmatic reasons for preferring small or large. While you can argue quite convincingly at a pragmatic level for either option, ('big' or 'small') the exercise we did together showed quite clearly that when we consider the biblical descriptions of church the evidence for 'small' is much more compelling.
Perhaps the critical word in this conversation is 'primary'. I am not suggesting there is no place at all for a larger group to get together or that a large gathering is redundant, but I am seriously advocating that we see the larger gatherings as being of secondary importance. For example, most churches I have been part of say 'come on Sunday and if possible be part of a home group or similar', but if you can only do one of those two then choose the Sunday event. I believe it more appropriate to say 'make sure you are part of a smaller gathering and if you are able, join with the rest of the crew on Sunday – but if you can only choose one, then choose small.
We managed to come up with 8 biblical/theological reasons for the primary experience of church to be small and only 2 reasons for it to be large. See the chart below. We whiteboared this stuff on Sunday as well as looking at the practical / pragmatic reasons for either option.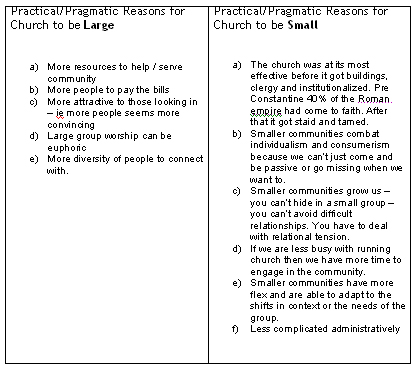 As we did this exercise on the whiteboard, the bleeding obvious was that the 'theological/biblical' reasons for church being large quadrant was almost empty.
The question that arises out of this, that we will be exploring as a church is 'what does this mean for us?' I know many people will prefer 'large church' as the main event, but if we are 'people of the book' (as we Baptist like to imagine ourselves) then what do we do with the biblical descriptors of church?
So, I am interested to see how others perceive this issue. Bearing in mind the question is about primary expression not 'only' expression. I see a sociological value in different size groups and I do see that different objectives can be accomplished by different groups.
But if our primary task is to make disciples I find it hard to see the large group as the first port of call.
That feisty Eugene Petersen has some good stuff to say on this:
"You can't do gospel work, kingdom work in an impersonal way. We live in the Trinity. Everything we do has to be in the context of the Trinity, which means personally, relationally. The minute you start doing things impersonally, functionally, mass oriented, you deny the gospel. Yet that's all we do."
from here
Jon Reid has also added his own thoughts on this matter. Skip over here
to read his mind…