Sick people on airplanes have really messed with my sleep lately!
First it was my wife and then last night it was someone else's wife… (so I do have great sympathy!)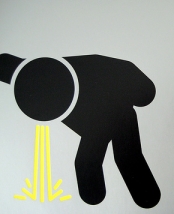 After sitting still at the airport for 45 mins waiting for baggage to load, the plane finally left. Then we got 200 kms west of Adelaide before the pilot decided that a sick passenger needed to land sooner rather than later. We turned back and landed refueled… and eventually got home 1.30 Perth time or 3.30am on the time I was on.
So – yes I'm a little weary today.