A picture is worth a thousand words., but what if some of those words are lies? So we have just spent around 9 days seeing around Italy, starting with 2 nights in Rome, then 2 in Florence, 3 in La Spezia and finishing with tonight in Venice. Along the way we have taken your normal touristy type pics and from a distance it probably looks like a super cool place. It is… But the photos don't show some of the other aspects of out trip that would actually give it perspective. So if you've seen our pics and thought 'Italy is my next destination ', please read on…
Coming to Italy from the Outer Hebrides is like going from a Monastic silent retreat into a snake handling, yodelling pentecostal firestorm! It's an assault on the senses and there are massive crowds everywhere.
Perhaps we shouldn't have started in Rome. It's a big, busy city with some amazing historic sites but it's busy busy busy! We got in late, found our hotel and crashed before doing the 'Rome in a Day' tour the next morning. We signed up with a tour guide and went to many of the famous places and they were very impressive. But the fighting thru crowds was less inspiring. (I'm not unaware of the irony in that statement.) I loved seeing some of the incredible structures and hearing some of their story, but the time we spent in the Vatican left me very conflicted. You can't deny the beauty and magnificence of what is there, but I just can't see Jesus saying 'ah well done – exactly what I was hoping for!'
Beauty is such an important and overlooked element in life that I just wanted to say 'wow', but I must admit I didn't post any pics of the Vatican area as I just can't endorse it. If this is the heart of Catholic faith and it is supposed to tell a story then it isn't a story Jesus would want to be associated with.
In Florence we walked around similarly impressive structures – also beautiful and the same question of 'did someone miss the memo?' kept running thru my head.
How we create worship spaces matters. Hence my use of the word conflicted. There is a sense of awe and gravitas in these places that we will never feel in a school common area. But the wealth of the Vatican itself raises questions in my mind – and seeing the hoardes that swarmed thru on the one day we were there I can only imagine the $$ that are being made! Maybe there is a balance that can be struck?
We walked 15kms on the walking tour and on the way home discovered Steve and Elaine were in town so we headed out for a feed and some great conversation. Those were the 'Rome highlights' and personally I don't think I'd go back unless it was en-route to somewhere else. It's a big busy city with some cool stuff to see, but other than that I was happy to move on.
From here we caught a very full train up to Florence. This trip is one of our first experiences of navigating a city where the language is foreign and (unlike lots of Asia) no one is hanging around to help you, so that was interesting and a tad stressful at times. As we hopped off in Florence it was into another congested train platform and then up into busy streets. We walked to our accommodation, chilled for a half hour and then went back down to check the lie of the land. A short walk around was helpful as we began to feel some of the smaller city warmth as well as some stunning architecture. That evening Danelle had set up a walking food tour which showed us around a little while we moved from cafe to cafe. It was a good tour – probably would have been better if I was able to consume alcohol and Danelle, gluten but we made it work. (She drank my alcohol and I ate her carbs 🙂
I have heard people rave about the food and coffee in Italy. That wasn't my experience. The food was generally fine, but not 'wow', and the service varied from pretty good to meh. At times I wondered if the Italian waitstaff had just had a gutful of tourists. We enjoyed walking around Florence – also very crowded – but we started to roll with it. As for coffee, it was a mixed bag – some good brews and a few pretty ordinary. The Italian way is to simply drink the espresso shots, so the milk based coffee I prefer to drink was a bit average. ( I may have been perceived as a philistine asking for milk.)
We moved from Florence to the small town of La Spezia, with the intention of visiting Cinque qe Terre, a cluster of 5 small towns built on the top of the rocky coast line. This time we finished up in a very nice apartment near the centre of town. The pace of life definitely slowed a little here and the crowds thinned. I imagine it may be a peaceful place to visit mid-winter.
We planned to take the ferry up the coast and hike / train our way back. Unfortunately the ferry was cancelled due to rough seas and we ended up having to catch the train – along with the hoardes of people who also missed out. The trains that day were literally shoulder to shoulder with many people shoving their way into already crowded carriages. I got stuck standing in in a doorway section with no handrail to hang on to – but truth be told I wasn't gonna fall over – I just couldn't because people were pressing me on all sides. It was a relief to escape!
We took the train up to Monteresso, the northern most town, a very beautiful little place. We decided to hike back to the next town – only 3 or 4ks but it was a pretty serious climb up and down. Next time I will bring hiking shoes… The views from the walk were awesome and it was well worth the effort to do the hike. As we explored the towns we watched the ocean hammering the coastline and I remembered again where I feel most at peace – by the beach of some kind. We could have spent another day or two in the area, but at the end of the day wandering crazily crowded little towns, standing in long queues for tickets and food just left me a little jaded.
We were really glad we didn't come at the height of the Italian summer which sounded very long and very hot this year. All of the walking would have been pure endurance. As it was we enjoyed 20-23 daytime temps with air con available if we ever needed it.
Our final day was in Venice. Our first train ran late and we missed our connection by 1 minute… The doors closed as we hit the platform so that was a quick way to blow $100 for tickets on another train! Venice was… well, what you expect Venice to be, canals and unique architecture as well as more cafes and pubs. It's not a cheap place to stay – our nice but modest hotel room was $300 for the night.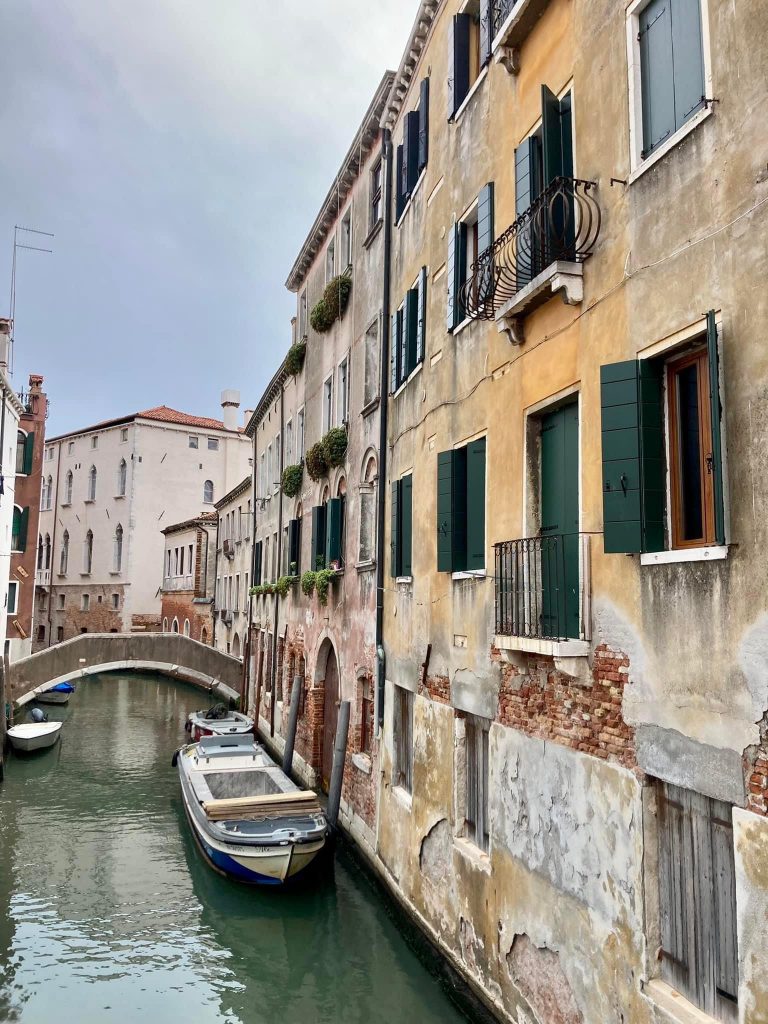 So for me Italy was a 7/10 on the enjoyment scale. If I were to return I think I would:
a) come in winter when crowds are fewer (I'd hope)
b) hire a car and go off the beaten track. I'm not a good tourist. I prefer back roads to big cities any day.
c) learn a little language. I didnt find the Italian folks falling over themselves to help a foreigner (it isn't Bali) so I'd try to meet them halfway more often.
d) I definitely wouldn't put it at the back end of a trip to somewhere beautiful and remote. I'd do Italy first – then relax.
If you followed our pics on FB then this is perhaps a bit of a reality check. There are some cool places to see in Italy but expect to be seeing them with plenty of other people! And if you're a beach hugging, peace loving introvert then spend the extra and go to the Outer Hebrides 🙂