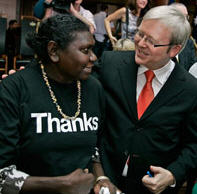 While I didn't get to any of the events held around the country, this was a significant day in our history, when we apologised to the stolen generation of aboriginal people for the wrongs we did to them. Great to see it finally happen and very moving to watch.
However, the report on Channel 7 news tonight was disturbing. The so called 'pulse of Perth' newspoll asked West Ozzies whether they supported the Rudd decision to apologise. 13 000 West Ozzies phoned in to respond and the result was 90% who said NO and a mere 10% who said YES.
What the hell is that all about?!
An overwhelming percentage of West ozzies said 'don't apologise – bad idea'.
I reckon thats gotta qualify for a 'worst of Perth' award. Unbelievable…
And then Brendan Nelson gets the dickhead of the week award for completely subverting his own apology by telling aboriginal people there is no money in it. That might well be the case Brendan but you don't say it!
Grendel has his own apology here also