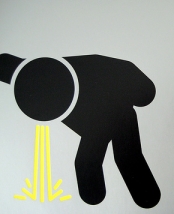 Danelle was due home today…
But I got a call from Qantas at 3am to say she had been vomiting during the Denpasar-Darwin flight and was being taken to hospital in Darwin to get checked out. She's ok now and recovering in her cousin's home.
The kids are a bit sad and I'm a bit tired. There was a 3am call, a 4am call and then a 4.15am call, followed by 5.45am text message!
She will hopefully be home either tonight or tomorrow sometime…
Ah…. what a spew…
As much as I love the kids I'm a bit over the single parent life. It certainly makes you admire those who do this day in day out. As much as you would get used to it I imagine it'd make you pretty tired after a while.
Sam and I are sitting here today watching James & The Giant Peach…