Here's a little missional idea that isn't rocket science for all those established churches out there who want a few ideas of how to connect with the community in simple, practical and Jesus like ways.
As some of you would know we are regularly involved with Scarborough Baptist Church, the church where I grew up, where I served as a youth pastor for 5 years and where Danelle and I met & got married. My folks are still there and its a bunch of people we really enjoy being with.
This weekend instead of connecting with their morning crew we decided to visit their evening gathering. Being in a beachside suburb with lots of backpackers nearby, the crew at Scarbs decided to set up an evening 'service' around a meal with the intention of connecting with the backpacking crew.
Backpackers are often travelling on the smell of an oily rag and could use a decent feed. Backpackers are also often on more than a 'physical' journey and 'seeing the world' can be a way of finding their bearings spiritually. So, recognising this unique people group in their community, the SBC crew have been looking for ways to serve them and help them.
'Sunday at Six' is a great idea and it meets the needs of both backpackers and local people who could use a feed but can't afford one.
I like the idea because it is simple and it taps into the specific context that is Scarborough. Its missionary thinking…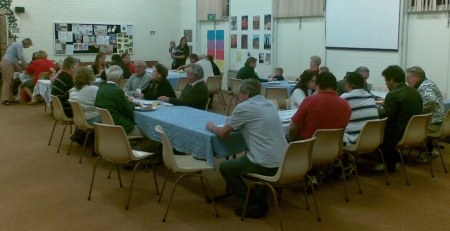 Here's the crew having a feed – sausages, potatoes and peas – simple.
Big Dazza is an old mate and he is the overseer of this event. Daz works for Disability services as a carer and he has a great heart for people, especially those who could use a hand.