Its been a really good few days here in Sydney.
I love the northern beaches area and the feel of a place like Manly on a Sunday morning is something pretty unique. Below are some pics from both the intensive and from my walk this morning.
This afternoon I head down to Wollongong to speak at a church service and then meet with the staff team of the Ozreach church before flying home at 11.00pm on Monday.
The intensive went well and people were again challenged to consider how they will live & lead as missionaries in a post-Christian world. We met in a cafe called table for 20 in the gay zone of the inner city. The cafe runs under the auspice of the Baptist Union of NSW. Also running out of the building are 'Hope Street' services which are directed by Mike Hircock, a top bloke and one of the Forge NSW guys.
As well having a great time with the Horsley family it was great to meet up with Eric & Leslie. I had an email from Leslie a couple of years back asking if I knew of any churches in Sydney on the northern beaches. I suggested Small boat and shortly after she and her husband moved from Texas to Oz and became a part of that church. We had never met until this weekend so it was good to put a face to another 'net-friend'.
Below are some pics of the intensive and 'Hope Street'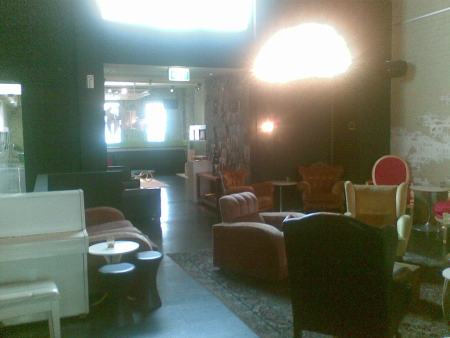 Upstairs
Art/furntiture exhibition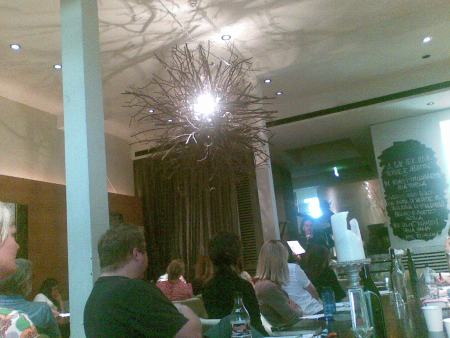 The intensive – Frosty speaking
Hope Street Services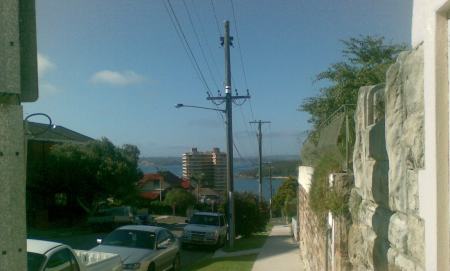 I went for a walk this morning around Manly.
A humid 30 degree day in Sydney – plenty of people on the beach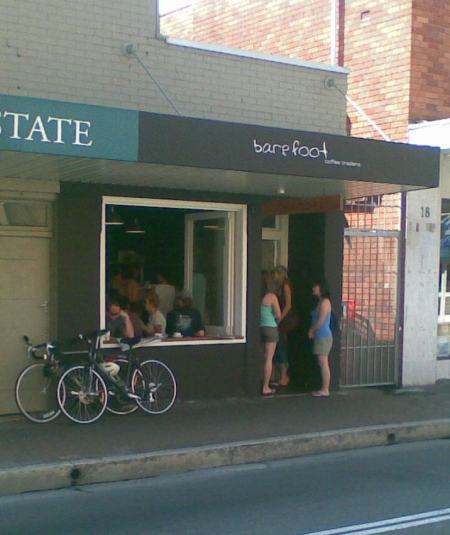 And now for some coffee… How do you find a good coffee shop in a strange place?… Walk around – look for somewhere small that seems to take pride in what they do. See if there's a crowd and wander in and give it a go. Barefoot were pretty good. They are a tiny shop with chopped off bits of log for chairs, an almost non-existant food menu (waffles or waffles with ice cream…) but pretty decent Toby's Estate coffee. Its $2.50 for a flat white which is great value, but it only comes in one size – small! the people at the door are the queue, so I'm guessing its a fairly popular local haunt.
I sat at the window and read the paper for a while while knocking off two flat whites.
The inside of the cafe – that's about as big as it gets! Room for 10 at a push. Very cosy, but it gives it that 'popular' feel.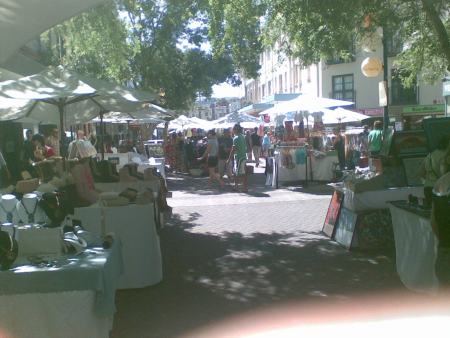 The Manly markets in The Corso – ok this is purely for you honey!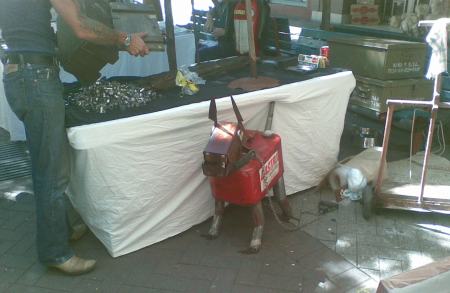 Local art…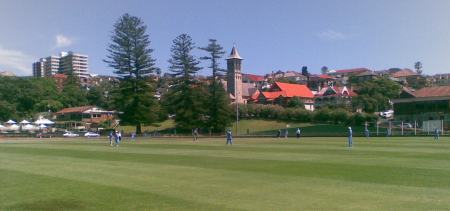 Watched a bit of cricket on the way back up Sydney Rd – Parammatta v Manly…
For those who are into buildings – here is the home of Smallboatbigsea – the old Manly Baptist Church.
And as a final word – do not buy a Nokia E65 for its camera capabilities! This phone has much about it that is good, but the camera is a dodgy piece of crap if I ever saw one.