When we woke up yesterday morning I could hardly move because there was so much crap everywhere!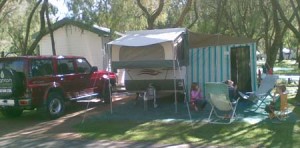 But we got the annexe set up and moved the crap in there. Then all was left to do was enjoy a beudifuul Busso day.
We started the day by going op shopping to pick up some of the stuff we realised we didn't have in the camper eg a toaster… However at our first stop at the SDA shop I happened to notice a familliar purple covered book siting there quietly on the bottom shelf.
Someone had obviously finished with their copy of Transforming Mission by David Bosch and had decided to give it to charity. For $4.00 I was able to buy a book that 3 years ago cost me $49.00 brand new. So now I have 2…
I don't need 2 copies of TM so if you've been genuinely hanging to get one but haven't been able to afford the $$ then let me know and its yours for $4.00 and a few bucks for postage.
From the Op Shops we headed back to More Cafe for lunch. Nice… as always then Simmos for ice cream before home for dinner.
In the evening I met with the crew from Eaton Baptist who are part of our re-imagine program and who have been exploring how their church may look as a missional community. A very encouraging evening!