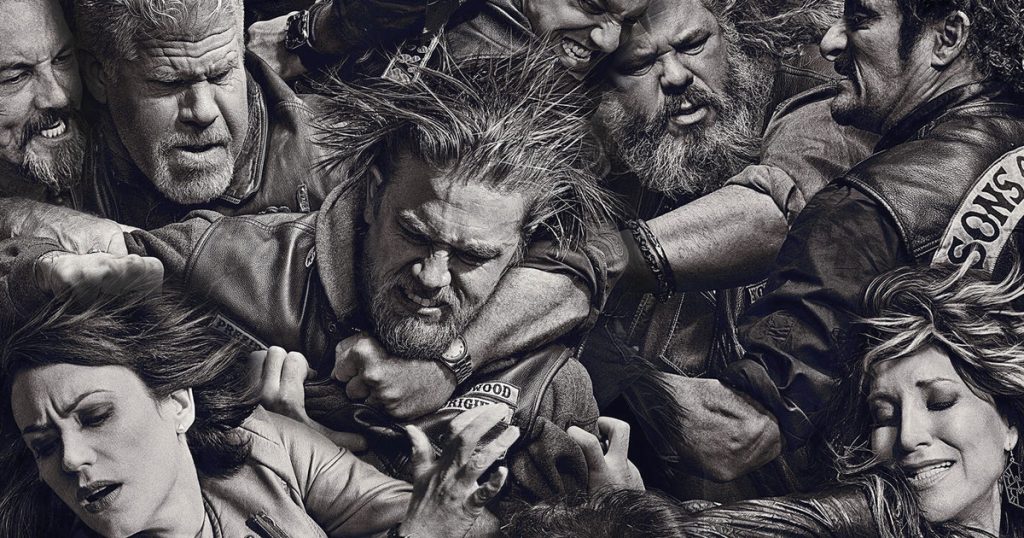 Recently I was running out of stuff to watch on Netflix (serious first world problem…) so I decided to give Sons of Anarchy a go. I'd tried before but never got past the first episode. This time I did.
It began with curiosity and after a few episodes it started to lure me in as I got to know the characters and their relationships. After a couple of seasons I was intrigued to see where it would go, but not long after I found myself in 'car wreck mode'. I knew I shouldn't look any more but I couldn't help myself. I had one season to go and I watched it to the bitter end – one of the longest, most drawn out and dissatisfying seasons of any show I have watched… and the final episode left me shaking my head in despair.
Only read on if you never plan to watch it – because I will spoil it for you.
Sons of Anarchy is at surface level about a fictional biker gang in a small town in the USA and how they live, interact with other gangs and do their thing – mostly gun running, prostitution and porn studios. Its a brutal world and the body count mounts with every episode.
But its also an intriguing depiction of the complexity and contradictions in the outlaw scene – a commitment to family and brotherhood, but an adherence to a 'biker law' that sees them even kill 'family' members who do the wrong thing. We see men frequently tell one another that they love each other, they kiss one another as acts of affection, but in a heartbeat they can turn and shoot that same person in the head.
One thing 'Sons' lacks is any portrayal of grace – forgiveness or redemption. Its a hard culture where 'law' rules, but eventually crushes those who seek to live by it. Sound familiar?
Thru all this the lead character Jax Teller is portrayed at times as some kind of Christ figure / saviour – leading the club out of gun running and crime and into legit business (porn… and prostitution).
The final episode sees Jax 'give his life' for the club as he drives in front of a truck after killing the last of his enemies and being tailed by 20 police cars. Before setting off on his 'passion' Jax is met by a curious homeless woman who pops up at various moments in the show. We don't know exactly who she is, but she seems to be some sort of spiritual guide to him. When he leaves her the camera spends a long time paused on an image of what she was eating, stale bread and cheap red wine, arranged to look as much like a communion meal as possible – a last supper?
When Jax rides headlong into a truck the final image of the show is one of bread stained with wine on the road, as if to suggest he was the sacrifice and the saviour. Unfortunately it was a completely unbelievable scenario as the Jax of the previous 6 seasons was a brutal, vengeful tyrant – even if he did occasionally seem to wrestle with his demons. If he was intended to be a Christ figure then it was by someone who had little grasp of the real Jesus.
I don't get affected much by brutality in TV, but you need a strong stomach for this show. I was more affected by the absence of hope and grace in a community that so desperately was trying to make things work. If nothing else Sons of Anarchy is a graphic depiction of where revenge takes you and its a very dark place…