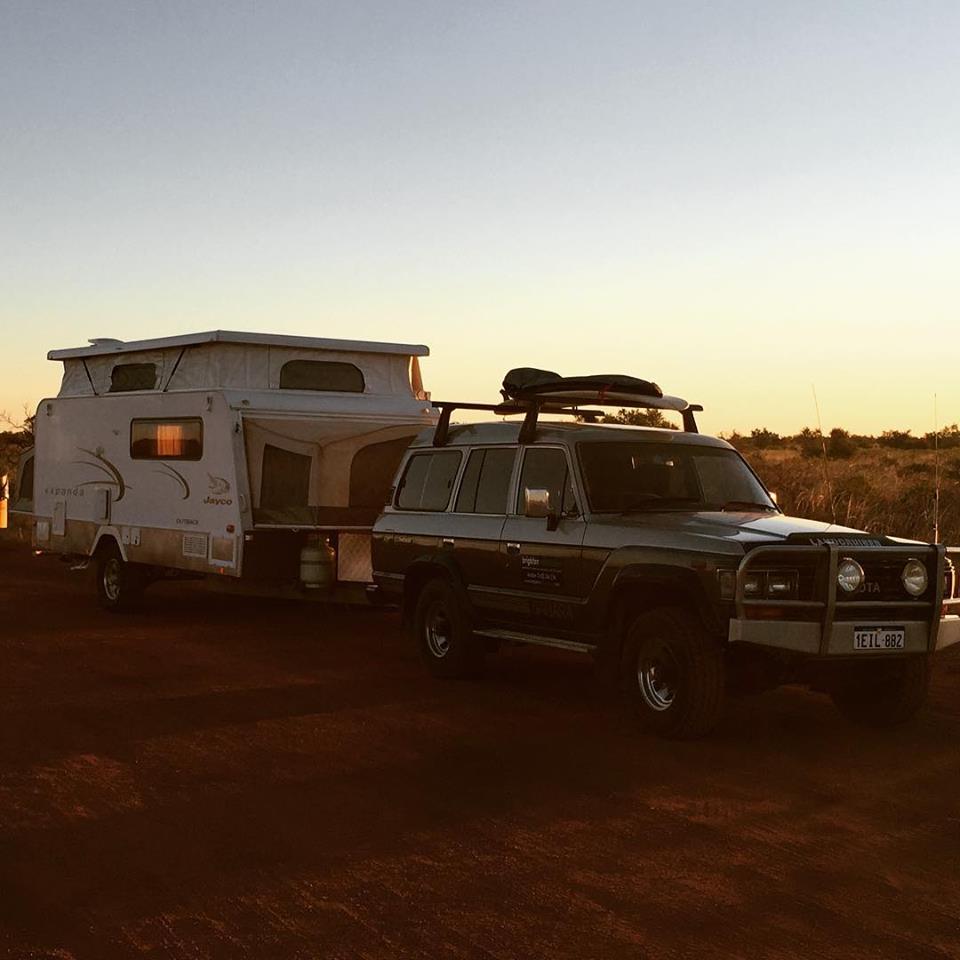 Thinking of buying an Expanda?
Here are some observations after 4 weeks in the Expanda… It's a 2008 16 49-3 model which means it has two fold out beds and a bathroom and the soft bed ends.
We bought the soft top version for $23500, but the newer hard lid type would have been better. But… the cheapest versions of these are a fair bit more $$$ – prob about $34K for the cheapest I could find. The hard lid means no need to put up the bed end flys which add to set up and pack up time. It also gives a bit more protection from the elements. But if its $10K… then I'll suck it up for now.
Having a hot water system is a huge bonus – something we didn't have with the camper. Dishes and showering are much easier.
Jayco quality is average. Stuff feels flimsy and fragile but I guess you need to use lightweight materials to make a van.
The toilet / shower has been really good and we used it a few times when we bush camped.  The outdoor shower also allows us to rinse sand off or wash out wetsuits easily too. Both great value.
A water pump is much better than a hand pump, but you use more water as a result. We worked out that including quick showers we went they 40l/day as a a family, but I reckon we could trim this. We didn't use that much with the Eagle.
Two water tanks is great as 1 x 80l just doesn't go far.
The Expanda beds are harder to push in than you'd think. We have an an eggshell mattress cover which makes it significantly harder, but you still need two people on the job to do it easily. I thought this would have been much simpler
Roll out awnings are a big improvement over a canvas awning,  but they rattle and flap. We haven't bought 'de-flappers' yet, but probably will. Still, once you get the hang of rolling the awning out its a two minute job.
Danelle likes the oven in this van whereas the previous didn't have an oven.
A slide out BBQ has been great and makes outdoor cooking easy. Well worth adding to your options if you buy a van.
The dinette seating in this one is much bigger than the Eagle. We spent most meals seated at the dinette, partly because it was cold outside, but with the Eagle we generally ate outside as it was too squeezy.
The air conditioner in the wall is a bad idea. We used it just once when we were packing up in Broome and we were hot and sweaty. But otherwise it has been unnecessary. I think a roof version would be good and the room used by the air con given to a bigger fridge. I imagine we may use it if we got really hot.
We haven't solved sleeping arrangements with our kids. Ellie often sleeps out in her tent, but on short stays she sleeps in on the back bed while Sam gets the dinette folded down into a bed. He is only just short enough to fit and won't be able to fit in 12 months. We considered bunks but the bunks are pretty small and we weren't convinced. I think either Sam or Ellie can fit diagonally but they are getting a bit precious…
The Jayco mattresses are a 1/3-2/3 split and you can feel the ridge a little in the mattress which means that one person gets to sleep on 1/3 of the bed while the other gets 2/3. I know the later models have been modified to include a 50/50 mattress which was obviously a response to customer needs.
The bathroom basin never gets used because it doesn't fully drain and when it's put back in position ends up leaking on the floor. Bad design flaw!
A battery and water monitor has been excellent. Good to know where you are at in this regard.
The built in radio with external speakers was a waste as we never use it. I can't imagine playing my music for everyone else to hear and equally I can't imagine going somewhere remote and then cranking up noise.
The ventilation in a pop up is much better than in a regular van and we like this.
At the end of the day the two ends that pop out effectively create a 'tent', so while it is a caravan in one sense it isn't as water / sound tight as a full van would be. On wet nights we have to put up flys or expect to get wet. That gets old fast, but it's what we have for now…
It's been good to tow – no problems there and I like that the wheels are the same size as those on the cruiser so we effectively carry two spares now.
I guess whatever you buy is a compromise of sorts. A full van is heavier and generally less airy than the Expanda. It's also hard to find a full van with bunks for a reasonable price. This one cost us $23500 but a full van would have been more like $40k for something similar. The cruiser also has a 2500kg tow limit and we'd be pushing it to find a family van that we could do that with legally.
I imagine this will meet most of our needs for the best 3-4 years but ultimately it will be a temporary solution. My guess is that eventually the kids will take it in turns to swag it – or maybe just Sam will get booted outdoors!