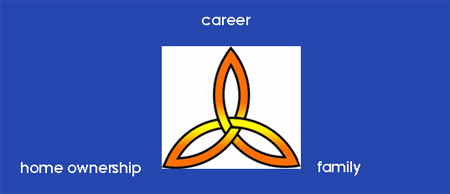 You can't look at the church, then look at Jesus, then look again at the church and not be deeply disturbed.
The first chapter of Hebrews says Jesus is the 'exact representation of God' in this world, and I would say its only reasonable to infer that we
then are supposed to be exact representations of him as we live in our communities.
But the Jesus of the Bible often seems so different to the Jesus of suburbia. So different that its frightening. I don't even know where to start some days. When the best known 'evangelical' in the USA is Ned Flanders I think it says something of how far we have strayed.
If we look around we'd see that the holy trinity of suburban life is career, house and family and Jesus is often invited to mold his call on our lives around those 3 priorities. These markers are set down before anything else and he can fit around them.
To be fair, its not to say those values are all bad – they aren't – they are good things – but sometimes – often – Jesus calls us to live in a way that does not fit with those societal norms. In fact sometimes Jesus' way just seems downright ludicrous and absurd, but often that's the way of faith.
When we allow ourselves to be controlled by our western values, the Jesus of scripture gets syncretised with the western worldview and he simply becomes one of us. And as he does so he ceases to challenge and confront the issues in our lives that are not in conformity to his way. We get blinded to the Jesus of the gospels who actually calls us to live differently and we co-opt him to our way of life.
I actually think most of us want to follow the Jesus who calls us to a life that is more vigorous and more challenging but we have bought so deeply into this world's system that now we struggle to extricate ourselves.
I know I long for friends and fellow travelers who will talk with me and challenge me to be continually re-shaping my life so that it looks more like that of Jesus, but those who can are rare. And often those who can are so prickly that they are hard to hear anyway.
I get to talk to a bunch of people about this on Sunday, but I find myself so deeply embedded in the system that I am not sure I have much integrity.