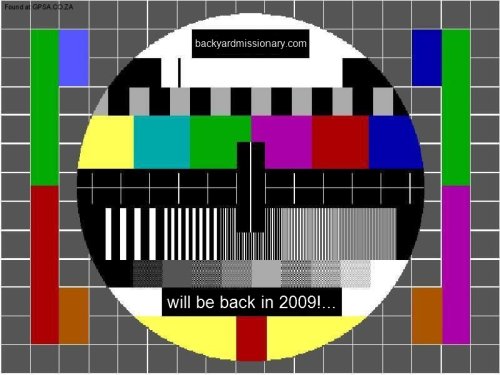 I would be the first to admit that my exit from blogging world last week was rather a snap decision – albeit a right one – and as a result I hadn't thought thru what to do with this blog… whether to delete it, keep it, hide it etc… all that sort of stuff.
Having chewed on it for a week I have decided to leave it up intact, as I do hope to be back writing again when this break is over.
Many thanks to all who have commented and written. It is really nice to know that what you do is appreciated and valued. I regularly read thru all the blogs listed on the sidebar so I will be able to stay in touch with your life as much as you choose to post and reveal!
Also, after pulling the plug, I remembered that I did agree to write 3 blog book reviews for people who have sent me their latest publications. I will probably post those reviews on here at some stage over the rest of 2007 as I want to honour those commitments.
In the meantime the 'backyardmissionary test pattern' is in place and this time I will actually leave you with some words that have been significant to me in the last week as I move into a different place in life for a while:
The Message Col 3:1-4
Colossians 3:1-2 So if you're serious about living this new resurrection life with Christ, act like it. Pursue the things over which Christ presides. Don't shuffle along, eyes to the ground, absorbed with the things right in front of you. Look up, and be alert to what is going on around Christ-that's where the action is. See things from his perspective.
3-4Your old life is dead. Your new life, which is your real life-even though invisible to spectators-is with Christ in God. He is your life. When Christ (your real life, remember) shows up again on this earth, you'll show up, too-the real you, the glorious you.
Meanwhile, be content with obscurity, like Christ.