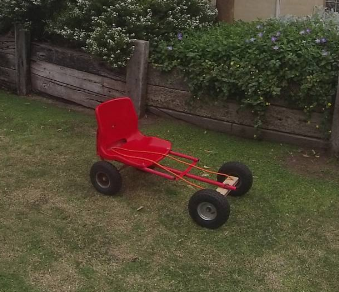 Sam's been asking for a 'billy cart' for a while now and last weekend he decided it was time to make it happen.
He downloaded a plan off the net and priced up the parts at Bunnings. It came to about $165.00, a bit more than I wanted to cough up for a cart, so we began to talk about other options.
As is often the case it was Tamala Park (the local tip) to the rescue!
We went there Sunday afternoon and picked up two old fridge trolleys – one for the wheels, axel and frame and the other just for the wheels and axel. The two trolleys cost $15.00 total.
If you really needed to buy wheels on their own then they are about $25.00 each in Bunnings (which is really bizarre because you can buy a whole trolley in Bunnings for $24.95…)
We hunted the furniture section of the tip for a plastic chair to use as a seat and picked a cool red seat for another $5.00.
Then we hit Bunnings for a piece of timber, some saddle clamps and fixings. We spent another $10.00, but truth be told I had most of the stuff in the shed and when you live in an area where there is lots of building going on you can pick up scraps of wood pretty easily.
From there it was all trial and error to get a finished product. Its a project that needs a little bit of adult input to angle grind and drill holes into steel, but the kids can also do parts of it and feel like they have achieved something.
This is the 'instructables' version using plywood as a frame – a fair bit more expensive than the 'Tamala' version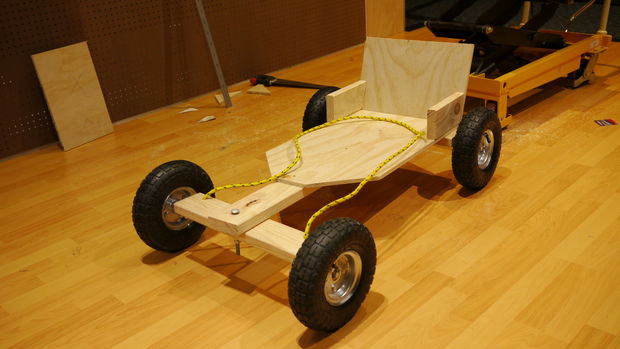 Some basic instructions:
Use an angle grinder to cut the top and sides off the trolley you will use as a frame
Get your piece of timber for the front wheels and screw the axel to it using 18ml saddles. The width of the timber is worked out by putting the wheels on the axels and then measuring in between.
Drill a hole in the front middle bar of the trolley to fix the front axel / wheels to. Make sure this is perpendicular to the frame or the wheels will sit wonky. (We messed it up the first time.)
Drill holes in the timber for the rope and thread thru with knots on the underside.
Use duct tape to attach the seat to the frame squarely and then drill some holes thru the seat into the frame and back. The use some self tapping screws with washers to hold the seat in place and you can remove the duct tape.
It took us an hour or so to make it – and probably as long again to gather the parts!